Nature
Nature Conservation
The story of Zeborong and Samling, the satellite-collared snow leopards of Shey-Phoksundo National Park
Officially, the two snow leopards died because of "natural factors", but not all conservation officials are convinced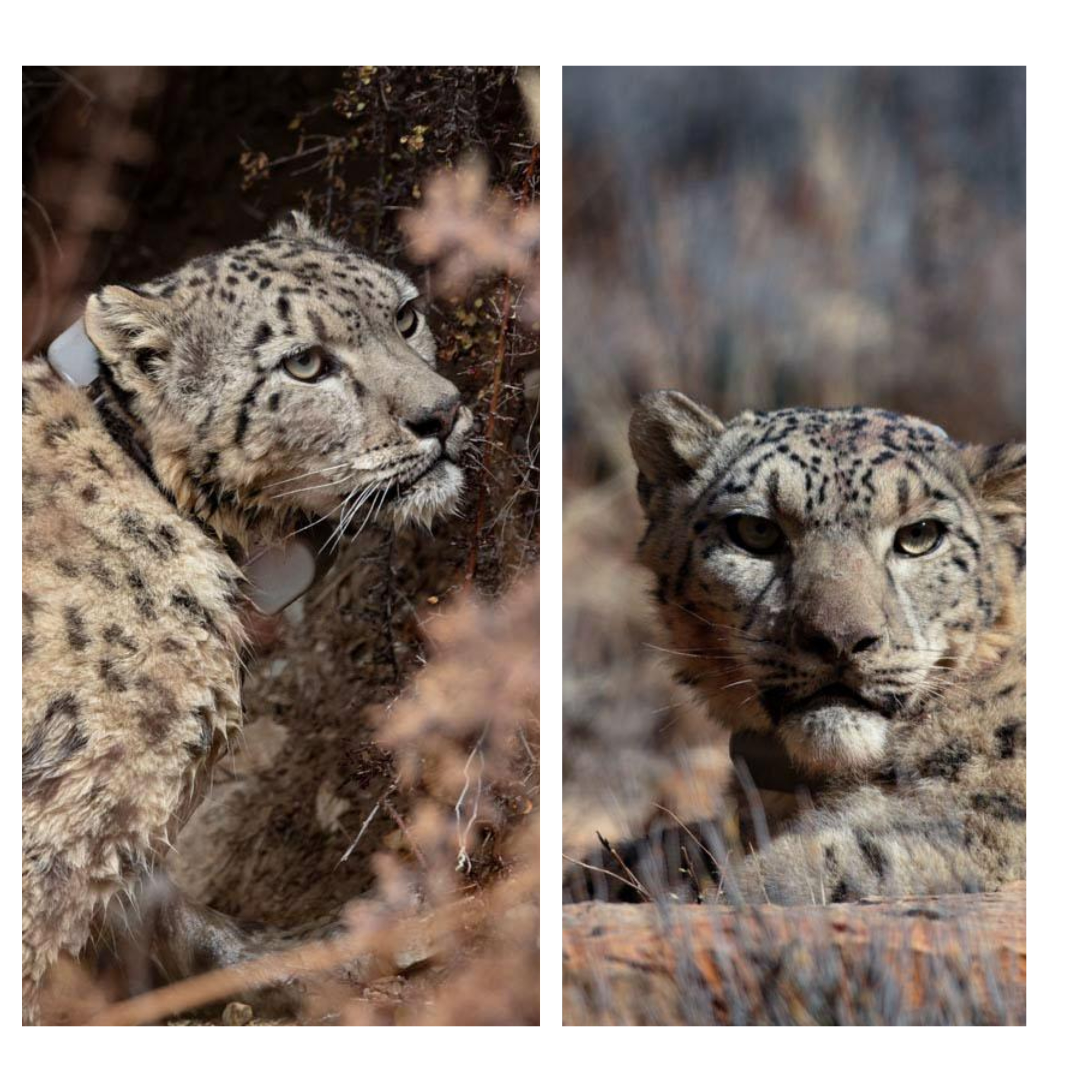 After their November 2019 capture, Zeborong (Nov 16) and Samling (Nov 18) were among the first snow leopards ever satellite-collared in Dolpo of Shey-Phoksundo National Park in the Western Region of Nepal, where scientists believe the snow leopard population is highest compared to the Eastern and Central parts of the country.
Their satellite-tracking success was considered a big achievement after similar success in the Eastern Region's Kanchenjungha Conservation Area, where satellite-tracking devices were fitted on four snow leopards between 2012-2017.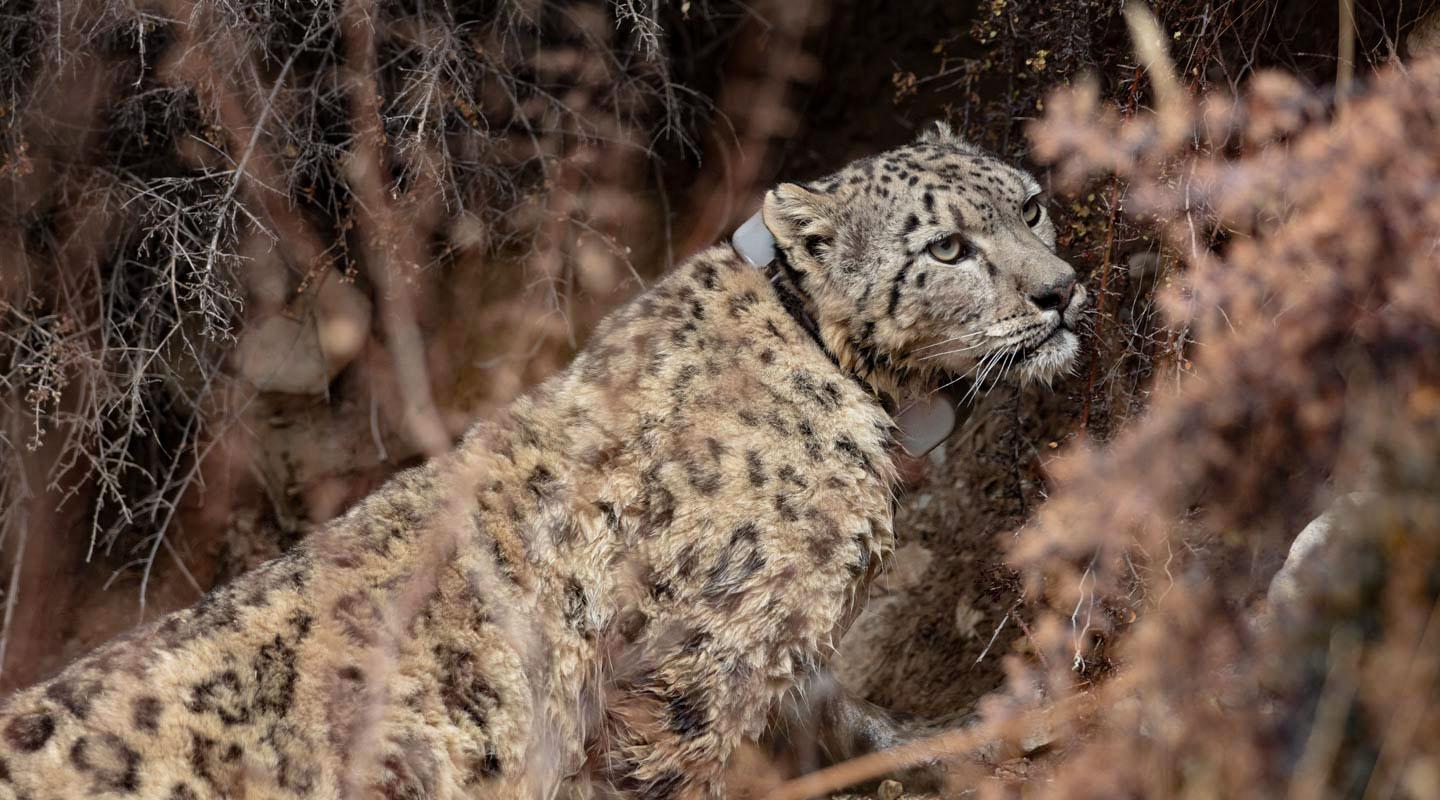 But one-and-a-half years after the success in Dolpo, Zeborong and Samling are all but history. A probe report, prepared by Nepal's Department of National Parks and Wildlife Conservation (DNPWC) and seen by this journalist, concludes that the two elusive high mountain cats didn't get to live much longer, or roam much further, as anticipated.
The two remained alive for only less than six months, crushing plans to better understand the species' home range and ecological behaviour.
While Zeborong was found dead nearly five months later on May 4, Samling, too, met similar fate weeks later on 28 May when its last location was recorded. Like one of the satellite-collared snow leopards of Kanchenjunga, which was found traveling far, far away across the border in Tibet, China, the two didn't travel too far from where they had been first captured.
Their early deaths have shocked many conservationists.
Officially, the two snow leopards died because of "natural factors", but some conservation officials in Nepal seem alarmed by investigators' suspicion that the one of the snow leopards, Zeborong, "might have been poisoned to death" after livestock killing in a nearby village.
What's puzzling is the fact that no livestock killing was officially reported in Saldang or Bhijer villages, near where Zeborong's dead body was found, nor did any villager in the area come forward to claim financial relief for livestock loss with the park authorities, according to the probe report.
Although no substantive evidence of retaliatory killing was found, the report suspects that Zeborong could have been poisoned to death: "Analysis of Zeborong's movement data, in its final 15 days, doesn't indicate that it died of natural reasons ...
"Circumstantial evidence and testimonies of members of the local snow leopard conservation committee, who first found its dead body, indicate poisoning as a possible factor causing its death."
The report notes that in an attempt to take revenge against snow leopards, agitated farmers, who lost their livestock in the past, were found adding poison to the dead remains of the cattle such as horse, yak, cow, goat or sheep killed in snow leopard attacks.
What did post-mortem reveal?
Zeborong's remains were found on May 28, 2020 -- 25 days after its mortality event was reported – on a slope located nearly one kilometre west of Ku village in Dolpo. Questions naturally arise: Did the park officials conduct any post-mortem examination of Zeborong's body? If so, what did that reveal?
Deepak Kharal, Director General at DNPWC has a different story to tell: "As many days had passed since the death of Zeborong, a post-mortem examination was deemed unnecessary. Since enough field investigation had already been carried out, we thought that was enough."
Gopal Khanal, Acting Warden of Shey Phoksundo National Park, who led the Dolpo satellite collar expedition in 2019 November, also led the fact-finding teams after Zeborong and Samling disappeared. He said: "While possibility of retaliatory killing can't be ruled out, we haven't found any evidence to prove that. Our conclusion is that both snow leopards appear to have died of natural causes."
Satellite telemetry monitoring showed Zeborong's healthy movement until May 4, 2020 – and Samling's movement until May 28, 2020. And Zeborong's body was recovered on 28 May 2020, while Samling's body was recovered much later on 24 November 2020, according to Khanal.
What happened to Samling?
Samling's dead body was found on November 24, nearly six months after its last location was reported on May 28. In the DNPWC report, investigators have concluded that some "natural factor", most possibly "rockslide or landslide", appears to have caused Samling's death.
The report says, "Observing its carcass on the landslide-prone steep slope, where its skeleton with dry skin was found, it looked like it (Samling) possibly died on May 28. Local snow leopard search team was not able to access the site during monsoon season … It could have died of natural factor such as rockslide or landslide as the site remains filled with huge pieces of rocks slid from the slope."
Postmortem of Samling's body?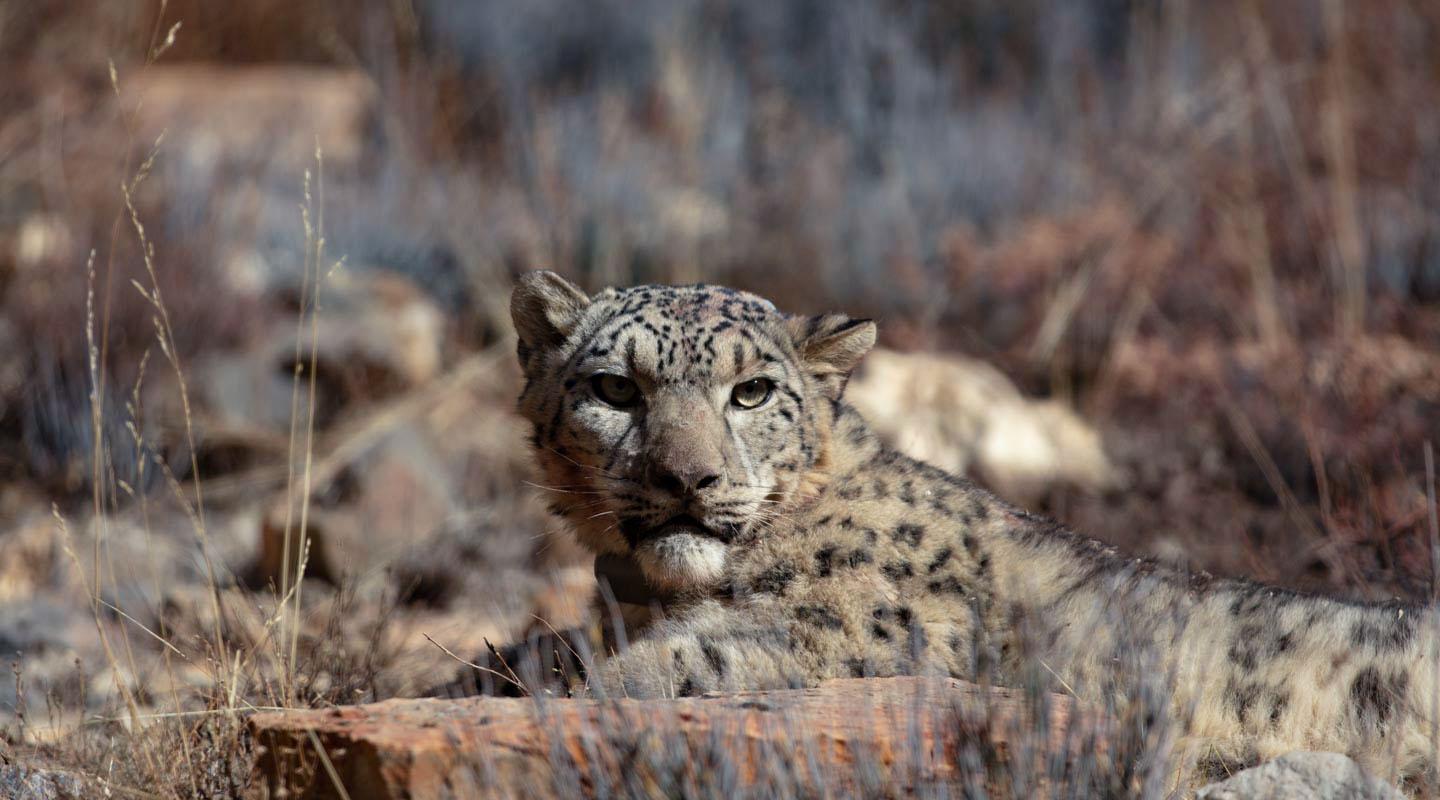 No post-mortem examination was done on Samling's body, too, but investigators mention in the report that the snow leopard's "head looked broken" and "teeth looked smashed" possibly after sustaining injury in the landslide. And "the GPS collar and skull were found 20 meters below the accident site," the report says, adding that no human activity was found in the area, and that the nearest villages of Bhijer and Phod are located 6 kilometres away.
The investigators note that the park's records show that in the past, too, at least one snow leopard had been killed in rockslide at a place called Chholappu.
Results from Satellite Telemetry
The satellite telemetry observations of Zeborong and Samling showed their healthy movement during the six months they survived. Zeborong's satellite collar recorded 169 days of GPS location data and a home range of around 122.6 square kilometres, while Samling's satellite collar recorded 192 days of GPS location data and a home range of 31.7 square kilometres.
In the 169 days, semi-adult Zeborong covered a distance of 495.7 square kilometres (averaging 2.93 sq km per day), while adult Samling covered a distance of 255.5 kilometres (averaging 1.33 sq km) per day in the 192 days.
"This average is lesser than that of the GPS-collared snow leopards of Kanchenjunga Conservation Area," the DNPWC report says: "This study could only provide us with data of a shorter period of time. As we need data of at least a year to study the snow leopard's home range and ecological behaviour, the data we have is insufficient to analyse and work out credible results regarding the snow leopard's home range and ecological behaviour."
Lessons from first satellite telemetry in Dolpo
While concluding that "Zeborong most possibly died as a result of poisoning" and "Samling died of natural factors", the DNPWC report acknowledges that it's not easy to study the snow leopard which dwells in extremely remote in inhospitable terrain. Although the latest study gave some important results, the report says, much more needs to be done to educate local communities about the importance of conserving the snow leopard and laws seeking to protect it.
Most importantly, the report underlines the need to directly involve local communities in the processes of "not just satellite-collaring, but on-the-ground VHF tracking, potential prey kill site monitoring and other post-collaring monitoring work and assignments" so that they can start taking ownership of conservation activities.
One way of doing that is this: "handing over the responsibilities of satellite telemetry work such as program management, logistical arrangement to the local community – so that local resources could be utilized and people can enjoy financial benefits," the report says.
Equally important, the report recommends the need to carry out reforms in post collaring monitoring work by better training local snow leopard committee members, regular monitoring and reporting of the satellite-collared snow leopards' movements at both community and central levels.
Why do farmers get so angry?
Although detailed scientific studies have not been done, Nepal's rugged and remote Himalayan region is home to an estimated 300 to 401 snow leopards, who prey on such species as blue sheep, gorals, Himalayan thars etc. But even in areas where prey species like blue sheep and gorals are plentiful, they have been found, occasionally, preying on livestock such as goats, sheep, yaks, cows and horses.
Often, snow leopard's sudden raids on poorly-built cow or goat-sheds have resulted in heavy losses of livestock.
In November 2014, recalled Madhu Chhetri, chief of Gaurishankar Conservation Area, who's done extensive research on the snow leopards in Nepal Himalayas, "a snow leopard attack on a remote mountain shed in Mustang led to the killing of 109 goats in a single incident."
"Five months ago, in Saldang in upper Dolpo," adds Shey Phoksundo's deputy warden, Gopal Khanal, "more than 50 goats were killed after a snow leopard attacked their shed."
It is precisely such brutal-ness of snow leopard attacks, coupled with a lack of adequate compensation from the government, that have often angered livestock farmers, compelling them to think of violent retribution against the 'pangche', as they are called in local language in Western Nepal, according to experts.
Yet evidences of direct involvement of local communities in retaliatory killing of the snow leopard or arrests on charge of poaching or killing have been rare.
What are the solutions?
With conflict between the snow leopard and people living in and around the protected areas showing no signs of calming down, experts are pitching for measures to better compensate livestock farmers, who bear significant financial losses after mass killing of livestock by the snow leopard.
For example, if a farmer loses his yak or horse in a snow leopard attack in Dolpo, the government's wildlife loss relief mechanism provides a maximum of Rs 30,000; whereas the animal fetches around Rs 100,000 in the livestock market of, say, Jomsom in Mustang.
If a goat or sheep is killed, up to Rs 10,000 is given as a relief.
In recent years, livestock insurance schemes have been introduced in the mountains of Western Nepal, too, including Shey Phoksundo National Park and Annapurna Conservation Area, to name a few.
"No matter what we do, livestock depredation by wildlife like snow leopards can't be stopped completely," says Khanal, the acting warden of Shey Phoksundo National Park. "However, we can take measures like building safer and sturdier corrals for livestock, and somehow ensure higher compensation plus insurance to offset financial losses occurring after mass killings."
Agreeing with him, experts say, if snow leopards are to be protected in a sustainable manner, two things need to go hand in hand: firstly, drastic measures to minimize continuing conflict between snow leopards and livestock farmers; and, secondly, frequent and large-scale studies of the threatened animal in its rugged and inaccessible Himalayan habitat – something that requires plenty of resources.
As far as studies are concerned, here's some good news from Nepal. The country is leading the 12 snow-leopard range countries in Asia, with 74 percent of the snow leopard habitat in northern Nepal having been the subject of research into the species, according to a recent WWF study dubbed Over 100 Years of Snow Leopard Research. And yet Nepali experts feel a significant portion of the habitat is still unexplored which is making it impossible to draw the full picture of the status of the Himalayan big cat.
Another good piece of news -- from Dolpo again -- is this. Nearly two years after the successful satellite collaring of Zeborong and Samling, wildlife officials captured and satellite collared two more male snow leopards in May, 2021: Seven-year-old Ghangri Ghapi Hyul, weighing 37 kilograms, and six-year-old Langyen weighing 38 kilograms, both from Saldang area (3,600 meters elevation), are said to be in sound health and roaming freely carrying the satellite-GPS collars.
Says WWF Nepal's Country Representative Ghanashyam Gurung: "As far as study is concerned, we still need to do a lot … Incidents of mass killing of livestock by snow leopards remain the biggest challenge. To prevent these, we must work together to upgrade existing relief amounts and introduce bigger livestock insurance packages so that farmers feel financially secure even if their cattle are lost in wildlife attacks."
The government's relief packages to farmers losing their near ones or livestock have helped. Livestock insurance schemes, too, are being expanded nationwide. Yet farmers living in hard-to-reach areas like Dolpo or Upper Mustang continue to face practical issues to visit government offices and complete necessary paper work to claim relief or insurance packages.
Says Rishi Baral, a conservation officer of Annapurna Conservation Area Project (ACAP) deputed in Mustang: "The relief amounts being given by the government to farmers who lose their livestock in wildlife attacks need to go up significantly, so that farmers start feeling more financially secure."
(Slightly different version of this article appeared in the December 2021 issue of The Snow Leopard magazine.)