Other Sports
Cycling
Nepali Army rider Tamata wins Ligligé Cycle Race
Tamata finishes ahead of Achyut Krishna Kharel and Kumar Tamang to claim the Men's Elite title in the 53-km event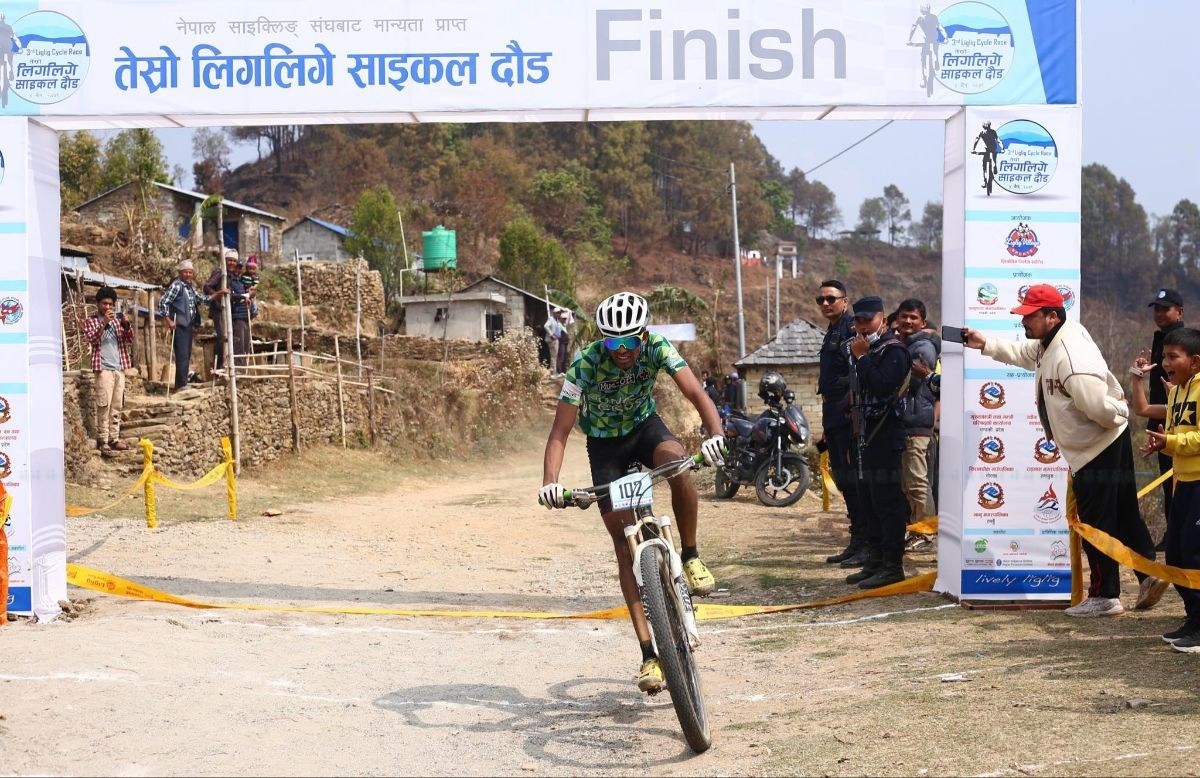 Nepali Army's Himal Tamata won the third edition of Ligligé Cycle Race at Palungtar in Gorkha on Saturday.
Tamata, who finished second in the inaugural event two years ago, went one better this time around with a winning time of 2 hours 24 minutes 27 seconds.
Achyut Krishna Kharel of Kavre came home second in the category in 2:24:41, with Kumar Tamang of Kathmandu following in close third with a time of 2:24:43.
The 53-km race, the inaugural competitive mountain bike event of this spring organised by Liglig Village Sports, drew 39 cyclists, including two foreign nationals.
Flagged off from the Ligligkot, the riders traversed steep ascents and meandering paths along Ampipal, Harmi Bhanjyang, Koyapani, Ripgaun of Palungtar, Pathibhara, Bhandarthok, and cross the Chepe River to arrive in Garambeshi of Lamjung.
The cyclists rode along Palungtar airfield, Taal Pokhari, Thanti Pokhari, Barhapirke, and Baddanda before finishing at the Ligligkot hilltop.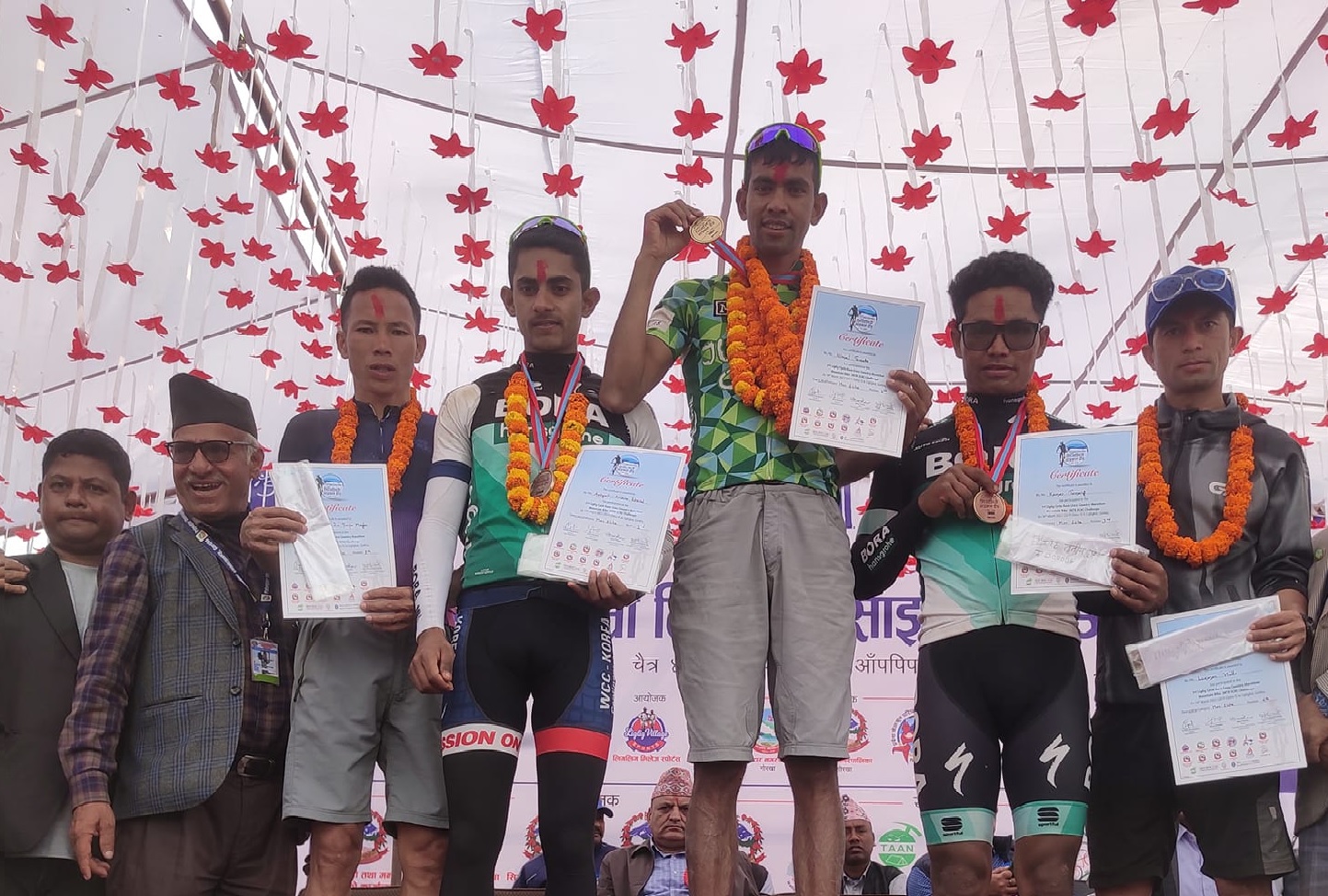 Tamata was awarded the top prize of Rs75,000, while Kharel received Rs50,000 and Tamang Rs30,000 with medals and certificates.
Similarly, Laxman Malla of the Armed Police Force finished the race in fourth place and Man Bahadur Thapamagar of the Nepali Army fifth. They collected cash prizes of Rs15,000 and Rs7,500, respectively.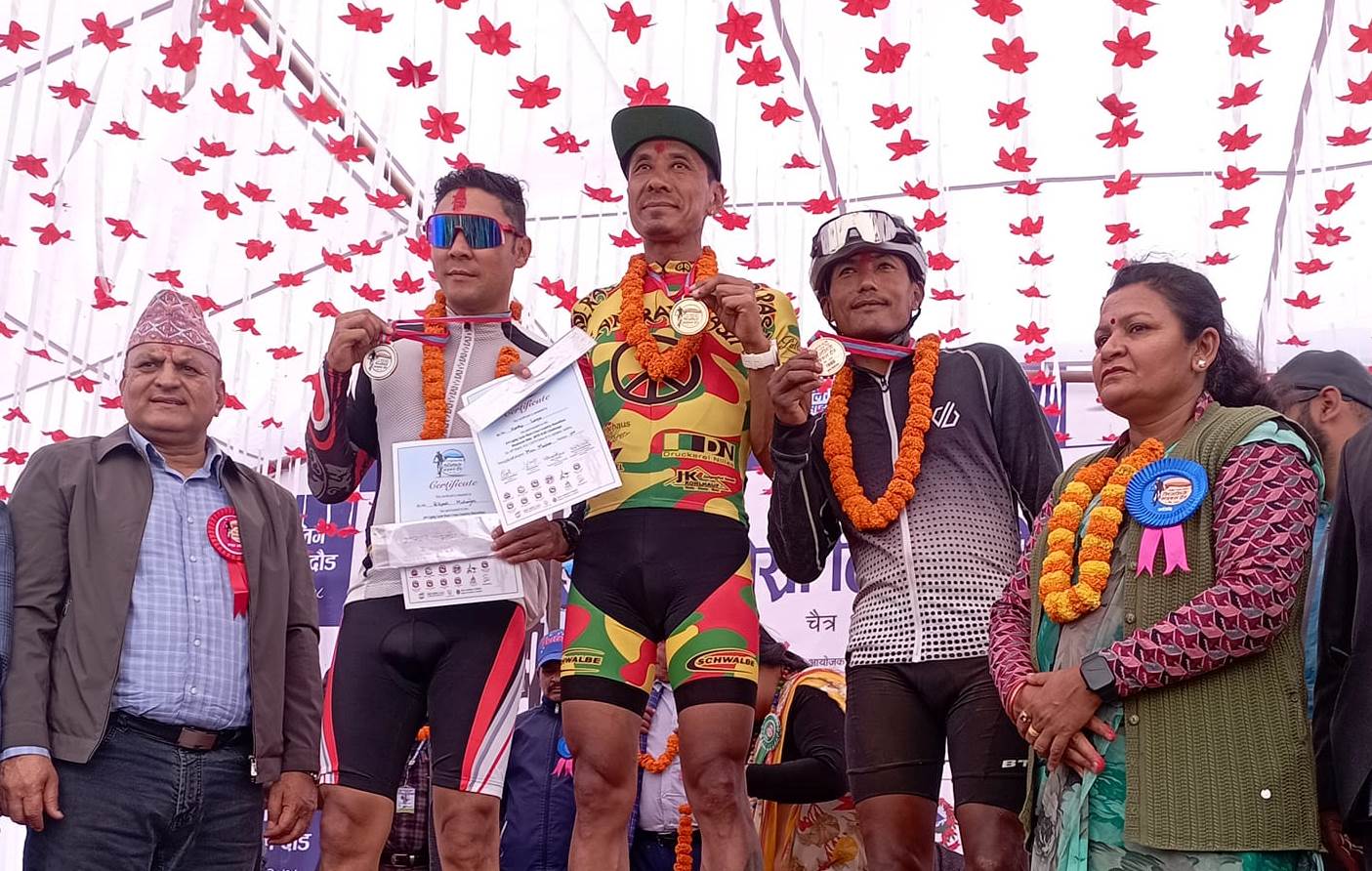 In the Men's Masters class, Harka Lama stood first in 2 hours 32 minutes 4 seconds to bag Rs15,000. Bikas Maharjan of Kathmandu was second in 2:49:55 to receive Rs10,000 and Dev Bahadur Bohara of Banke finished third in 2:52:21 to collect Rs5,000.
Gandaki Province MP Surendra Raj Pandey gave away prizes to the winning players during a presentation after the race.
Put aboard in 2020 in conjunction with the Nepal Tourism Board, the event has since been a regular feature of the Nepal Cycling Association's annual calendar.
The local organisers have been striving to develop Ligligkot as an adventure sports hub that complements its historical and cultural significance.