Cricket
ICC League 2
Nepal's Bhurtel ruled out for Monday's crucial UAE tie
Nepal, who are currently in sixth place, must win the remaining games to secure an automatic berth in WC Qualifier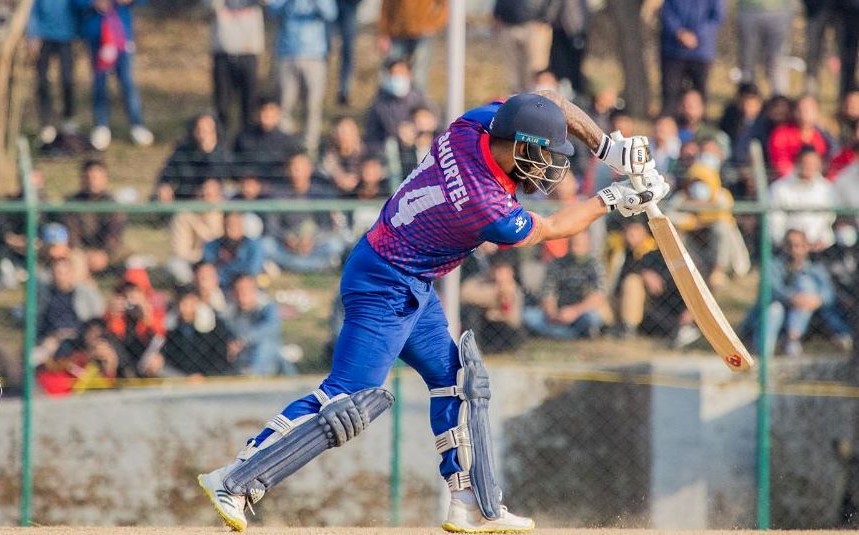 Opener Kushal Bhurtel has been ruled out of Nepal's crucial match against the United Arab Emirates (UAE) on Monday in the ongoing ICC World Cup League 2 triangular ODI series.
Nepal need to win all five remaining matches to finish third in the league and grab the last automatic berth to the World Cup qualifiers in Zimbabwe.
Bhurtel will miss the last match of the UAE tour due to a groin injury in his left leg, the Cricket Association of Nepal said. He will be replaced by Sandeep Zora for the match.
He made 55 runs in Nepal's four-wicket opening win over Papua New Guinea on the tour.
But the injury forced him to skip the training session with the team last Wednesday. He made five runs in Thursday's match against the UAE that Nepal lost by 68 runs. He failed to score against Papua New Guinea on Friday, however, Nepal scampered to a three-wicket victory for their second success on the tour.
Nepal are currently lying sixth in the league with 30 points from 31 matches, two behind the UAE who hold the fifth position after 30 games.
League winners Scotland with 50 points and second-placed Oman (44) have already secured their places in the World Cup qualifiers after completing 36 games.
Namibia, Nepal and the UAE are vying for third place to secure the last automatic berth in the 10-team 2023 World Cup Qualifier taking place in Zimbabwe from June 18 to July 9. Nepal need three wins out of the remaining five matches to finish within the top five positions in League 2 to retain the ICC one-day status.
The bottom four teams will have to play in a six-team Qualifier Play-off. The competition in Namibia will feature the bottom four teams in League 2 and Jersey and Canada, the winners of the two Challenge League groups.
The 10-team 2023 World Cup Qualifier will feature the bottom five teams from Super League, the top three from League 2 and the top two from Qualifier Play-off.
The winners and runners-up from qualifier advance to the cricket's 50-over showpiece in India.
Namibia currently hold the third spot with 39 points, and fifth-place USA have 35 points after 36 matches. PNG are at the bottom of the seven-team league with seven points from 31 matches.
Nepal will host PNG and the UAE in the final leg of the League 2 series, starting March 9.
Remaining League 2 fixtures
UAE v Papua New Guinea: March 5

UAE v Nepal: March 6

Nepal v Papua New Guinea: March 9

UAE v Papua New Guinea: March 10

Nepal v UAE: March 12

Nepal v Papua New Guinea: March 13

Papua New Guinea v UAE: March 15

Nepal v UAE: March 16