Cricket
ICC World Cup League 2
Nepal take on Namibia in opening match today
Captain Rohit Paudel's side will have to win at least nine out of the remaining 12 matches to preserve their ODI status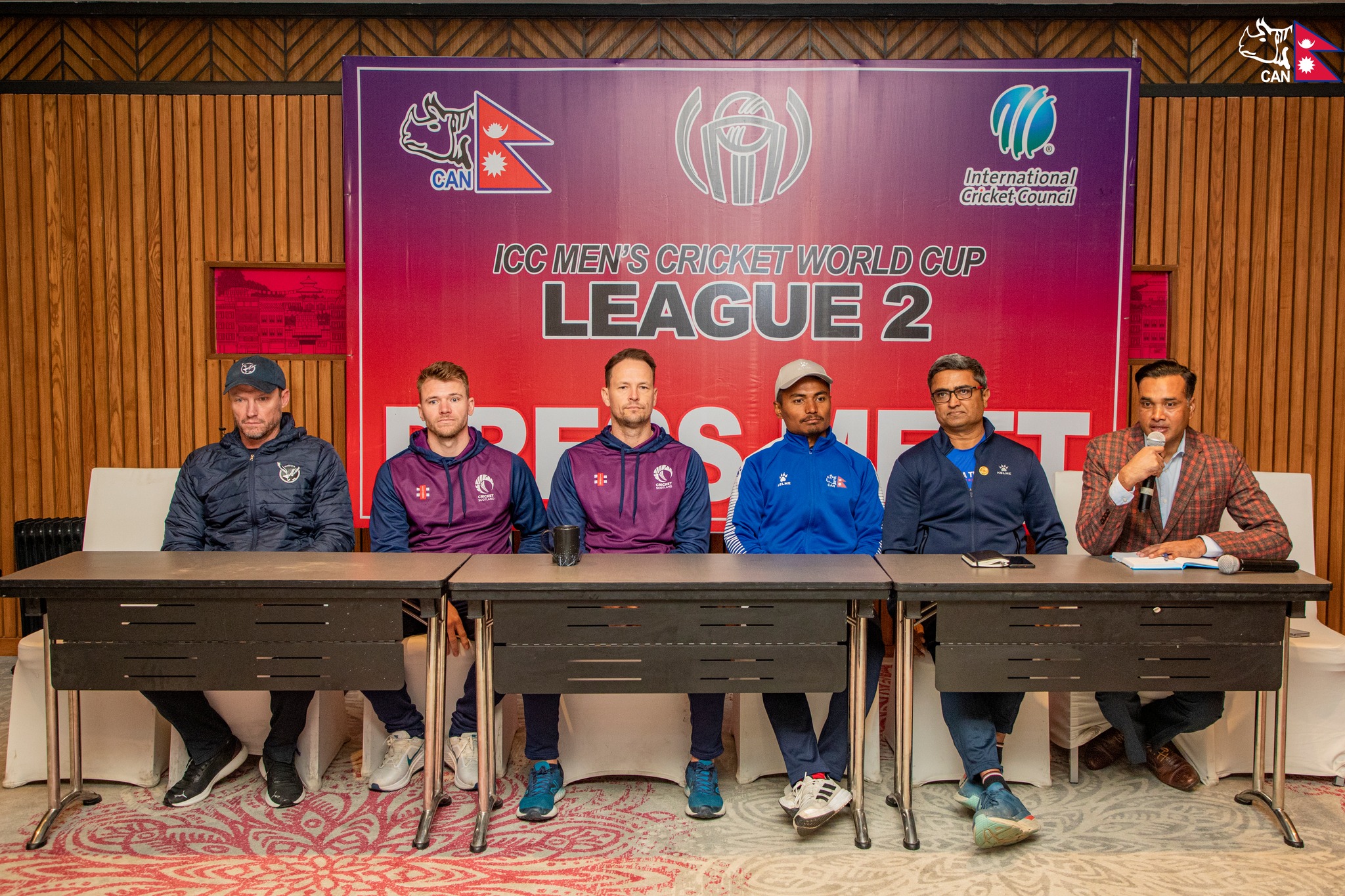 Nepal play Namibia in the opening match of the ICC World Cup Cricket League 2 triangular series today, facing an uphill task to resurrect their ODI status. The match begins at the TU Cricket Ground in Kirtipur at 9am.
Nepal's League 2 campaign on the Namibia trip in December 2022 was a disaster. Playing under former Indian all-rounder Manoj Prabhakar, they failed to register a single win for the first time in six League 2 series.
They shared points with Namibia after their opening match was washed out by rain. But they lost the remaining three matches, twice against Scotland and one against Namibia, which eventually cost Prabhakar his job.
Nepal, who have just 18 points from 24 matches, are sixth in the League 2 standings, only a place above Papua New Guinea in the seven-team competition.
Having lost five out of the last six matches, Nepal will have to win at least nine out of the remaining 12 matches to finish within the top five to retain the ODI status.
Nepali captain Rohit Paudel exuded confidence ahead of the big challenge, though. He said Nepal would take the field with renewed vigour under new head coach Monty Desai.
Desai, who had worked with Nepal's age group team, was formally handed the reins of the senior national side a week ago.
Counting on the home advantage, Paudel said: "This home series is very important for us. It will set the tone for the two remaining two series."
Desai claimed that the team had improved in a short time, expressing his belief in positive results in the series.
Scotland, who currently lead the table with 46 points from 32 games, already have one hand on the League 2 title. Namibia are third with 37 points from 30 games, seven behind Oman with 44 points. The USA are fourth with 35 points and the UAE fifth with 27. The top three sides qualify for the World Cup.
This is Namibia's first Nepal tour in seven years since the ICC World Cricket League Championship 2015-17 qualifiers.
After a five-wicket win in the opening match against Namibia, captain Paras Khadka hit a brilliant century (103) to beat the opposition by three wickets to complete a 2-0 sweep.
Three players – current captain Gerard Erasmus, wicketkeeper Jane Green and Lohan Lawrence – were part of that Namibian side that toured Nepal in 2016.
In Division 2 in 2018, Nepal won a thrilling one-wicket victory over the home team Namibia.
But Namibia have dominated Nepal in League 2, winning three out of four ODI matches between the two sides.
Speaking to reporters on Monday, Namibia coach Morne Morkel made his intent clear: to make the most out of their Nepal visit.
"We are aiming for the second spot in the League 2 with six games left to play," said the former South African fast bowler. He added that the remaining six games in the League 2 journey would be crucial for the team.
Nepal meet Scotland on February 17, then face off against Namibia again on February 18 before renewing their acquaintance with Scotland on February 21.
Teams
Nepal: Rohit Paudel (Captain), Kushal Bhurtel, Asif Sheikh, Gyanendra Malla, Kushal Malla, Dipendrasingh Airee, Sandeep Jora, Sompal Kami, Karan KC, Lalit Narayan Rajbanshi, Sandeep Lamichhane, Gulshan Jha, Bhim Sarki and Surya Tamang.
Namibia: Gerard Erasmus (Captain), Lohan Lawrence, Tanganyi Lumeni, Jan Grin, Michael Bhan Ligen, Jan Freilink, Bernard Sholts, Helao Ya Frans, Ben Tsikango, Karl Wikrenstok, Joshua Julius, Nicol Lofty Eaton, Ruben Trumpelman, Shaun Fuse.