#NepalSocial
The Unknown Citizen
Why did Prem Acharya set himself on fire?
The 36-year-old Ilam native puts forth 25 demands before the government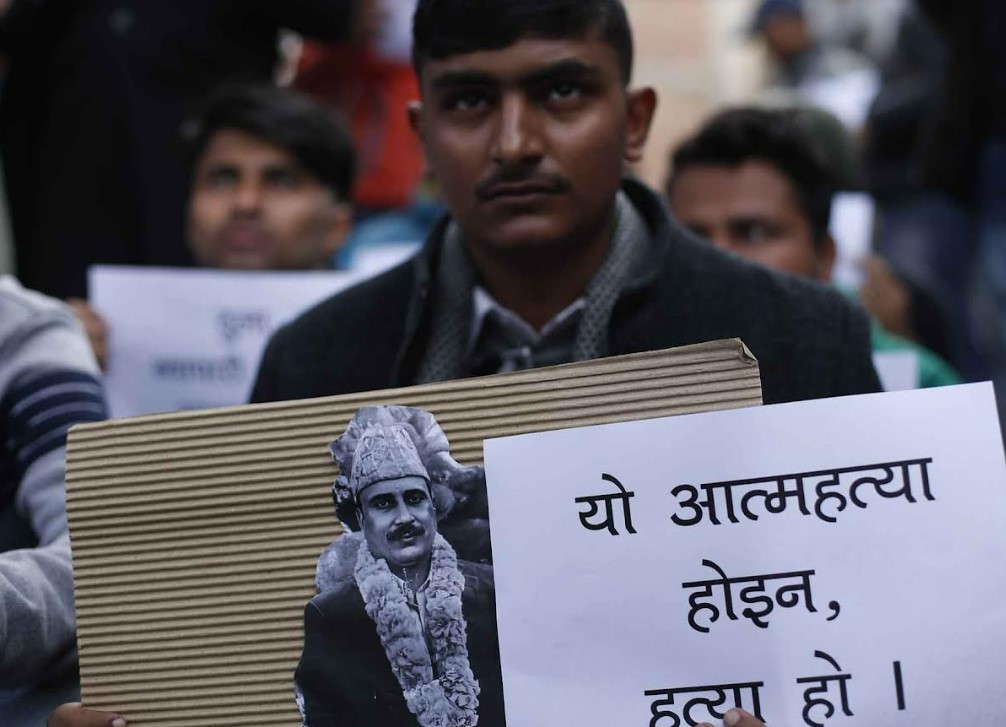 Nepali entrepreneurs and social media users including Kathmandu Mayor Balen Shah and Home Minister Rabi Lamichhane have been paying tributes to Prem Prasad Acharya who died after self-immolating in the heart of Kathmandu.
Hours after Acharya was pronounced dead, a demonstration was organised at Maitighar to condemn government's policies causing diffiulties to commoners and small-scale entrepreneurs like Acharya.
Police said the 36-year-old poured petrol and set himself on fire outside Parliament building in New Baneshwor at around 3:00pm on Tuesday, January 24. He was immediately rushed to Nepal Cleft & Burn Centre, Kirtipur, for medical care.
By then, 80 per cent of his body had been burnt, according to doctors attending to him.
State Minister of Health Toshima Karki visited him in the hospital. But hours later, he was pronounced dead.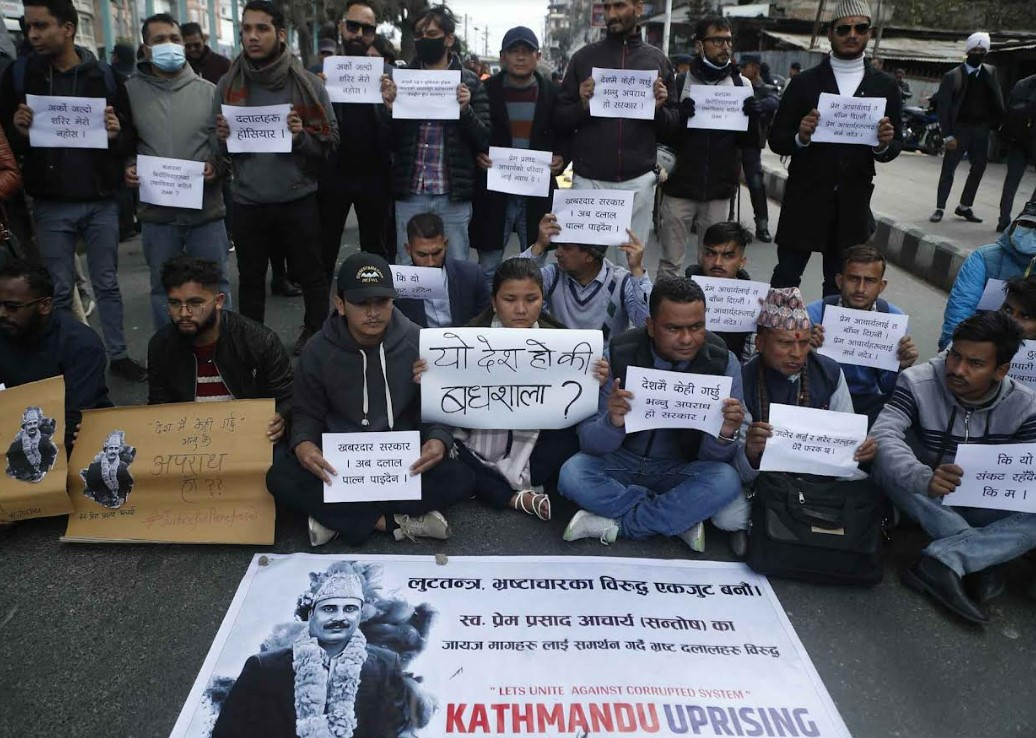 His social media posts indicated that the native of Kerabari, Suryodaya-11, Ilam, was an unsuccessful entrepreneur and a returnee migrant worker. He lived alone in Shantinagar, Kathmandu, according to the police:
His Facebook post suggests he had attempted to commit suicide in the past too. Once, he wrote, he jumped into the Brahmaputra River in Guwahati, India. He made another attempt by ramming his own vehicle. He was rescued on both occasions.
Here's the rough translation of his 25-point demand posted on his Facebook wall prior to self-immolation:
Remove VAT (Value Added Tax) on products made in Nepal. Levy two percent on imported goods. The main reason for the price hike on essential commodities in VAT.
Introduce schemes like 'Buyers Pay First. End credit market. Here hapless producers are forced to feed cartels and dons like Bhatbhateni, Big Mart and Dabur Nepal. They are forced to sell goods to them in credit. The suppliers paid only after the cartels made profits. This has been leading to operating capital shortage for suppliers.
Introduce a policy of 'Higher the Profit – Lower the Tax Rate. This would encourage traders to make more profits.
Introduce the policy of 'Land Leasing', the absence of which has made Nepali people lazy. Allow land-ownership of a piece of land to one individual only for a period of 50 years.
Change the policy of Banking Mortgage Valuation. Let lands and plots in rural Nepal get as much valuation as the urban lands. Rural plots are far more fertile and productive than urban ones.
Bring all houses that are being put on rent to the tax net. Why civil servants who earn Rs10,000 a month are required to pay one percent tax but urban landlords who make a lot of money aren't required to pay no tax.
Nepali markets have been captured by cartels like Bhatbhateni, Big Mart, Patanjali, Dabur Nepal, Unilever Nepal and bigger enterprises. Do unchain and regulate this market. Until the market is freed from their clutches, market prices will continue to rise.
Shut down all online shops that are operating without registration. They are required to register and pay tax.
End the hassle of Labour Permit for highly skilled Nepali youth seeking foreign employment. The provision of 'demand' and 'embassy attestation' are useless. Such hassles are coming in the way of skilled Nepali youth who can earn thousands of dollars in the Gulf every month. Advertisements announcing labour demand are fake and they don't reflect reality.
Dust off files of past grants and subsidies. You will know the scale of corruption. Give incentives to people who wish to work or start a business. A lot of fake companies are being created to grab subsidies and incentives. This must end.
Finish off the system of having Bichauliyas or go-between persons. Develop an online portal that can bring together all the municipalities in one forum. That kind of online national web server will help streamline prices nationwide. Once all municipalities can share vital information, the go-between folks will start going extinct.
Nepali consumers sell their cardamom to Indian traders and buy cardamom powder from Indian traders. Same with ginger. Same with orthodox green or black tea. Introduce a system whereby Nepalis can buy these products in Nepal itself. Also, promote global trade of Nepali brands.
Legalise marijuana farming. Nepali marijuana and other products made out of its plants are high on demand globally. If the government does so, Nepal will be prosperous in 2-to-4 years' time.
Stop private investments in education, health and transport sectors. These are supposed to be taken care of by the government. Make them accessible to everyone around the country. Let no Nepali die for lack of proper medical care and treatment in Nepal itself.
Provide residential facilities to civil servants and teachers who have to work away from home. A monthly salary of Rs45,000 is not enough for a civil servant to take care of house rent, kids' education and medical care. This is leading to bribery and corruption.
Make massive changes in the Public Procurement Act. Discourage tender bids to the highest bidder. Instead award public work tenders to those who come up with scientific and modern proposals.
Introduce death penalty for criminals found guilty of committing corruption, murder, rape and other heinous crimes.
End the system of caste-based reservation; provide reservation and other facilities only to those belonging to lowest economic strata or to the farmers.
Close down the open Nepal-Indian border. Let Indian nationals get on-arrival visas instead. Do keep the records up-to-date.
Promote domestic production and manufacturing and exports – and end the tendency to import. Let there be programmes that help spur domestic growth and export. Let the productive industries get all kinds of incentives and facilities.
Shut down all the micro-credit and micro-finance schemes – as the government is well aware of the fact that 60 per cent of our capital and liquidity are mobilised by microfinance cooperatives. Only 40 per cent is mobilised by private banks. Let the concept of the cooperatives be applied only in agricultural, and industrial sectors.
Development expenses are generated from tax paid by the people. End the system of partnership for development and 25 per cent additional contribution from local people.
Introduce a separate curriculum for 'Entrepreneurship' and make it mandatory from Grade Six in every school. Skills and vocations are required to make a living and to make money.
Urgently, make it mandatory for the children of civil servants, teachers, elected representatives, MPs and ministers to attend government of community schools and colleges
Limit banks' interest rates for loans at 7 per cent and keep that constant. All the national capital has been captured by big industrialists, who have invested in all the major banks.