Other Sports
MARATHON
Nepal's Pushpa Bhandari wins Dhaka marathon
Bhandari improves on her own record set at the 13th SAG with a new time of 2 hours 48 minutes and 2 seconds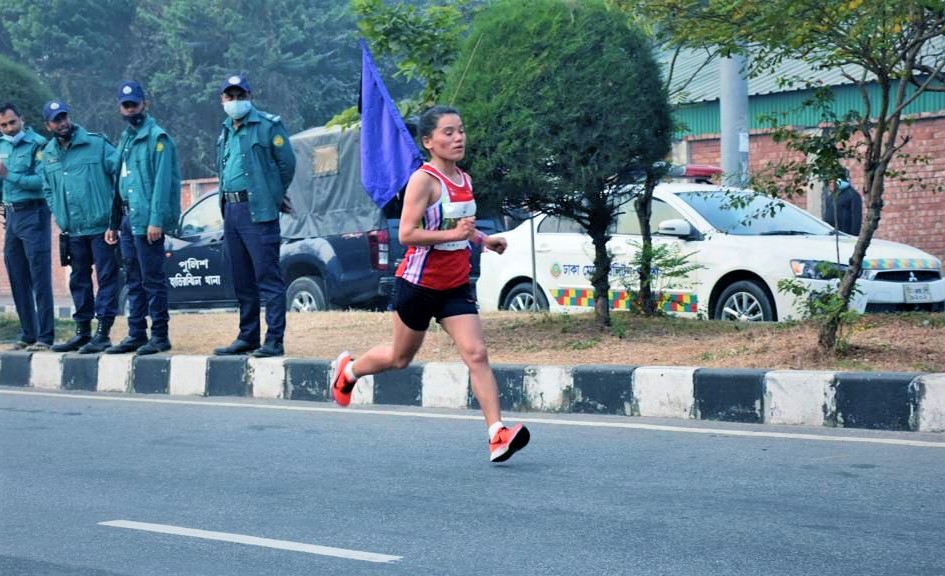 Nepal marathon runner Pushpa Bhandari has won the Dhaka Marathon for the second time in three year with a new national record.
Bhandari completed the distance in 2 hours 48 minutes and 2 seconds for the second title in the elite class of the event on Friday.
In the process, she broke her own previous record of 2 hours 50 minutes 11 seconds on her way to the silver medal at the 13th South Asian Games.
Sujani Perrera of Sri Lanka finished the race in 2:48:22 seconds to take second place, while Bindra Dhanke Shrestha came home third with a time of 2:52:00.
Her first victory in the SAF Elite class of the annual event came in 2021. She stood third in the event last year.
In the men's section, Santosh Bikram Bista missed the podium as he could only manage fourth place with Kiran Bogati completing the race in seventh place.
Similarly, in the men's half marathon, Gopi Chandra Parky stood third with a time of 1:06:44. Santosh Nath Yogi finished eighth with a time of 1:10:54.
Santoshi Shrestha finished fourth in the women's half marathon with a time of 1:15:17. Rajpur Pachai completed the half marathon in 1:16: 48 and Rekha Bista in 1:27:55.