People
CONVENTIONAL STONE MINING
In Galkot, traditional stone miners are at their wits' end
A sharp decline in stone demand has displaced many workers from local quarries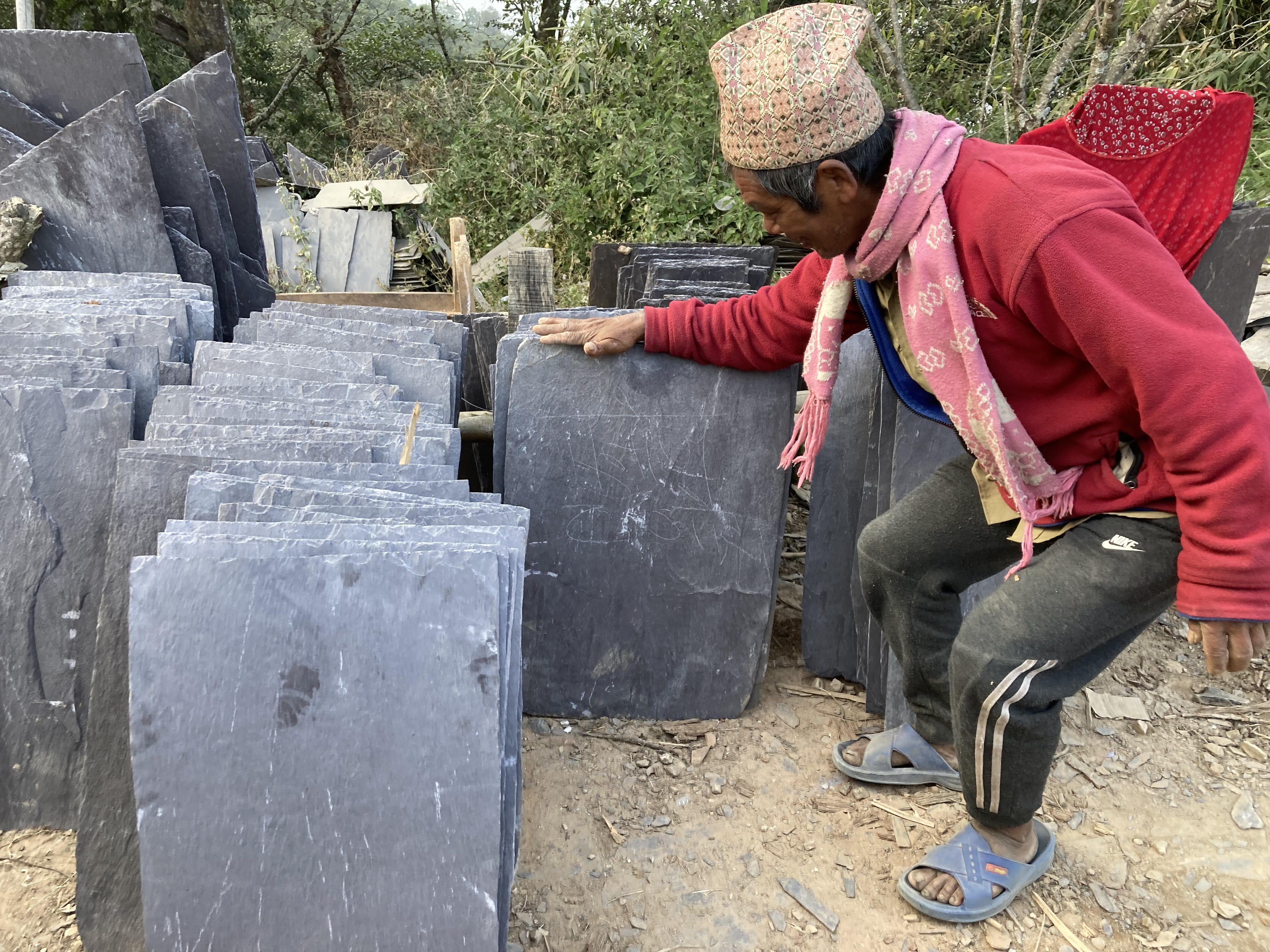 Gambhir Bishwakarma, 55, of Rankhani in the Jaimini Municipality in Baglung district has been extracting stones from a local quarry since he was a teen.
He has provided for his family with the money he earns working at Hardiya Dhungakhani. The quarry is located on the land that belongs to the local Saraswati Lower Secondary School at Jaimini Municipality-7 in Jaidi.
Gambhir and eight other stone workers at Hardiya Dhungakhani find their jobs on line due to the recent fall in the stone business.
Stone tiles that once adorned roofs and courtyards have been displaced by zinc sheets and reinforced cement concrete (RCC). The stone quarry, which had a workforce of 15-20 people until a few years ago, has now reduced to nine after the Covid-19 pandemic.
"My family had been dependent on this quarry. I started working in the quarry since the day I turned 15. The price of a sandstone tile has increased over the years, from Rs11 to Rs 135 per square foot," said Bishwakarma.
"Quality stones are hard to find these days. Even if you find some nice stones, it's hard to sell them. Everyone is building houses out of concrete and zinc sheets, which is putting quarries on the edge."
The miners who use conventional hand tools are now struggling to make ends meet due to a big drop in demand for stones.
"We started out doing this work and never learned how to do anything else. Now, it is hard to get stones out as the stone mine has moved in further," said Him Bahadur Shris, who worked at a different stone quarry.
"We don't know when we'll even be able to sell the stones that have already been taken out," he said.
Shris said that they had heard that these stone tiles sell well in other places, where they are mined and carved with modern tools so they can be used in modern homes.
"However, in our case, it's hard. Hand-cut stones can only be used for roofing. As more people have started using zinc sheets and concrete for roofing their houses, we're facing difficulties earning a living," he added.
The shrinking stone business has displaced many labourers from quarries in Galkot.
Manikarna Chhetri, a local stone dealer, bemoaned that it was difficult to run the quarry because the older quarry workers had passed away and the younger workers had emigrated.
Chhetri has been transporting the stones extracted by the employees to various locations for the past 45 years. However, sales has fallen sharply, putting the stone quarry in jeopardy.
Chhetri recounts that in the past, when stones were commonly used for roofing, "we had to labour overtime to mine stones and travel as far as Jaimini, Bareng, and Gulmi" to fulfil the growing demand.
"As zinc sheets and concrete are increasingly used for roofing, stone sales have plummeted," he said.
He had considered employing modern technology to remove and carve stones from stone quarries. "However, hauling in electricity wires to the stone quarries is a significant challenge due to their steep terrain," he explained.
Because these traditional stone quarries lack permits, according to quarry workers, they have been denied access to state facilities. Every time stones were mined, a portion of the proceeds were donated to Saraswati Lower Secondary School.
The stones of Tarakhola are currently in high demand from hotels, temples, and homeowners for use on courtyards, roads, and walkways.
With RSS inputs