People
Buddha Air
Buddha Air founding chairman Basnet passes away
Surendra Bahadur Basnet, who held several top positions during his long government service, established Buddha Air in 1996 when he was 70 years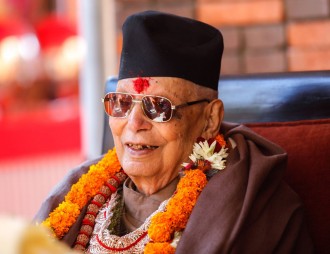 Surendra Bahadur Basnet, the founding chairman of Buddha Air, passed away on Sunday at the age of 95.
Buddha Air Information Officer Dipendra Kumar Karna said that Basnet passed away on Sunday morning during treatment at Medicity Hospital in Lalitpur.
He established Buddha Air in 1996 when he was 70 years.
Basnet is survived by two sons and one daughter. The eldest son Birendra Bahadur Basnet is the managing director of Buddha Air.
"Though we have lost a good parent, Buddha Air employees will always follow the path shown by him and move forward. Heartfelt tributes to our parent," the company said in a statement.
Born at Salma, Dingala in Bhojpur district, Basnet completed his LLB from Benaras, India.
Basnet, who played a leadership role in various high positions in the government, served as a Supreme Court judge, the first chief commissioner of the Nepal Election Commission, Minister of Law, Justice and Education (2024), Minister of Finance, Industry, Commerce and Supply (2025), and the founding president of Nepal Press Council. He also became a founding member of the Nepal Bar Association.
- RSS