Nature
Wildlife Conservation
Nepali Army, Parsa Park joint team nabs five suspected poachers
The team seizes a dead deer, guns, vehicles and cash from the suspects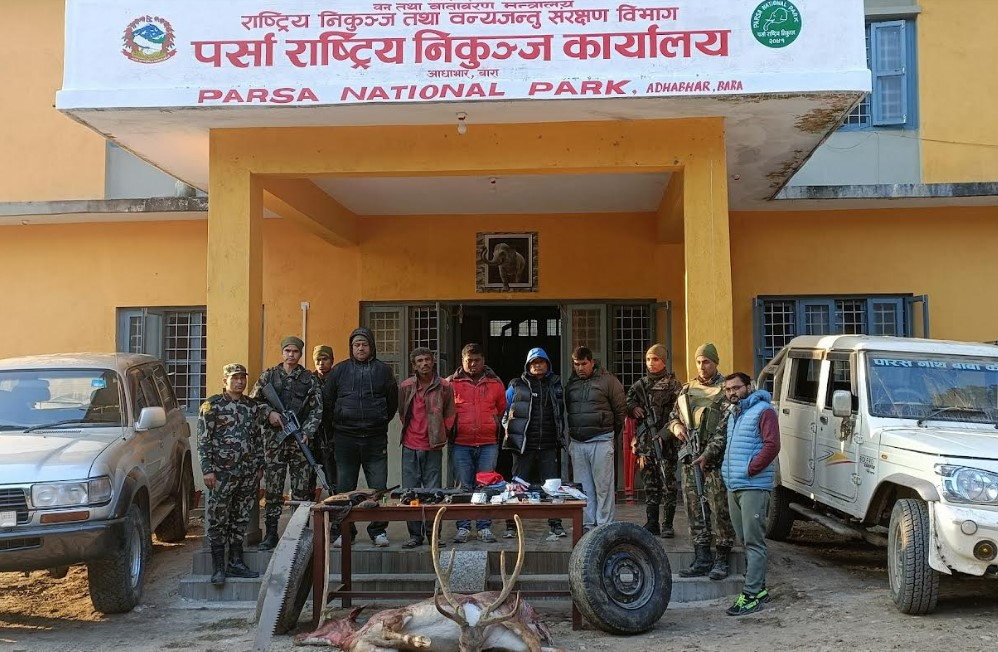 A joint patrol team comprising Nepali Army and Parsa National Park staff has arrested five armed individuals suspected to have been involved in poaching wildlife inside the park territory in southern Nepal.
The team seized a deer killed by the suspected poachers, in addition to weapons and vehicles used by them, the Army said in a press statement. The poachers were arrested in the Jamuniya river area on Monday afternoon.
Nepali Army, entrusted with protecting the country's national parks, recently launched Operation Maha-Haunt-9, which is aimed at arresting poachers in the protected areas.

The items seized from the five suspects include: one dead deer; one head of a deer; one 12-bore gun; one round bullet for 12-bore gun; nine rounds of bullet for .22 gun; one night vision rifle scope with case; one bore case.
Other items seized are: one torch light; two rifle bags; one permission to possess gun; one Land Cruiser car; one Bolero car; cash worth nearly Rs 300,000; ATM cards; and mobile phones.
Also Read & WATCH: 'Nobody should make us tigers' prey', says Pabitra KC, who lost her husband to tiger attack