Opinion
Delhi Eye
Who cares when Nepalis vote
Observing the elections and assessing the moods of disenchanted voters in Nepal was quite an experience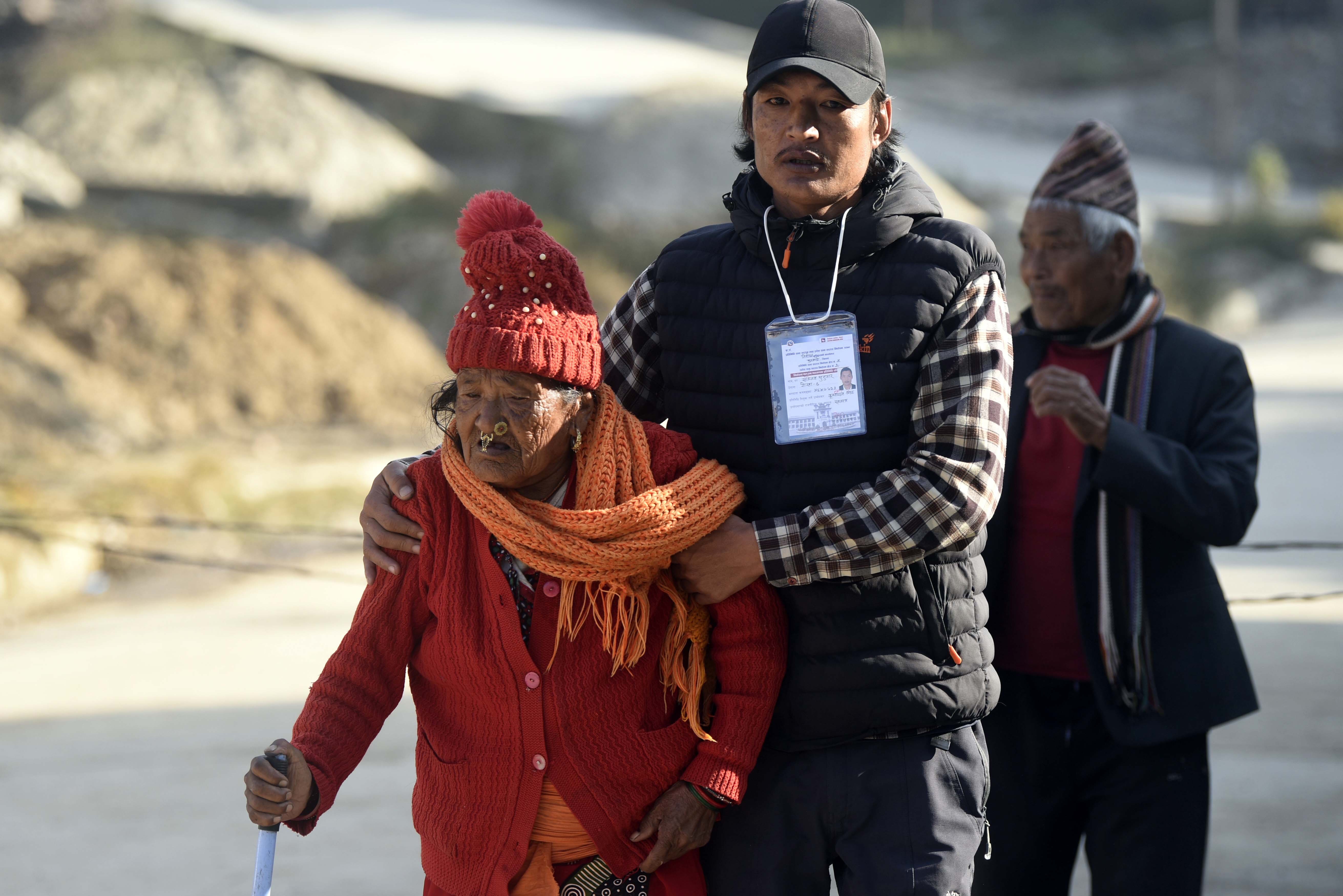 Elections in Nepal draw scant attention in the Indian media obsessed with Pakistan. This time, however, the Nepal elections clashed with state elections in Gujarat and Himachal Pradesh as well as local elections in Delhi. But the Palace Massacre (2001) and sacking of Nepali Army Chief, Gen Rookmangud Katawal (2008) grabbed the headlines.
In 1990, King Birendra reportedly expressed concern about the neglect of Nepal with Indian Ambassador, Lt. Gen. SK Sinha, the first military diplomat in Kathmandu from my regiment, 5 Gorkha Rifles (Frontier Force). He allayed the King's fears with diplomatic aplomb: "Your Majesty", he said "for India, Nepal is the most important country in the subcontinent: it is the fountainhead on the map", adding "Tauko Maharajadhiraj (Nepal is the head, intellect and brain so it is the most effective part of India's heart and soul)".
Take Indian media. Until not so long ago, Indian media outlets used to have full-time correspondents. But now only stringers and visiting Indian correspondents - who often seem charmed by China's first female ambassador, Hu Yanqui, now replaced by Chen Song. Nepal's second multi-party elections since promulgation of the new constitution (2015) were unique: they were held simultaneously for federal and provincial assemblies, a juxtaposition Prime Minister Modi wants to achieve. It was the first time in history that Nepal's Parliament completed its full term and also the first time they were fought as pre-poll alliances though vote transfers did not occur on expected or anticipated lines.
Rebel and independent candidates affected the fortunes of mainline parties like Nepali Congress and CPN (UML). In India's Himachal Pradesh, BJP vote was afflicted by rebels; and Agniveer was a key factor in its defeat as a number of ex-servicemen hail from Himachal Pradesh. In Nepal Agniveer was not made an election issue though it was a big-ticketed item. Still Agniveer will be one of the first big foreign policy decisions Nepal's new government will have to make shortly.
New parties have stolen the limelight, notably Rashtriya Swatantra Party becoming the fourth largest after CPN (Maoist Centre) with 20 seats. Its leader, Rabi Lamichhane, is being investigated a second time for allegedly concealing his American citizenship. Police is investigating the case. The monarchist Rastriya Prajatantra Party is on the revival path with 14 seats.
The Tarai-Madhesh picture has changed dramatically with two new parties – one led by Cambridge-educated Dr CK Raut (Janamat Party) defeating the erstwhile kingmaker, Upendra Yadav. The other leader is a Tharu, Resham Choudhary, now eight years in jail in connection with the Tikapur police massacre. His Nagrik Unmukti Party has bagged four seats. Former Prime Minister Madhav Nepal's CPN (Unified Socialist) won 10 seats, but could not cross the proportional representation threshold of three percent votes.
It was a sharp contrast from 2017 results when Left parties contested as Nepal Communist Party won nearly two-thirds of 275 seats, triumphed in local elections with a massive majority, and formed governments in six of seven provinces. This time, that trend and show of strength are missing because of coalition politics.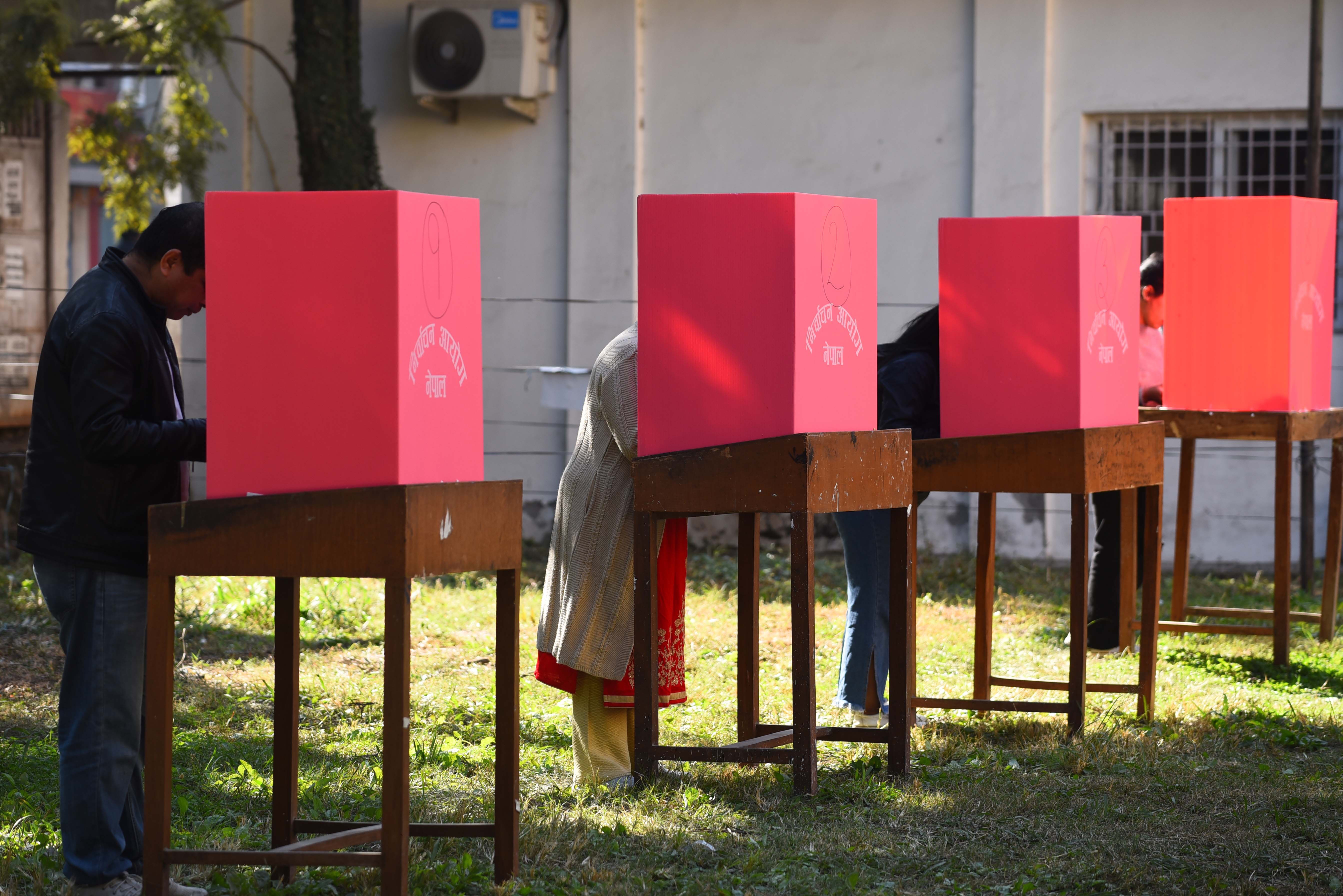 I was able to watch first-hand, elections on 20 November, Pokhara Metropolitan City - 32, Lekhnath, in Kaski, where I visited all four polling booths. I was accompanied by NC leader Buddhiman Gurung of Lame Ahal, Gagan Gaunda. The first booth was in a school in Lekhnath along the main Kathmandu-Pokhara highway. The ambiance was peaceful and the rival parties were very friendly. Each party contesting had organised lunch with 'maasu' (mutton curry) and some 'jhol' (liquid). Each voter had four ballot papers, one each for party candidates in direct elections for federal and provincial seats and two PR ballot papers to vote for party candidates for the federal and state level elections.
The second booth was near Sita Cave on Chainpur hill. Reaching the top tested Budhiman's Korean jeep's strength and his driving skill. There was some discrepancy here: mix-up of ballot papers between provincial and national lists. Voter turnout was described as 'not high' due to voter disenchantment, frustration, and many being outside the country. While nearly one-sixth of Nepal's population is abroad including in India, Kathmandu does not allow postal ballots.
The third booth was at Chandrajyoti School at Atarni Danda. People were soaking up the sun with small shops selling water and goodies. Because I was with Budhiman and a retired Indian Army General from the Gorkha regiment, people exchanged pleasantries and assumed I am an NC sympathiser. An RPP supporter who is an ex-serviceman told me: "If you meet (prime minister) Deuba, ask him to stop politics", adding that current leaders are weak and it is time for 'parivartan' (change).
The fourth booth was at Raja Ko Chautara. Folklore has it that King Mahendra once came here and addressed the people. It is here I met Purna Bahadur Vishwakarma, who started a conversation on Kalapani-Lipulekh-Limpiyadhura in D(h)archula, asking me that when I returned to India, I must urge Modi to "return our land". This reminded me among my many treks of the one in 1974 when looking towards the plains of Uttar Pradesh from the Terai's Siwalik (Chure) hills, an old man ruefully observed: "India has been very unkind. It has kept the fertile plains for itself and left the thorns and hills for Nepal". So much for being Daju Bhai (brothers).
By 5 pm NST, I was told 79082 votes had been cast in Lekhnath 32.