Opinion
Why odds are pretty much against Gagan Thapa
In a crowd of "same old, same old" Nepali politicos, Gagan Thapa stands out. But will he make it to the hot seat?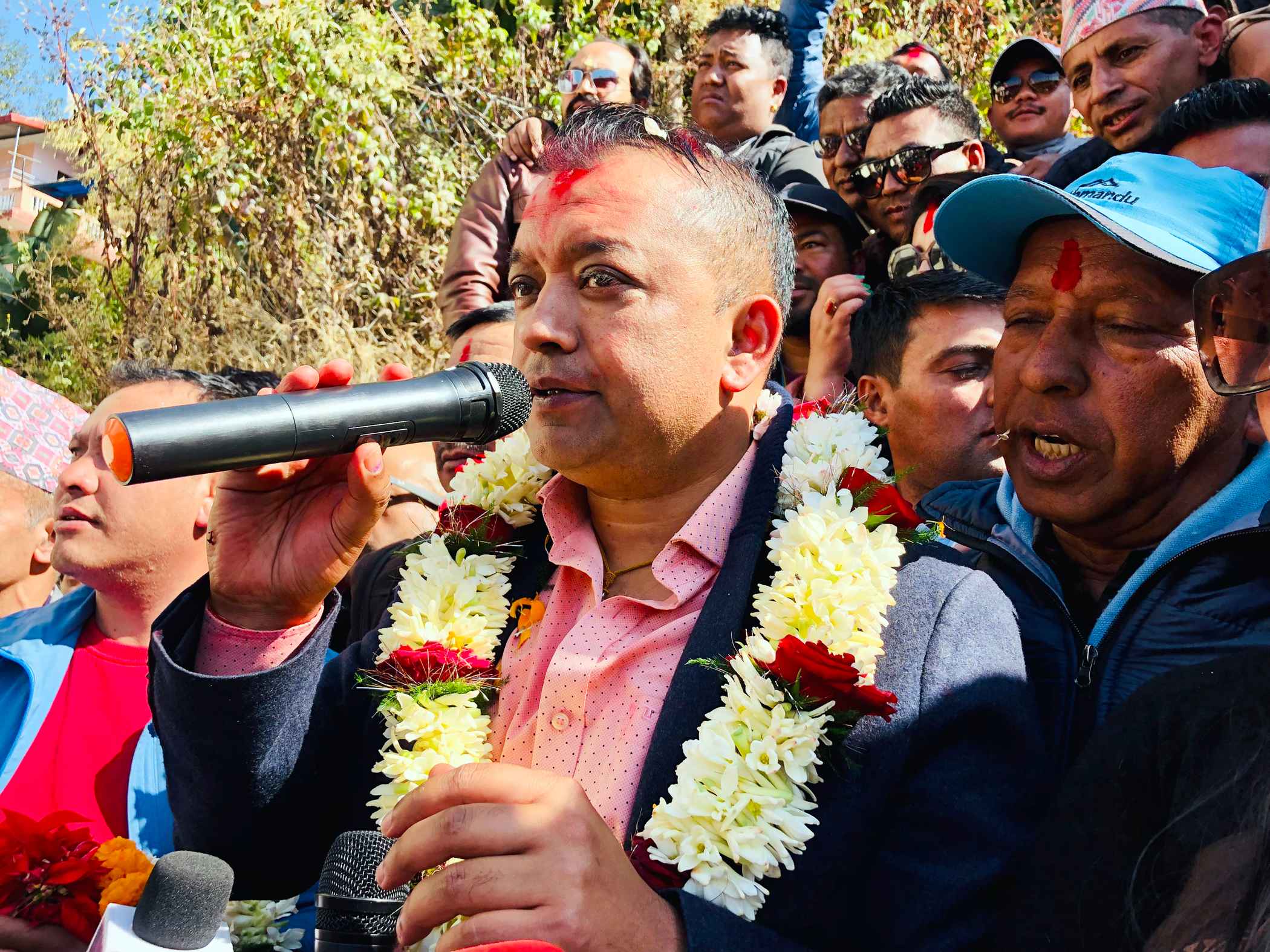 He's arguably the youngest Nepali Congress MP eyeing the post of the country's chief executive.
In a few days' time Gagan Thapa, 46, will be marching into the House of Representatives serving his third term as a Member of Parliament in the Lower House.
This time again, he was elected from his home constituency of Kathmandu-4. Historically and traditionally, Kathmandu-4 has never been a bastion of Nepali Congress, yet Thapa has managed to pull through.
Thapa's victory this time around has in particular stunned his rival, who is one of closest aides of CPN-UML Chairman KP Sharma Oli, whose 3.5 years in office as prime minister (February 2018-July 2021) incidentally happens to be one of the longest tenures in Nepal's history.
As author Rajib Upadhya puts it in his debut book, Cabals and Cartels, there's no such thing as "political obituary" in Nepal. Nepali politicians can spring back as members of parliament, or ministers and prime ministers again and again, it seems they're destined to make an exit without completing their full five year terms in office.
Back to Gagan Thapa.
In a crowd of "same old, same old" Nepali politicos, Gagan Thapa stands out. Period. He inspires hopes in the Nepali youths even as the majority of them just await visas. Of them, a greater number should be waiting for their student visas to Japan, to Australia, to the US and Canada or to one of the European countries.
He instills a sense of optimism in the minds of the general public. That is probably why he could convince and win over the largely anti-Congress voters in his constituency.
Tall order
Of course, he projected himself as the next prime minister thinking that it was high time he and his contemporaries "intervened" in their respective parties. Or, he thought, they would all accept being ensconced in the status quo. The general mood is that he should be the next prime minister. But the big question is: Can he?
As things stand, while it may not look impossible for him to sweep into the high office of prime minister, it certainly is a tall order even as fellow general secretary Biswa Prakash Sharma has said he would back Gagan as the executive head. Voices coming from the other side are not as pleasant either.
Congress Spokesperson Prakash Sharan Mahat, likely to be elected to the Lower House through the Proportional Representation system, tried quelling Gagan's chances even when he was fighting hard to win votes in the run-up to the election on November 20.

Ramesh Lekhak, another close aide of Deuba who was elected from Kanchanpur 3, has gone on public saying: It's not the right time for Gagan, yet.
Unpleasant shocker?
The most unpleasant and perhaps the worst shocker came from Biratnagar on Thursday. Dr Shekhar Koirala, the leader of the anti-establishment camp in Nepali Congress that stood up to Deuba in the party general convention, implicitly advised Gagan to stay low. The numbers matter; and Deuba is better positioned in head counts, according to Koirala. Deuba sure does have the numbers on his side.
Let's face it: Gagan Thapa has a tough mountain to climb. Should he aspire to become the prime minister, it looks like he will have to cross the first hurdle: Dr Shekhar Koirala. Koirala has – albeit lowly – expressed his own intention to contest for the parliamentary party leadership.
Should an opportunity pass him by, Koirala would rather try to win over Deuba so his trusted lieutenants get influential ministerial berths in the government instead of further antagonizing the strongest man in the party.