Opinion
A 'Visit Nepal Decade' or a 'Decade for Nepal'?
If dreams are all it takes why not conjure up a Decade for Nepal?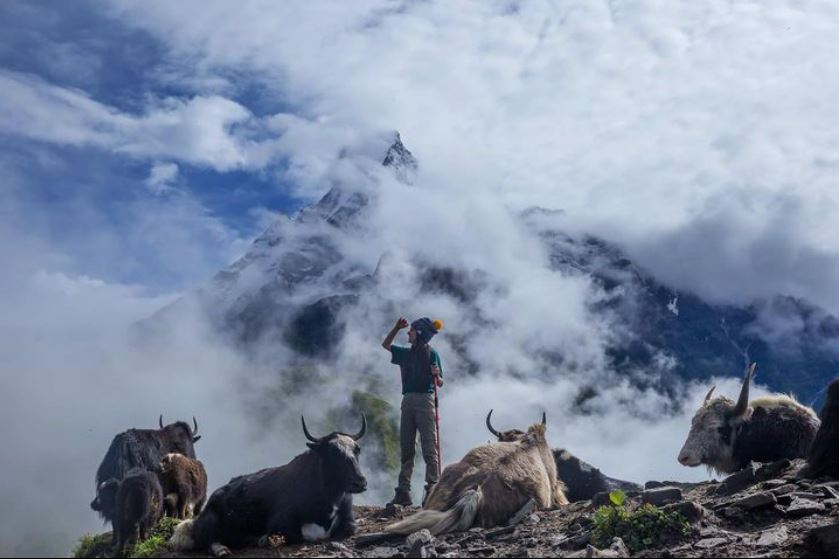 While the Visit Nepal Decade is a welcome move, much needs to be done to make it a reality. Especially challenging will be securing multi-partisan support. And on this hinges the dream. If dreams are all it takes why not conjure up a Decade for Nepal? This is a decade in which we can aim not just for $7.5 billion in revenue from tourism but also take our GDP to a quarter of a trillion dollars.
Shifting investments
Let's look at how things are going around the world and in our own neighbourhood.
Companies are moving away from China. While they are still in operation refrain in the boardrooms around the world: We are not investing anymore in China. The investors of those companies and their consumers agree. The world's factory floor of the last 60 years does not look so enticing anymore. This is a result of rising geo-political tensions as well as the Pandemic induced lockdowns. The grand feeling that once the Chinese population had enough financial freedoms other freedoms would quickly follow and ease the integration of Chinese society into that of the rest of the world has fallen flat. During Chairman Xi Jin Ping's second term in office, the Chinese state moved quickly to cut its own booming tech sector down to size. Think ANT Group and Tencent swiftly fell victim to regulators for not towing the party line. The regulatory hurdles thrown around multinationals trying to find a toehold in the world's most populous country have proven increasingly frustrating, as the Communist Party of China tries to keep dissent at bay by favouring inefficient state-owned monopolies.
Now with Chairman Xi secure in his third and maybe indefinite term, the markets are jittery about what might happen. Will Xi invade Taiwan bringing sanctions à la Russia down on the Chinese economy, and hobbling companies whose supply chains are wholly or partly dependent on the erstwhile factory floor? Will China move to nationalize the assets of foreign companies that follow the sanction of their governments? Getting out of Russia fast has been painful to most companies. Getting out of China in a hurry will hurt quite a bit more as they are more heavily invested in China. As of now.
Apple began assembling iPhones in India in 2017 but those were generally older generation or legacy iPhone models. Then in September of 2022 it began assembling its iPhone 14 /14 Pro models in its Sriperumbudur plant near Chennai almost at the same time that it began producing the models in other facilities worldwide. Analysts expect that Apple will eventually ramp up production in India to produce 25% of all iPhones by 2025 and curtail its reliance on China. Samsung led the charge out of China for Vietnam in 2019 and has been followed by Amazon, Volvo, and Google in addition to Apple.
The triggers behind
A slew of reasons ranging from Rights Violations, Intellectual Property thefts, sudden targeted regulatory changes and hurdles, government intervention in the market in favour of state-owned entities, and CCP's involvement in the management have been cited as reasons for departure. With Xi's grasp of the CCP formalized by the sudden removal of former President Hu Jintao from the Communist Party Congress in late October and scrubbing the party ranks of his supporters' such measures are set to increase. So, companies are already casting about for their next investment destination from which they can draw incremental revenues, cut costs, follow their home laws and keep their investors and consumers happy.
Indian response
The Government of India, having missed the early bus in the initial rush to attract multi-national investments is working overtime to get them on board, laying out the welcome mat along with incentives and regulatory changes designed to lure them to what is expected to become the world's most populous country by 2030. And companies are beginning to respond. With access to cheap and abundant labour, heavy government investment in infrastructure, rule of law, a creaky but generally transparent legal system, and guaranteed fundamental rights to all of its population India is being seen as an attractive alternative destination by big companies that need to pivot away from China, or at the least, have alternative production facilities and markets to generate incremental revenues.
Nepal: a better option
At this point in time, Nepal checks most, if not all the boxes for attracting foreign investment. Cheap labor, with the capacity to tap into the Indian pool for more, a government that acknowledges more must be done in the infrastructure direction and indeed has made significant investments already, a democratic system adhering to the rule of law including guarantees of more human and fundamental rights than one can throw a stone at. And then there is what should be the icing on the cake – abundant GREEN energy. Nepal is already suffering from energy spillage and depending on whose election manifesto you read or want to believe, we will be adding 8000, 10,000 or 15,000 Mega Watts of hydroelectricity. We need to go to the market with this, coupled with incentives, any regulatory and statutory changes, the establishment of Free Trade Zones etc. Our true Unique Selling Point should be our SUSTAINABLE and GREEN energy with almost zero carbon footprint and for which many companies and their consumers will be willing to pay a premium.
Align policies & priorities
I am not advocating in an attempt to woo Apple Inc., or for that matter, Foxconn to open a mega Apple plant in Nepal to assemble iPhone 14/14 Pros immediately. We could start by chasing the people who make parts for them. Could we not? And up-scale from that? At the same time, there are countless other manufacturers and service providers who are suffering from the same malaise and need a solution.
We have invested in quite a bit of infrastructure in the last decade: Lots in electricity and transmission, two new airports and an upgraded Kathmandu Airport, bits and pieces of a rail system that will eventually run from east to west and include several north and south sections, and we have begun to upgrade the east-west highway not to mention the work on several other highway and fast-track projects. For the expenses on all of these to be justified, someone must use them for a purpose that generates revenues.
If we do our homework right, the electricity we generate can be used to create jobs. The highways and airports we constructed and are about to construct can be used to move passengers, goods and services regionally and globally. The east-west highway and its twin railway can move goods and people through and within the country at a faster more seamless rate using our sustainably generated power. What we need to do is stop any more digging of the hole we already find ourselves in, stop blaming the other person for digging the hole, gather around a table or several tables if we must, and figure out what we want to do for our country in the next decade. Then, we must go about achieving those targets, tweaking them, and making adjustments as we go along.
(Ashok Pokharel is a seasoned tourism entrepreneur, currently the president of the Nepal Association of Tour Operators)