Environment
Wilderness
From Nepal to Tanzania, Chungba Sherpa goes into the wild for a reason
Chungba Sherpa goes into the wild, carrying camera, lens, tripod and other gears in his Land Rover.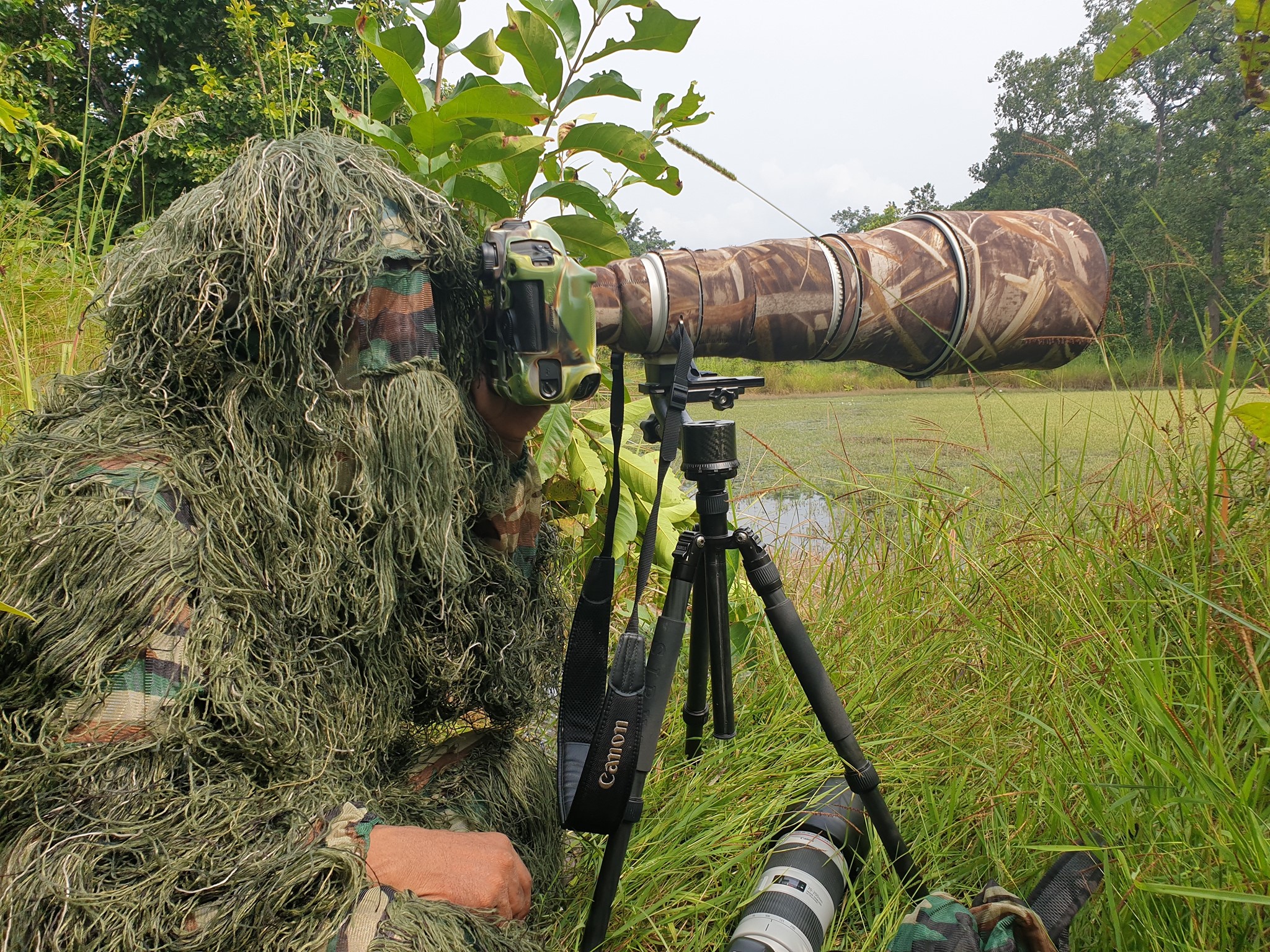 By Surendra Phuyal & Siddhanta Shahi
Chungba is no ordinary Sherpa.
Some Sherpas spend much of their time helping foreigners scale the highest mountains in the world, Everest, K2, Kanchenjunga, Dhaulagiri and so on. Some remain busy year round guiding trekkers or expedition groups up and down smaller Himalayan peaks, passes and valleys.
But Chungba Sherpa, 62, does something that few Sherpas - or Nepalis - do:
He goes into the wild, carrying camera, lens, tripod and other gears in his Land Rover. He ventures deep into forests - both inside and outside Nepal - to capture rare wildlife photos and footage.
Last month, the Lukla-born Sherpa travelled to Serengeti National Park, Tanzania, and spent two weeks in the African forests and savannas, capturing photos of scores of wildlife in their natural habitat.
Next month, he's planning to head to northern Humla near Nepal-China border to "try and photograph some Himalayan" wildlife.
"I've been to almost all nature preserves of Nepal numerous times," Chungba Sherpa told NepalMinute. "And I've captured photos of most rare and endangered species, including (royal Bengal) tiger, snow leopard, wild elephants. But I'm not done yet - I want to capture many more photos of wildlife."
A happy Sherpa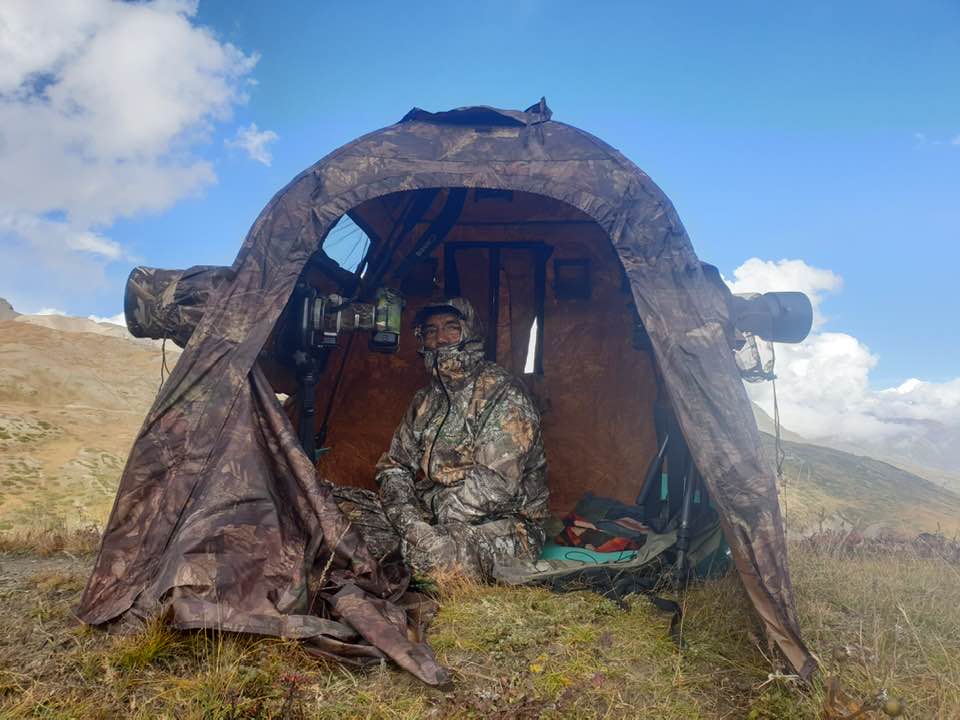 Born and raised in the village of Lukla - in the shadows of Everest, Ama Dablam, Khumbu Yui Lha and Thamserku – Chungba went to Khumjung School in Khumbu, which was established by Sir Edmund Hillary. He couldn't study further "because there weren't much higher educational facilities in Khumbu back then."
Yet he continued to learn new things, becoming a self-taught mountain guide who led foreign groups to smaller peaks and passes, all the while running his family business - Khumbu Resort - located right next to Lukla Airport, the gateway to Everest region.
The father of five children is now a happy man, having raised all his sons and daughters who, he says, are doing their best in their respective professions.
"One of my daughters is a pilot (Captain), and one of my sons is a medical doctor," the proud father said, adding, "And my son Dr Tsewang Dorji Sherpa even accompanied me to my Tanzania wildlife photography trip."
Chungba Sherpa started his new hobby when he was 58. In four years of venturing into the wild, he has already earned plenty of admirations and accolades from his social media followers, whose numbers seem to be growing by the day.
He may seem like a latecomer in the crowd of young wildlife photographers, but his dedication, devotion and passion demonstrate his commitment - and all that remain reflected in his works.
Huge investment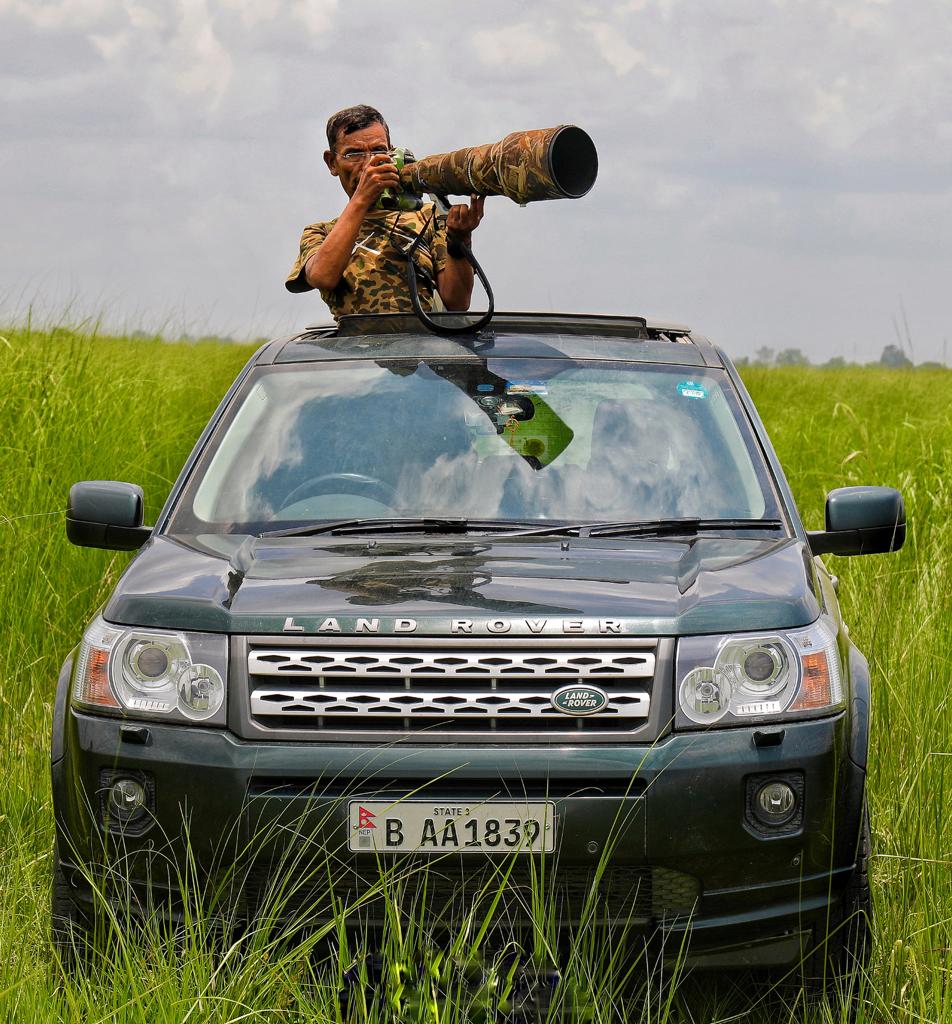 And the amount of money that Chungba Sherpa has invested in his new-found hobby and passion - that is, wildlife photography - might puzzle many. His "pre-ordered" camera, lens, tripod and other photography equipment and gears are worth millions of rupees.
Plus his Land Rover SUV which, he said, was bought to facilitate his jungle drives is not an inexpensive vehicle.
Why would one invest so much of money on wildlife photography? Would there be return - or income?
"I don't know," Chungba said.
"I'm happy to share my photographs with organisations and people working to protect nature and the endangered species of wildlife. I expect photo credits, but I don't expect any royalties. But commercial entities are not allowed to use my photographs free of cost."
Even so, Chungba has not found any commercial buyers willing to buy his works - mostly exclusive and rare photographs of a variety of wildlife in completely natural settings.
Picture perfect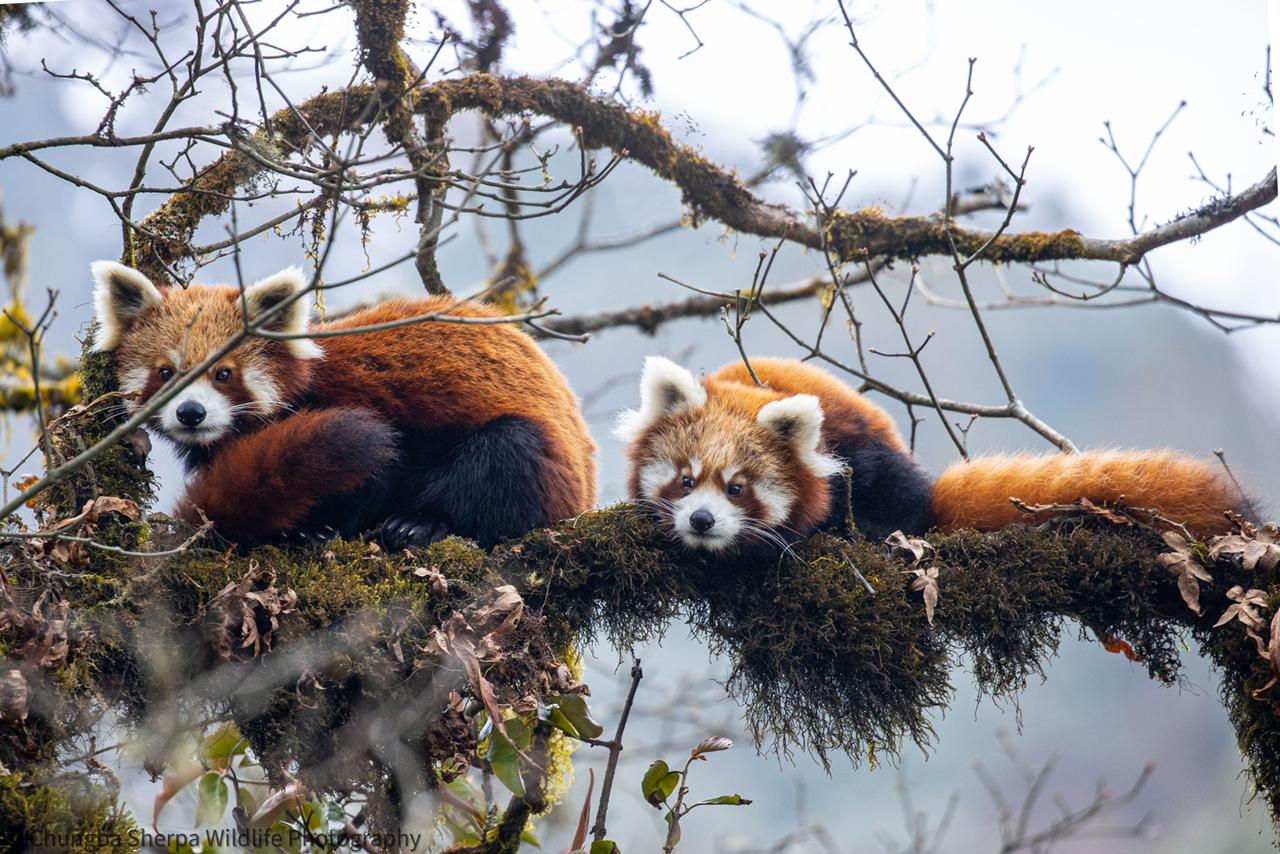 Chungba Sherpa prides on Nepal's rich biodiversity profile, which records 208 mammals, 867 birds, 123 reptiles, 55 amphibians, 230 freshwater fish and 651 butterfly species, according to the National Trust for Nature Conservation (NTNC).
Such an incredible diversity of wildlife makes Nepal a haven for wildlife photography.
Chungba Sherpa has travelled extensively as a wildlife photographer. He is been to most nature preserves, including national parks, wildlife reserves and conservation areas around the country, including Khumbu, Ilam, Langtang, Manang, Shukla-Phanta, Bardia, Koshi Tappu, Lumbini - to name a few.
He added: "Once you have taken up wildlife photography as a mission, it is a lot different than taking random pictures as you come across animals or scenes. You envision what your next shot is going to be about, and how it is going to look, and patiently wait until that vision aligns itself."
Not easy
Chungba Sherpa has already learnt the hard way that it's not easy being a wildlife photographer: "Sometimes you have to stay at the same isolated location for up to four days or even a week to finally get lucky. Often you have to remain hidden inside a tent for ten to twelve hours. Patience is a must."
He's been to Chitwan more than 30 times, Bardiya and Shukla Phanta more than 10 times, and Koshi Tappu too numerous times.
Once he made a relentless chase to photograph a tiger up close at a distance of about 10 meters.
"During such attempts, on several occassions, I've escaped tiger and elephant attacks," he said.
For about two years, Chungba staked out at several locations, hiding in tents, but so far luck evaded him. Yet he could capture the big cats from a longer distance.
He said: "I don't want to photograph tigers from safari tracks, I want to photograph them in their natural habitat. I want to leave the comfort of the vehicle, walk around for two-three hours in search of its dwelling and stake out."
Tanzania trip
Chungba considers himself to be one of the most travelled wildlife photographers of Nepal, having photographed wildlife from all geographic areas including high Himalayas, mid-hills, and the Tarai belt. To broaden his horizons, he flew to the African nation of Tanzania in June - even if that meant spending 11,000 US dollars (1.4 million rupees).
Much to his surprise, he didn't meet any wildlife photographer to rival him in Serengeti National Park: "I was absolutely astounded. I was the only one there with these heavy equipment, and that drew some attention."
And what a rewarding trip it was for Chungba Sherpa and his medical doctor son. The two could see first-hand and photograph never-seen-before species of wildlife, including lions, cheetahs, serval cats, African buffaloes and what not.
Here're ten of Chungba Sherpa's best wildlife photographs: