Climate
water-induced disaster
Floods, landslides claim 33 lives in Karnali, displace 480 families
Jumla is the hardest hit in the province with nine deaths, followed by Mugu with eight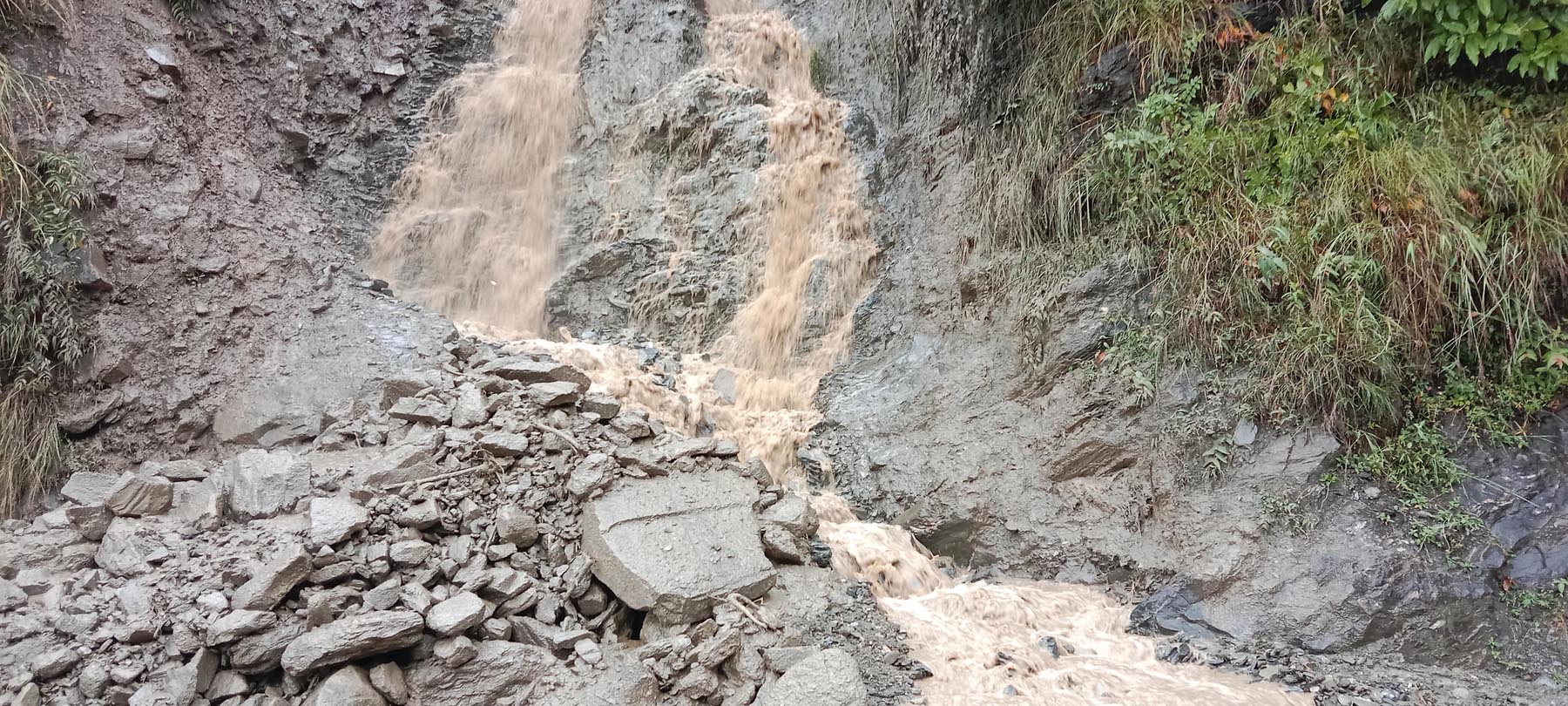 Water-induced disaster has killed 33 people and displaced 480 families across Karnali Province, according to the Province Police Office.
Senior Superintendent Madhav Prasad Shrestha, the Karnali Province Police Office spokesperson, said that Jumla witnessed the death of nine people - the highest in the province.
Mugu has reported eight deaths, followed by Kalikot and Humla, each with four fatalities, and Jajarkot with three. Similarly, the natural disaster claimed the lives of two people each in Dolpa and Salyan, while one died in Dailekh.
SSP Shrestha said that the search is on for 22 people missing in the water-induced disaster. Kalikot has the highest number of disappearances, with 20 people, including one police personnel.
Two people have gone missing in Jumla and one in Dailekh. The official data showed that 21 people were injured in the floods and landslides across the province. The injured are undergoing treatment in various hospitals, the police said.
Floods and landslides, triggered by incessant rain, have displaced 480 households in the province. Dailekh saw the highest number of people displaced, with 103 families.
At the same time, Mugu recorded 178 households displaced, Jumla 86, Kalikot 48, Humla 40, Salyan nine and Surkhet eight. Four families were displaced in Dolpa, whereas both Jajarkot and Rukum West saw two families displaced due to floods and landslides. SSP Shrestha said rescue and relief operations had been in place, mobilising security forces in the disaster-hit areas.
A helicopter has been mobilised to airlift the critically injured for treatment, he said.
16 dead and 17 missing in 24 hours
Sixteen people have died in incidents of natural disaster in different parts of the country in the past 24 hours, according to the National Disaster Risk Reduction and Management Authority (NDRRMA).
The authority published a bulletin on Tuesday evening, stating that 16 people died in Kalikot, Mugu, Humla and Bajura districts while 17 people were reported missing in the past 24 hours.
One person died and one was injured due to incessant rain in Dang and Jumla. Likewise, one person was injured in an incident of fire in Bhaktapur.
Lately, Manthali Airport in Ramechhap district has recorded the highest amount of rain (40.4 mm).
According to the NDRRMA data, so far 276 have died and 33 have gone missing in the disaster-related incidents that took place this year, with a majority of the people falling victim to landslides.
- RSS