Arts
Himalayan Art
Highlights of Himalayan Art Festival
With a variety of exhibitions, Nepal Art Council gallery continues to attract artists and art aficionados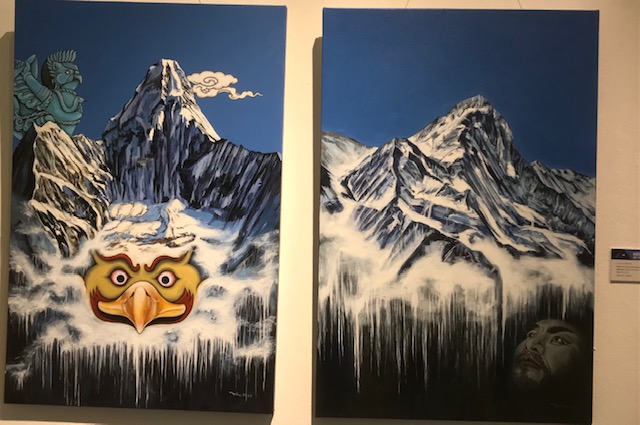 A multitude of artworks, including paintings, Paubha art, sculptures, installations, photographs, and ceramic art, grab audiences' attention as one enters the Nepal Art Council gallery in the heart of Kathmandu.
Several artworks that reflect the Nepali art, culture, religion and society make you feel as if you are visiting Nepali cities nestled at the foot of the Himalayas.
Himalayan Art Festival, an annual event, embraces a comprehensive and inclusive approach towards contemporary Nepali art, say organisers. More than 200 artworks by 150 different artists representing a multitude of genres are the highlights.
Destruction of nature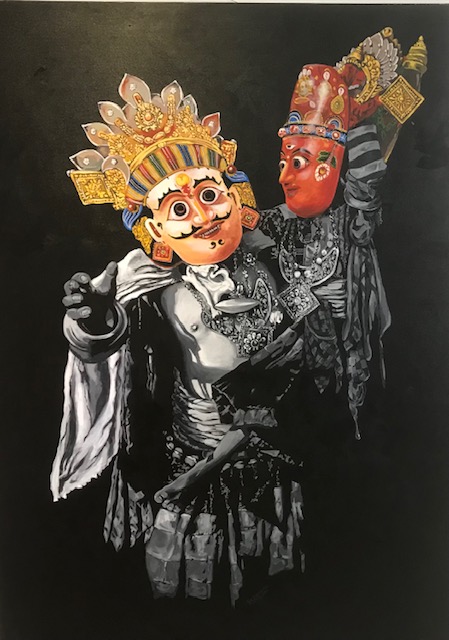 Some artists have portrayed the grim reality of the destruction of nature, including effects of climate change in the Himalayas. Showing melting glaciers, they have attempted to draw the world's attention to global warming's impact upon aquatic animals such as turtles and fish.
The artists have aptly painted destruction of land too, with artworks of lands being carelessly dug and forests being cleared with the use of earth-movers.
Art on Lokta paper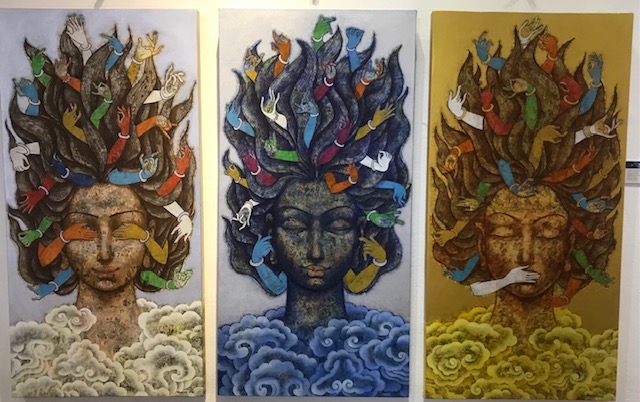 Lokta paper is a handmade paper. Some artists did black and white prints on handmade Lokta paper to show a gothic couple and kisses. A wide variety of designs of Nepali gods and goddesses offers a visual treat.
There's much more. A woman in traditional Newari dress worships Hindu deity Ganesh. A woman stands and clicks a photo of a man. Statues of Hindu deities such as Kaal Bhairav, Taleju Bhawani look on, with the Parijat flowers on the brick-paved street of Hanuman Dhoka area.
The paintings on Paubhas are another attraction. They depict, among others, deities, Mandalas and a meditating Buddha.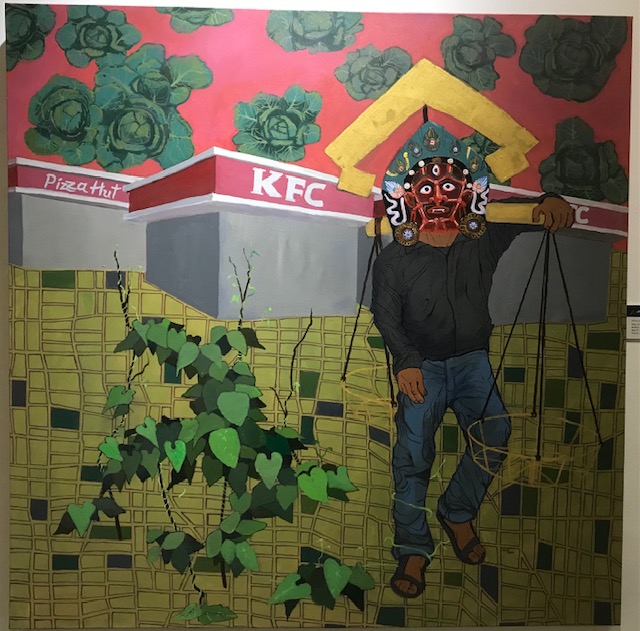 Also, a variety of paintings on the theme of mask or Mukundo reflect the culture of Nepal where masks are used in different festivals and Jatras. The vibrant red colour used in the masks gives a feeling of being an audience member in the jatra itself.
Wait a minute. You can also see a Mukundo-covered man carrying a Kharpan across his shoulder in front of a Pizza Hut outlet and a cabbage garden at the back of the Pizza Hut – illustrating how Kathmandu's food culture is changing.
Installation art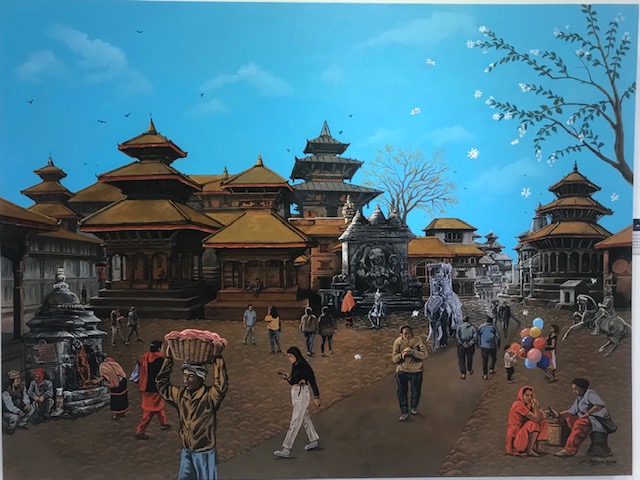 A bronze human leg takes on the responsibilities of houses, temples, cities etc. A pile of sand and mud in the middle of the hall makes one feel the importance of nature, soil and minerals for growth and development.
A meditating Buddha with iron rods can trigger a variety of interpretations.
Organisers also honoured senior Artist Hari Prasad Sharma for his determination, dedication and valuable contribution to enrich Nepali art. Sharma's artworks and his book entitled 'Nepal Down the Ages: Glimpses of Nepali History, Culture and Lifestyles in Paintings' were another attraction.
Artist Asha Dangol said: "The aim of this event is to create Nepalese art platform for local collectors, buyers and to educate people about our art practices in Nepal. The idea was to promote Nepali art and craft." The festival concluded just before Dashain, on September 30.