Arts
Recalling Kathmandu
Art exhibition shows vignettes of Kathmandu in 1990s
Paintings by a group of artists take visitors on tour down memory lane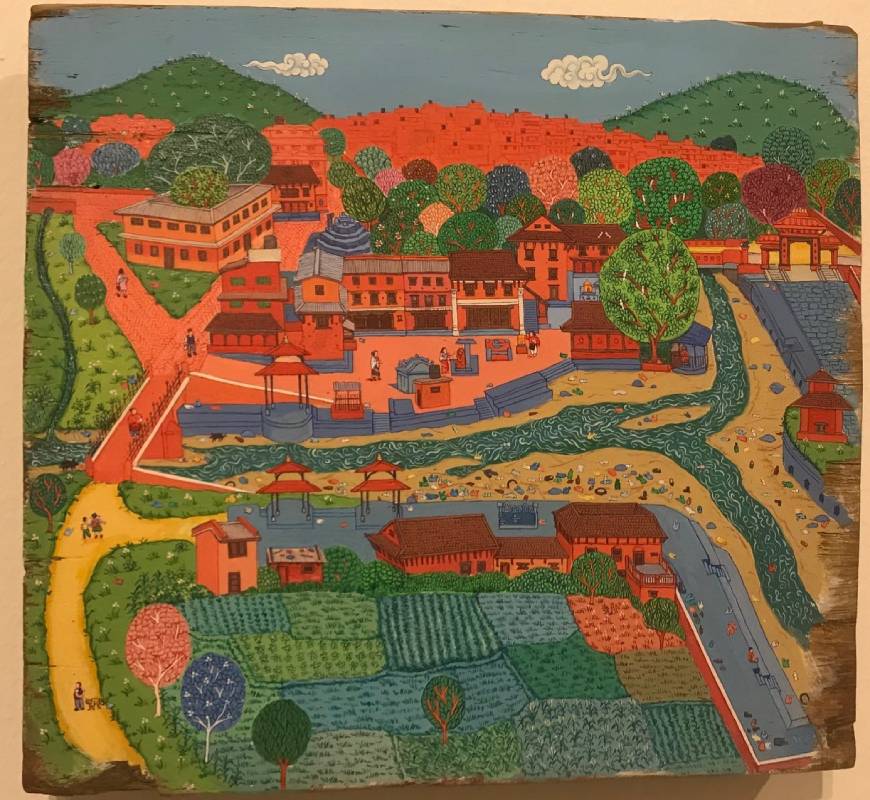 Do you miss Kathmandu valley of the 1990s?
Or are you simply curious about how the valley's locales looked in the bygone era?
If so, here's a chance to go back in time and see the vignettes of the valley of the 1990s, the decade of rapid social and political changes in Nepal. A multitude of paintings hung on the walls of Siddhartha Art Gallery at Babarmahal, Kathmandu, offer glimpses of that era.
Dubbed Aakrit, the group exhibition by artists Hitesh Vaidya, Jagdish Moktan, Nabina Sunuwar, Pooja Duwal and Tashi Lama shows artworks reflecting their personal experiences too.
That apart, the exhibition showcases a range of paintings depicting daily chores and lifestyles of men and women in the valley. They include: women knitting; men reading newspapers; farmers drying their harvests; and the picturesque locales of the valley teeming with human activities.
Daily life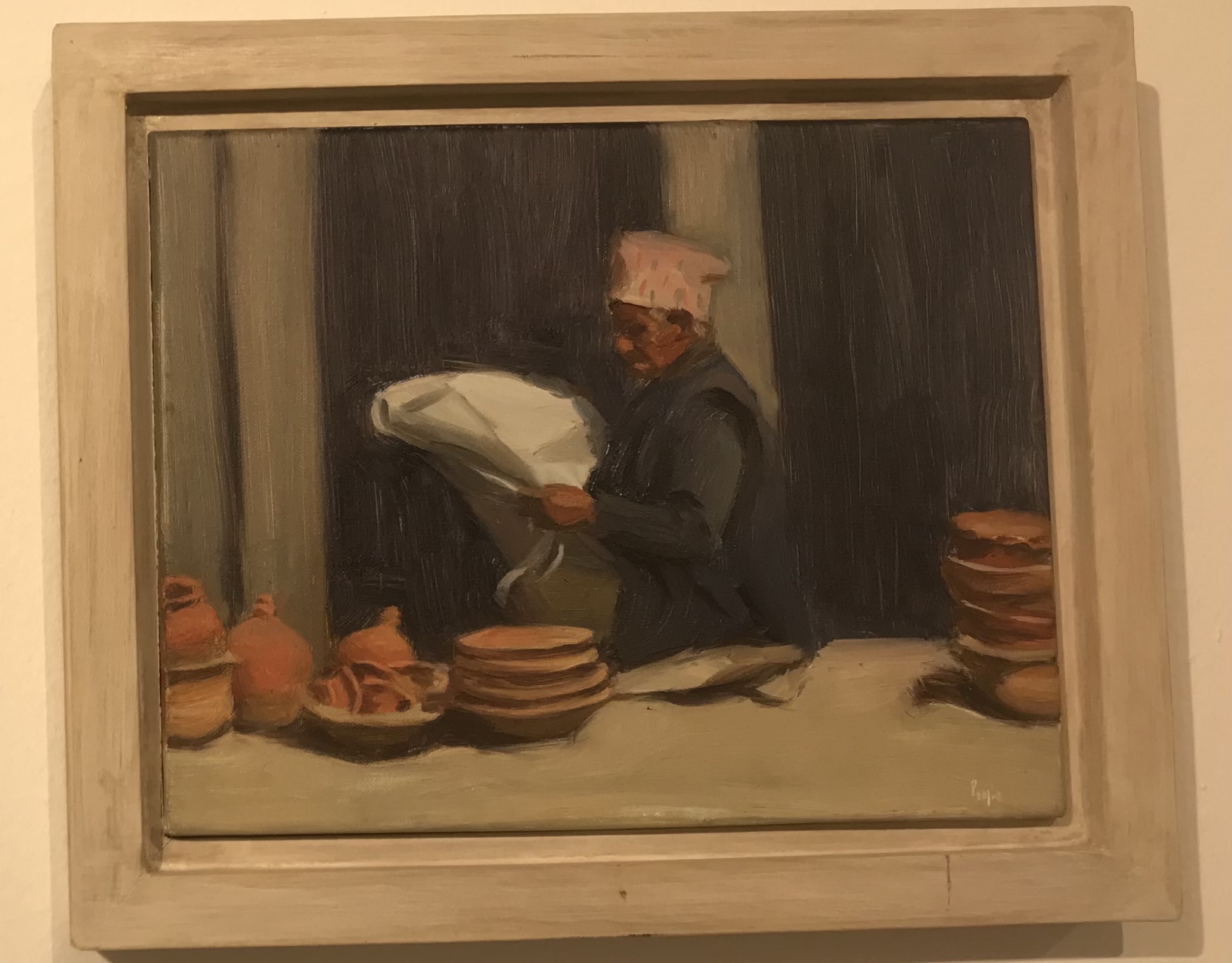 Some artworks also show a series of glimpses from home – such as doors, plants, gods and goddesses at the entrance of houses. Such artworks could make some audiences feel close to home.
Carved wooden windows; traditional houses attached together; and motorcycles parked on the courtyards. Such works endeavour to paint the pictures of Newar neighbourhoods of Kathmandu, Bhaktapur, Lalitpur and Bungamati areas.
There's more. Colourful fishes swimming in a pond; white lotuses blooming; a woman walking with flowers, grains and water to worship Lord Ganesh; green hills with patches of clouds in the sky; a woman carrying her child on her back as she walks on a lakeshore.
A man sitting on the bank and washing his feet as he keeps his agriculture tools aside, against the backdrop of a blue sky.
And the artists have not forgotten their families. Jagdish Moktan has re-worked on a black-and-white photograph of the women in his family, creating a whole new artwork showing his mother and aunts whose images are painted on linen.
He said: "These photos were old and were getting damaged. I wanted to see how it looks when enlarged and framed. It will help in archiving. This is an experiment of what we can do as artists."
Gorkha earthquake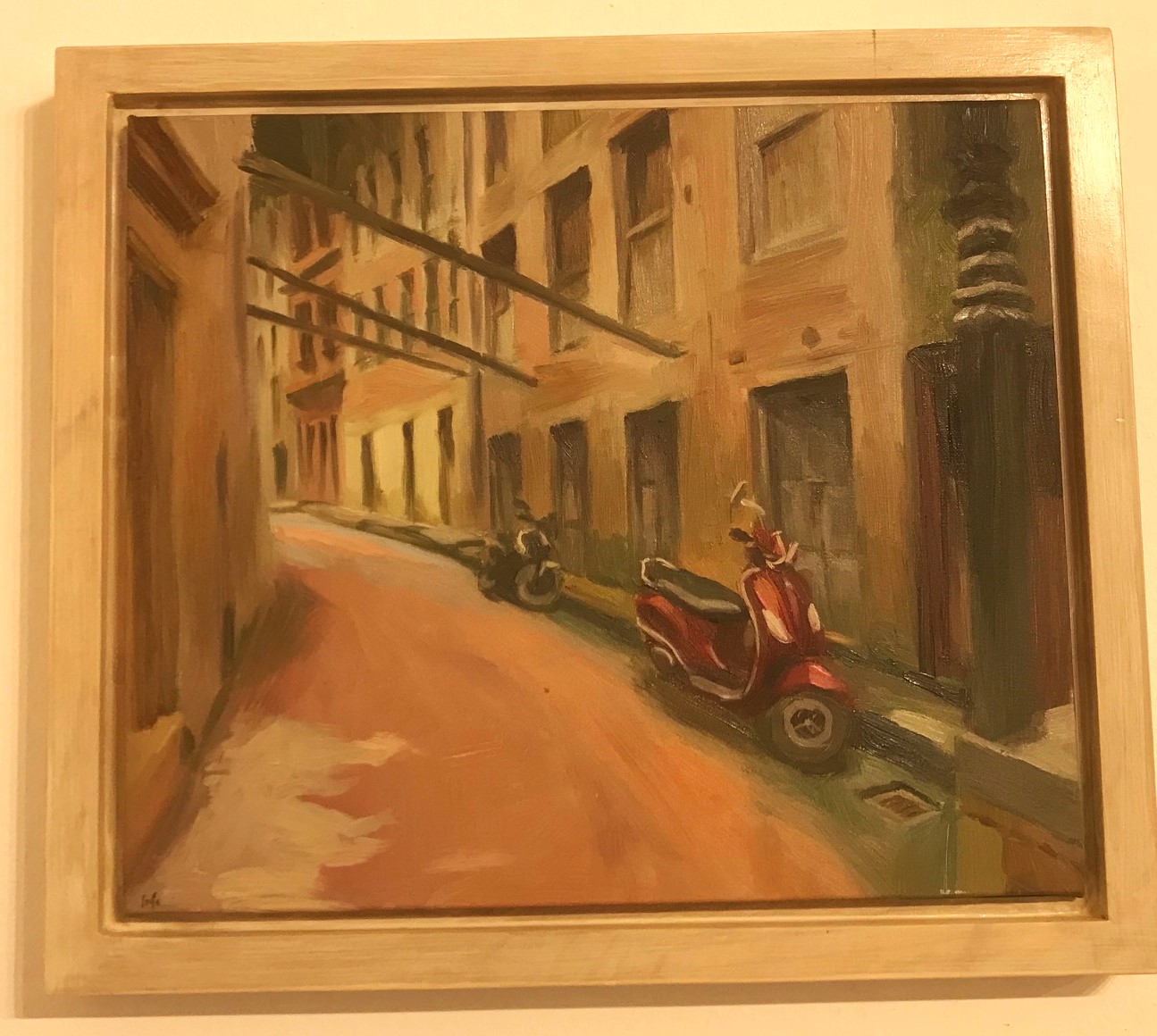 As well as Kathmandu valley, the exhibition offers glimpses into 2015 Gorkha earthquake that devastated western and central Nepal, killing 9,000 people. One of the paintings shows houses standing with support from wooden poles.
Use of wooden planks might surprise aficionados accustomed to seeing paintings with modern frames. Artist Hitesh Vaidya has used acrylic on wooden panels to show the life of people living in and around Kamalbinayak and Brahmayani.
Moktan said: "Vaidya's house was damaged in the Gorkha earthquake and he used the wooden planks of the damaged house to paint in his earlier series of paintings. This collection too is a series of wooden plank work."
Overall, he added: "These artworks are a collection of our experiences and it's a homage to memory, home, family, history, migration and nostalgia."
Terrace farming; Ghats on a riverside; traditional houses lined up in a cluster; farmers working on their field, digging, sowing, weeding, while others carrying traditional Kharpans on their shoulders. Such artworks attempt to draw an extensive picture of Kathmandu valley.
Past vs present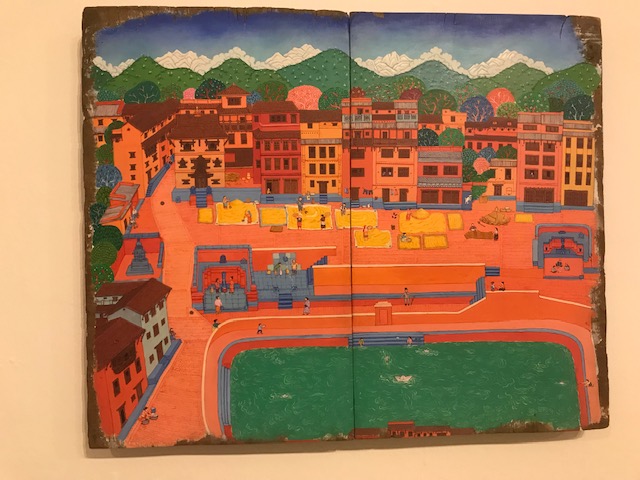 In the past, the valley was less crowded and had greenery all around. People used to live in traditional mud houses. They had land to cultivate. Rivers flowed clean and supported life and even recreational opportunities as kids flocked to swim.
But Kathmandu is not the same; things changed as more and more people started pouring into the valley to live and work.
The exhibition offers a variety of its own. For instance, a handloom on one of the corners shows the history of carpet weaving in Kathmandu. "It is an acknowledgement to the carpet weavers," Moktan said.
Nature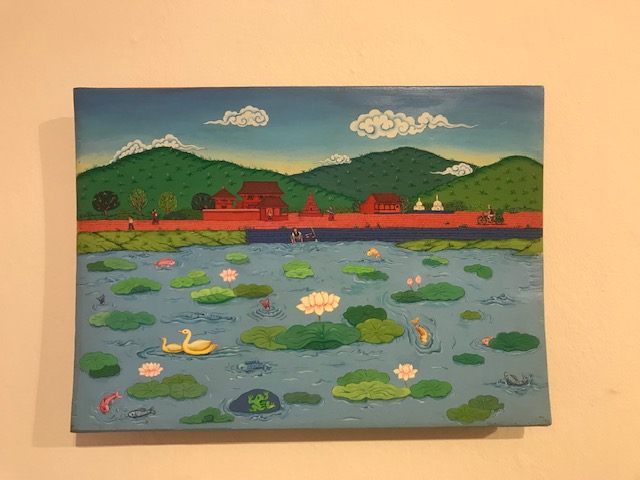 Nature and tradition dominate most artworks, which portray men as well as women of all ages, with traditional houses and alley-ways in the background. Using acrylic colours, they have tried their best to paint vivid pictures of the past.
Take this. A field filled with blooming mustard flowers in black-and-white colours makes the audience sense the beauty of the valley's periphery in the bygone era. The landscape art by Nabina Sunuwar has a potential to leave many art aficionados awe-struck.
Careful selection of colours are a treat to the eyes. The light yellow colour used to reflect sunlight on the paintings make them livelier. Use of red and green colours attracts the audiences. Overall, the attractive blend of vibrant colours makes most artworks eye-catching.
The exhibition will be on till October 31.