Environment
The Marijuana Debate
Nepal on the verge of legalising marijuana?
Despite stalled cannabis cultivation bill, the lawmaker behind it believes it will be passed soon.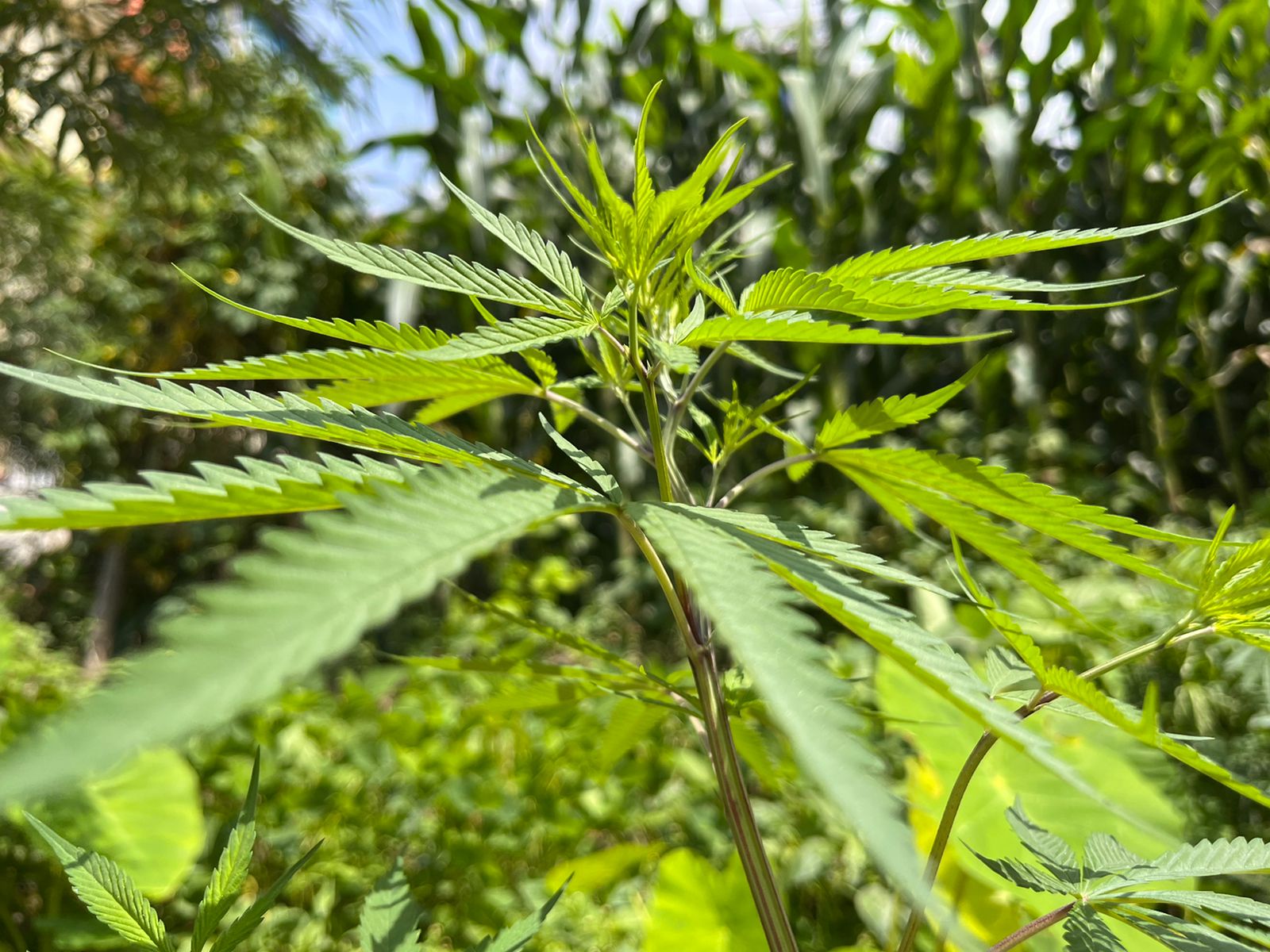 Former Health Minister Sher Bahadur Tamang had registered a private bill on Cannabis Cultivation, Regulation and Management on March 2, 2020. In his address to the parliament on June 23, 2022, Tamang recounted to the legislative body that "two years five months and sixteen days" had elapsed since the registration.
"Why is the bill still not brought to the floor for a debate?" he asked. "Such an apathetic treatment to the private bill is tantamount to a 'breach' of a lawmaker's right."
Private bills need Nepal government's endorsement and approval to receive the treatment at par with the government bills, which are usually registered by a ministry or a governmental agency.
Tamang's bill, a nongovernmental bill, can be included in the agenda only after the government gives it a go-ahead, said an official from the Bill Section of the House of Representatives.
"In the case of this bill, the government was not convinced about it, and thus the bill is stalled. And there is no indication as to when, or in which session, Tamang's bill for Cannabis Cultivation, Regulation and Management will be taken up," he said.
An advocate for cannabis legalisation and commercialisation, former minister Tamang argues medical cannabis could be a solution to Nepal's ever increasing debt and brain drain. In two separate statements, he has claimed, "that about 80% of emigrants would return," and "Nepal could pay its debt in a year or two" in the gold rush that cannabis legalisation would unleash.
These claims come at a time when a study estimated that the global cannabis market would grow to about US $146 billion by 2025.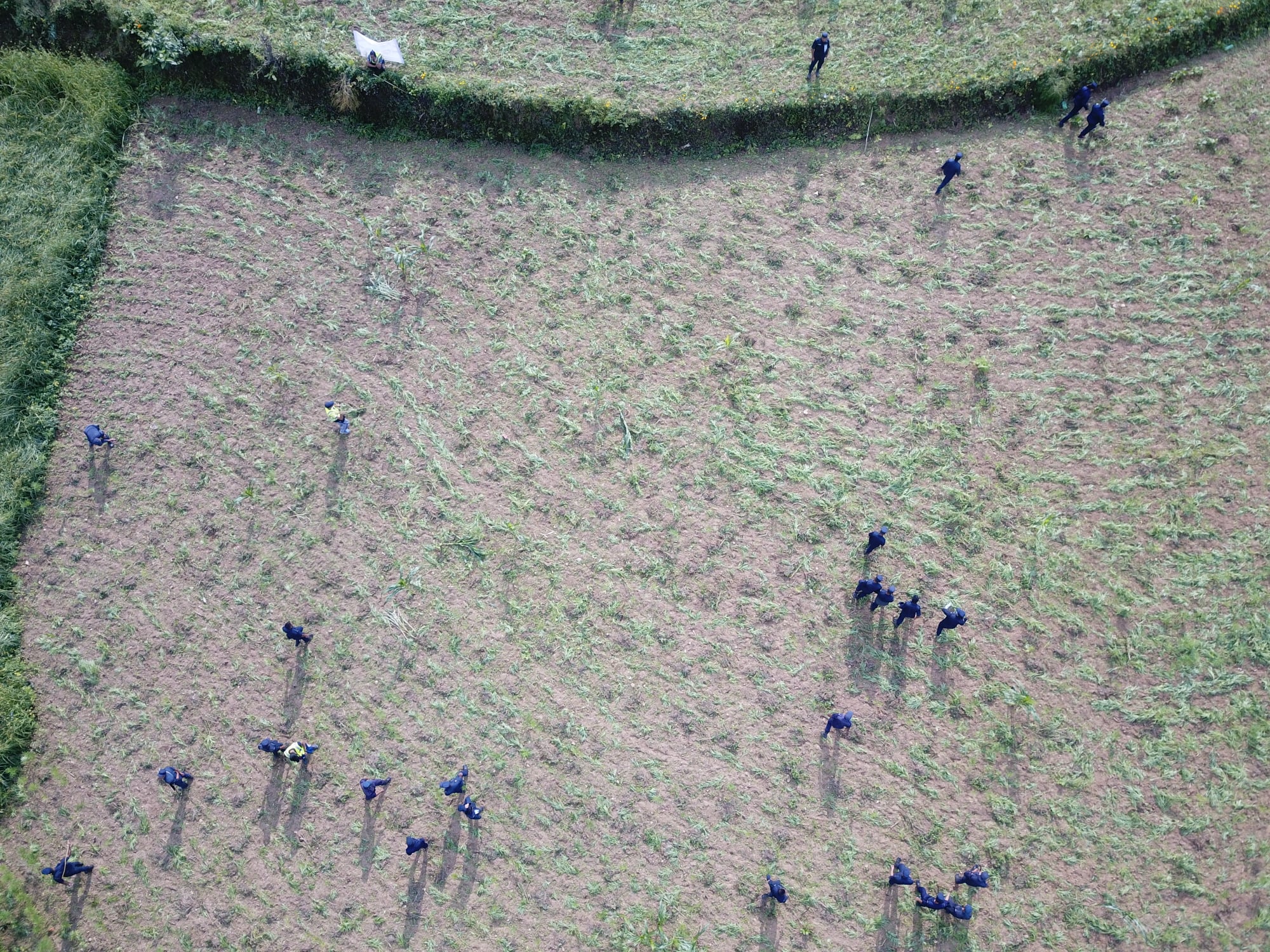 Illegal but still plenty
Cannabis has been illegal in Nepal as a drug for the past 46 years. As per the prevailing law, individuals may get a jail term of up to a year, and a fine of up to Rs. 5000, for possessing between 50 to 500 grams of cannabis.
Even as the cultivation, transportation, and possession of cannabis is illegal, Nepal Police said, it seized about 8435kg of cannabis from across the country in the fiscal year 2021/22. In Makawanpur, the cases of marijuana possession and smuggling were the most rampant among all districts, with Nepal Police seizing 2619kg of cannabis from the district alone.
Spokesperson for Nepal Police SP Jeevan Kumar Shrestha voiced his skepticism about cannabis legalisation. He quoted a study that suggested about 80% of addictions began with cannabis consumption. Without effective regulations, and enforcement mechanisms, commercialisation of medical cannabis would make it further difficult to locate and control cannabis related crimes, instead of helping root out criminal activities, he added.
1976 Cannabis ban
Nepal government promulgated the Narcotics Drugs (Control) Act on September 22, 1976, which essentially put an end to a fledgling cannabis trade within Kathmandu valley. The ban on cannabis was said to be the aftereffect of then Vice President of the United States Spiro Agnew's visit and his subsequent meetings with the erstwhile monarch.
But irrespective of the cause, according to an article published by The New York Times in 1973, after the ban, Nepal was forecast to lose US$300,000 annually in tax revenues. Adjusted for inflation that would be about US$1.8 million today. The per capita income of Nepal was US$170 in 1982, eight years after the ban.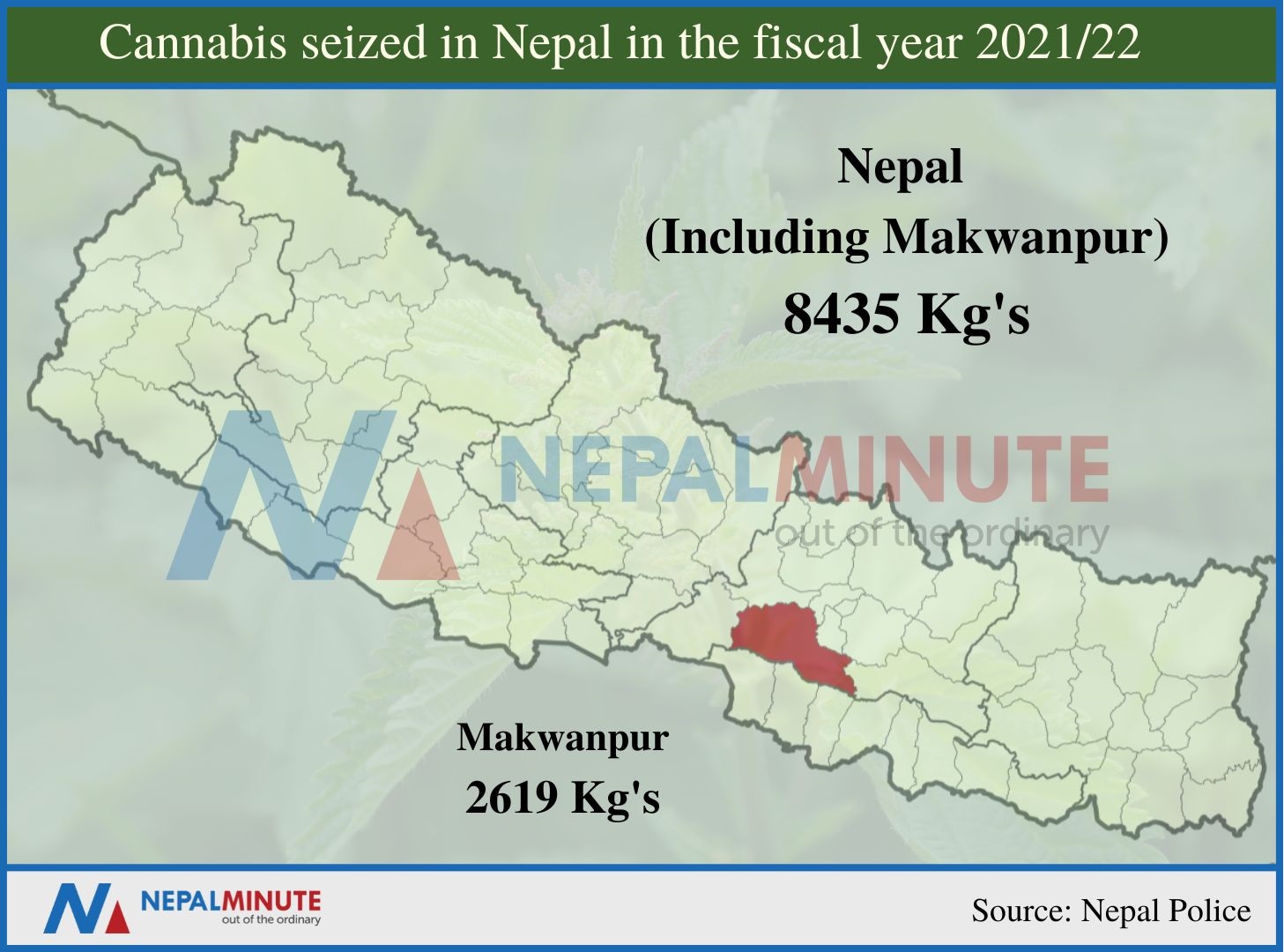 Radical change doesn't cover recreational cannabis
Member of Parliament Sher Bahadur Tamang, the former minister behind the private bill on cannabis legalisation, spoke with NepalMinute on the topic. A longtime advocate for regulated legalisation of cannabis, his bill has been pending in the parliament for over two years now.
You have been advocating for the legalisation of cannabis, but your bill has been stuck in the parliament for about two years. Is it just a small hurdle or something that has aborted your hope of legalising cannabis anytime soon?
A bill to manage and regulate cannabis cultivation has been registered in the federal parliament to legalise cannabis. It is not just a matter of supporting or speaking in favour of the bill -- there are many reasons to support it. It is currently under consideration in the Parliament and a resolution has been filed in the Parliament by 52 Members of Parliament to deliberate on the legalisation of cannabis. From the Parliament Secretariat, the bill has been sent to the Policy Research Institute for its study, to find out what its socio-economic impacts will be once implemented.
The Ministry of Law has also asked the Nepal Law Commission to study its legal aspects. Similarly, I myself have had discussions with the Speaker/Home Minister and many other stakeholders. Most Members of Parliament have asked me as to when this Bill will be brought up for discussion. Looking at all this, I can say the time is suitable. I believe this bill will be implemented soon.
You have claimed that after Nepal legalises cannabis, 80% of Nepalese emigrants will return home, and Nepal will be able to repay its foreign debt in a year or two. Do you have any data to support your claims?
It is a plant with multiple qualities. Its ecological importance is that it helps in the absorption of carbon from our atmosphere. It has various medicinal properties as well as being useful in textile and other industrial products. Every part of this herb is useful in some way, so nothing will be wasted. Recently other countries have begun producing cannabis as well, but the reason Nepal has more potential in growing this plant is because of the suitable climatic conditions. Other countries have to work on creating an artificial environment to grow cannabis, their production cost will be higher but we can produce it cheaply.
Secondly, it makes an international trade worth billions of dollars, so going for its benefits makes sense. Thirdly, permitting its cultivation does not mean allowing a haphazard, free for all cannabis farming. Farmers will be permitted to grow cannabis only in a certain allotment of their land. Once the people get an opportunity to plant cannabis, and start profiting from it, then they will look at agriculture as a whole as a viable source of sustenance instead of foreign employment.
Currently we are dependent on imports worth millions of dollars, however, after the implementation of the bill, we will start heading towards a self-reliant future. From trade in textiles and medicines produced from cannabis, we can earn millions of dollars a year, and that will lead to an unexpected growth in the country's economy.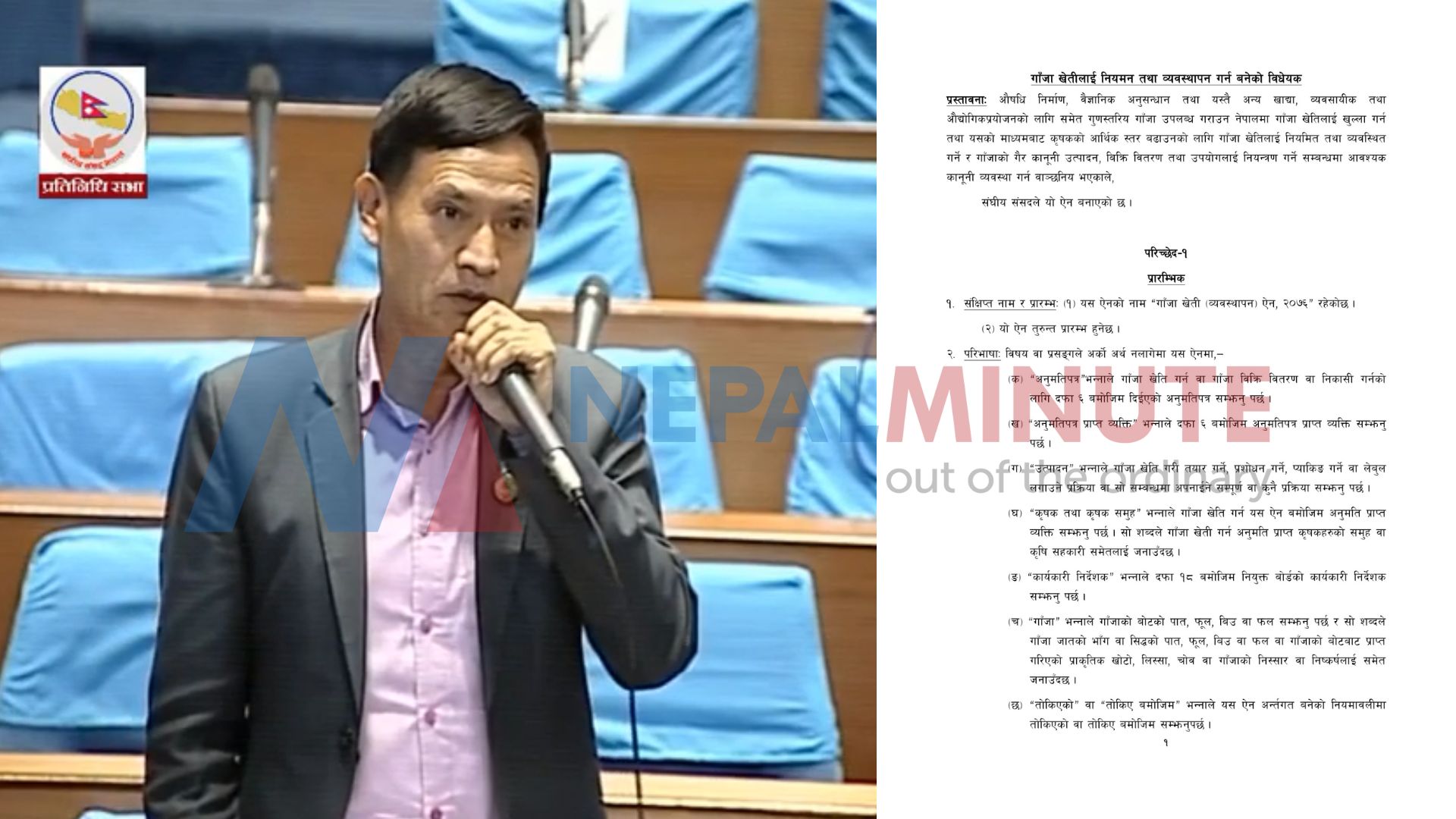 In 2020 A.D. ambassador Prakash Kumar Suvedi voted in favour of removing cannabis from a list of narcotic drugs in a meeting of the United Nations Commission on Narcotic Drugs held in Vienna. Why isn't our international stance being reflected in our domestic policy?
In the United Nations Commission on Narcotic Drugs, Nepal has voted in favour of removing marijuana from the list of harmful drugs and adding it to the list of medicinal plants. It is now the case that cannabis is no longer recognised as a drug internationally.
Now we have to make adjustments as per this international agreement, and assimilate it into the national and local laws of Nepal. That is why a law has to be passed to legalise cannabis cultivation. Nepal was supposed to either amend its law or make a new law within two years after voting in favour of the motion in the United Nations CND, but this issue has not yet arrived at a conclusion.
Our problem is the lack of willpower. We have the tendency of waiting for someone to do something for us and thus losing a chance of becoming a pioneer. The trait of dragging down someone active and driven, and rendering their attempts unsuccessful isn't uncommon either. That's the problem.
If we legalise cannabis in the near future, will that legalisation also free people imprisoned or punished for possession of small amounts of cannabis?
Our current law defines cannabis as a drug, and that's why people are being jailed and punished. When a law is enacted legalising its farming, it can be cultivated, transported and sold, and there will be no punishment for doing so. Those in jail for minor possession will be granted amnesty, and released. As far as the use and consumption of its narcotic properties is concerned, we are not in favour of legalising it right now. However, there is a possibility to legalise recreational cannabis for the tourism sector.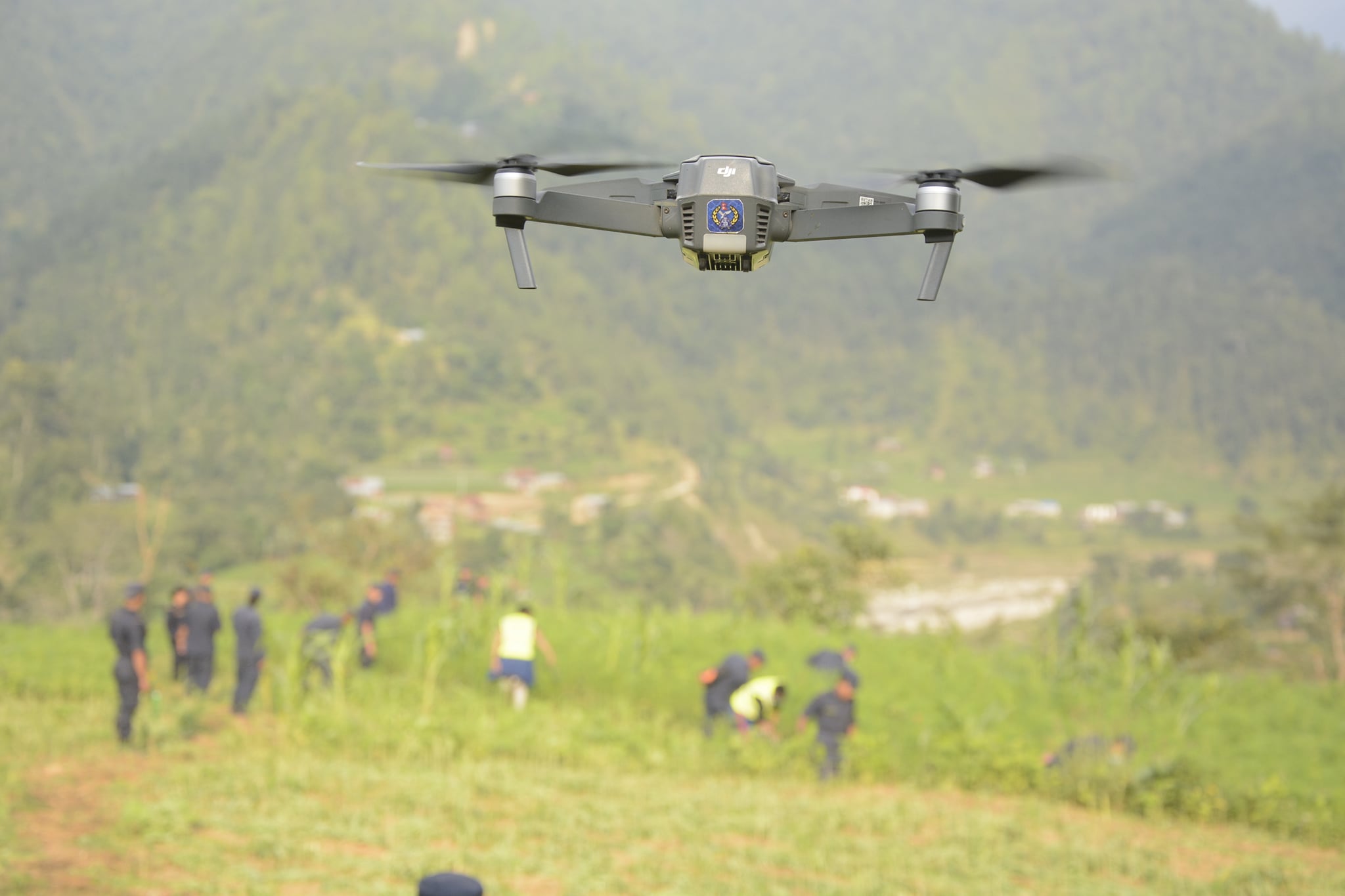 You have served as both the health minister, and the law minister, and yet you support and advocate for cannabis legalisation, shouldn't your words on this matter bring disputes among other lawmakers?
If the bill is debated in the parliament, it will move forward without any dispute. Most of the members are supportive towards it. As the debate has escalated on this issue, many members have had the opportunity to understand the issue in depth.
If in the near future cannabis is indeed legalised, what sort of agency do you think should have the authority over its regulation? Does such an agency already exist in Nepal which could take over regulating cannabis?
The bill I have registered in the parliament envisages a government board at the federal level and a board with local government and farmer representatives at the local level. If the bill becomes law and is implemented the same board will regulate and manage the cannabis farm and collect the produce of the farmers while also simultaneously managing the cannabis market.