Sports
MOVING ON
Mercurial Al Mutairi steps down as Nepal national team coach
The Kuwaiti tactician writes on Facebook page that he is parting ways with Team Nepal after a tenure lasting 525 days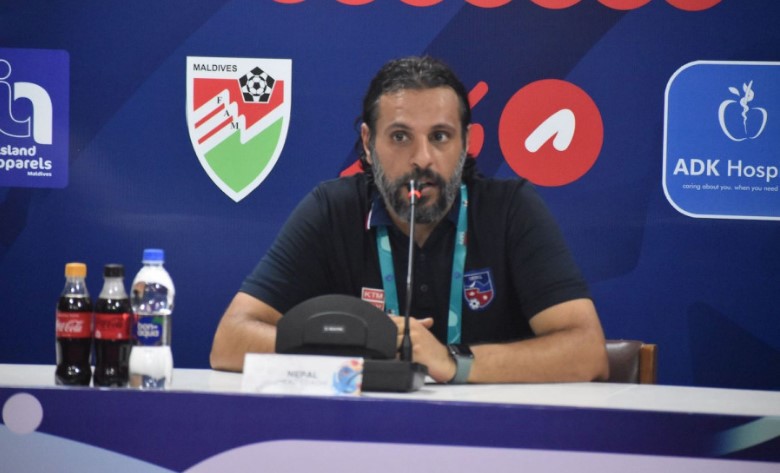 Nepali national football team coach Abdullah Al Mutairi has announced that he is stepping down from the post.
On Sunday, making his decision public, the 40-year-old Kuwaiti tactician wrote on his Facebook wall: "After 525 days in the service of Nepalese football, I announce the end of my tenure as coach of the Nepal national team. Thank you to everyone who supported me on this journey that was not without moments of joy, love, sadness and pain."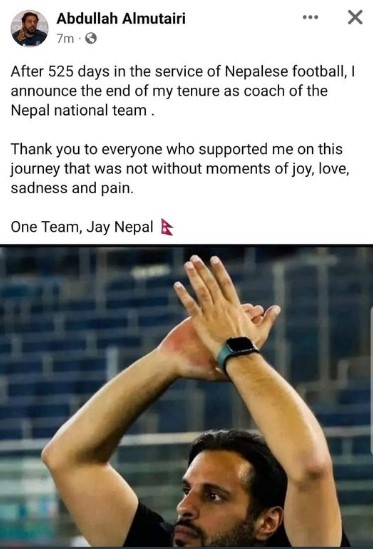 The All Nepal Football Association (ANFA) has confirmed that the Kuwaiti tactician had indeed tendered his resignation.
"In his resignation letter sent to ANFA General Secretary Kiran Rai, Al Mutairi has stated that he is cancelling his agreement with ANFA," association's Spokesperson Suresh Shah said.
ANFA had appointed Al Mutairi as the national team boss on April 4, 2021 with assistance from the Qatar Football Association.
Nepal played 17 matches under him, starting with an Iraq friendly on May 29, 2021. The Asia Cup Qualifier match on June 14 this year against Indonesia was their last with him in charge.

In between, Al Mutairi guided Nepal to their first final of the SAFF Championship in the Maldives in October last year. They finished runners-up to India.

However, his tenure was not free from controversies.
He courted controversy within a few days of taking the national team's responsibility. In June last year, a minor dispute with journalists spiralled into a major issue after Al Mutairi levelled serious accusations against ANFA officials. He posted his decision to resign on Facebook for the first time, citing an inconducive working environment.

He dropped another bombshell during the SAFF Championship in Maldives last year. Hinting at his resignation, he said he would not return to Nepal after the finals. The temperamental coach later made a U-turn, saying that he would remain with the Nepali team until 2024.

In May, he ran into a dispute with the national team players over the training facilities. That resulted in 10 players walking out of the team's training camp, expressing dissatisfaction with his working style.
Al Mutairi raised more eyebrows during the AFC Asian Cup Qualifiers in his native Kuwait this June. He was caught, first sneaking into the team dressing room before Nepal's match against Indonesia, and then entering the field of play afterwards despite being suspended. He also caused a delay to the start of the match. Consequently, the game's ruling body in Asia slapped Nepal with a fine of $7,000 for those rule violations.