Elections 2022
Local Elections 2022
Chiribabu has many more plans up his sleeve
Not all Lalitpur residents seem too happy, yet the city's re-elected Mayor Chiribabu Maharjan says he has some solid plans.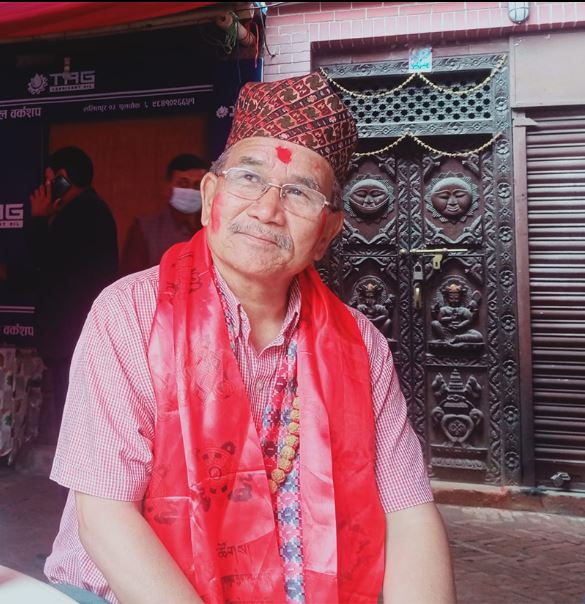 Not all Lalitpur residents seem too happy about all of his infrastructure projects, but the city's re-elected Mayor Chiribabu Maharjan has some solid - and concrete - plans up his sleeve.
He doesn't at all seem discouraged by the criticism surrounding his old projects, such as the bicycle lane on an already-congested and traffic-packed road that has not been of much use for most of the cyclists. Encouraged by his re-election, he seems determined to go ahead with his plans.
Soon after re-assuming his office as the Mayor of Lalitpur Metropolitan City (LMC), a beaming Maharjan told NepalMinute: "We have a few new projects too, but we will mostly focus on the already-launched and unfinished projects."
Soon after his re-election – beating his old rival CPN-UML's Hari Krishna Byanjankar by a margin of more than 18,000 votes – he remained busy in a victory rally that went around Lalitpur city which, he says, wants to really convert into a "model heritage city."
As soon as he entered his office, covered by marigold garlands and abeer (vermillion powder) all over his head and shoulders, he remained busy receiving numerous - "congratulations to you Mayor saheb!" - calls on the Mayor's mobile phone, whose number remains public as it is shared on the LMC website too.
A busy Mayor
After the frequency of calls on his mobile phone slowed down, he could finally reply to NepalMinute's queries seeking to know about his plans for the next five years.
Taking a pause, he gradually revealed his new plans, which include: launching what he calls "e-bus service" in the city; improvement of the state of the city's natural environment through afforestation and gardening; launching deep tube-well projects to ensure drinking water supply;
A "green and blue fusion project" on the 30-ropani land that LMC acquired from Nepali Army; and further improvement and expansion of the bicycle lane up to Budhanilkantha in the north by forging partnership with Kathmandu Metropolitan City and Budhanilakantha Municipality.
Although he said he doesn't have any megaprojects except only small projects aimed at improving the living standards of Lalitpur residents, he recently talked about some big-looking concrete projects, including a flyover connecting Thapathali with Kupandol and flyover crossings at five intersections along the Ring Road.
Just before the elections, Mayor Maharjan left many of his critics and opponents stunned by making public a list of an impressive 7,500 projects that, he claimed, had been successfully commissioned during his past five-year tenure.
Maharjan, 65, is a time-tested politician who started his political career as a Ward Chairman of the municipality during the pre-1990 Panchayati era. Around 2000, he led an organisation called Jyapu Samaaj, which was established for the welfare of his community, and worked his way up to become a mayoral candidate from Nepali Congress ahead of the 2017 local elections.
Popularity
Both inside his office or outside, Maharajan often remains surrounded by his supporters and community members.
Asked what they expect from him, he said: "They don't expect much. All they want is good governance and better management. They don't expect big things. They want smaller improvements like a smooth supply of drinking water, proper sanitation, and improvement in their living standard."
Most Lalitpur residents believe Maharjan got so many votes because of the work he did in the last five years.
Mishri Maharjan, a resident of Patan, said as the city's leader, Maharjan "did a good job", installing street lights, developing small parks and traffic islands, and working to conserve the culture and heritage of the Newar community.
She said, "He is the kind of person who treats everyone equally, whether it's a child, youth, or an old person. He has turned the whole city from grey to green. We all believe he will finish the remaining work and the problems."
Bhimlal Awale, a resident of Bhol Dhoka agrees: "He has solved most of our problems. He has just been elected, so in a few days or weeks I hope he will solve the remaining problems too."
Chiribabu's criticism
That nearly 43,000 Lalitpur residents voted for him indicates he has many supporters. Still, there are many who think the Mayor needs to roll up his sleeves and do a lot more work such as ensuring smooth water supply, ensuring cleanliness by better managing the garbage, reducing traffic congestion,
The city's dedicated cycle lanes painted green may be unique and the first of its kind in the country. Yet some of the city's real cyclists seem disappointed as they can't use the lanes that remain occupied by moving or parked vehicles.
"I am not happy with the bicycle lane because vehicles use it as a parking spot most of the time," said Bikesh Ghimire, a Bagdol resident, who prefers to use a bicycle to get around.
Experts say that the green paint on the road for what Maharjan calls a bicycle lane is not a bicycle lane. Urban planner Surya Raj Acharya said bicycle lanes should have been designed way back in the 1970s when the roads were being built in Kathmandu valley: "For a proper bicycle lane, we need a space of two meters on both sides of the road. It should have been designed and built long ago. Now just painting green on both sides of the four-lane road is irresponsible."
Yet Acharya is an advocate of proper bicycle lanes in cities: "Of course, it is a sustainable mode, but we have limited area. So the very first thing is we should be clear if a bicycle lane is necessary or not. If it is, then the government must find a way."
Research scientist and cyclist Sameer Mani Dixit admired the initiative taken by Mayor Maharjan to introduce Lalitpur as a cycle city, but he is not quite ready to accept the green-painted area as a bicycle lane: "The number of cyclists is growing in the valley, which is why bicycle lane is inevitable."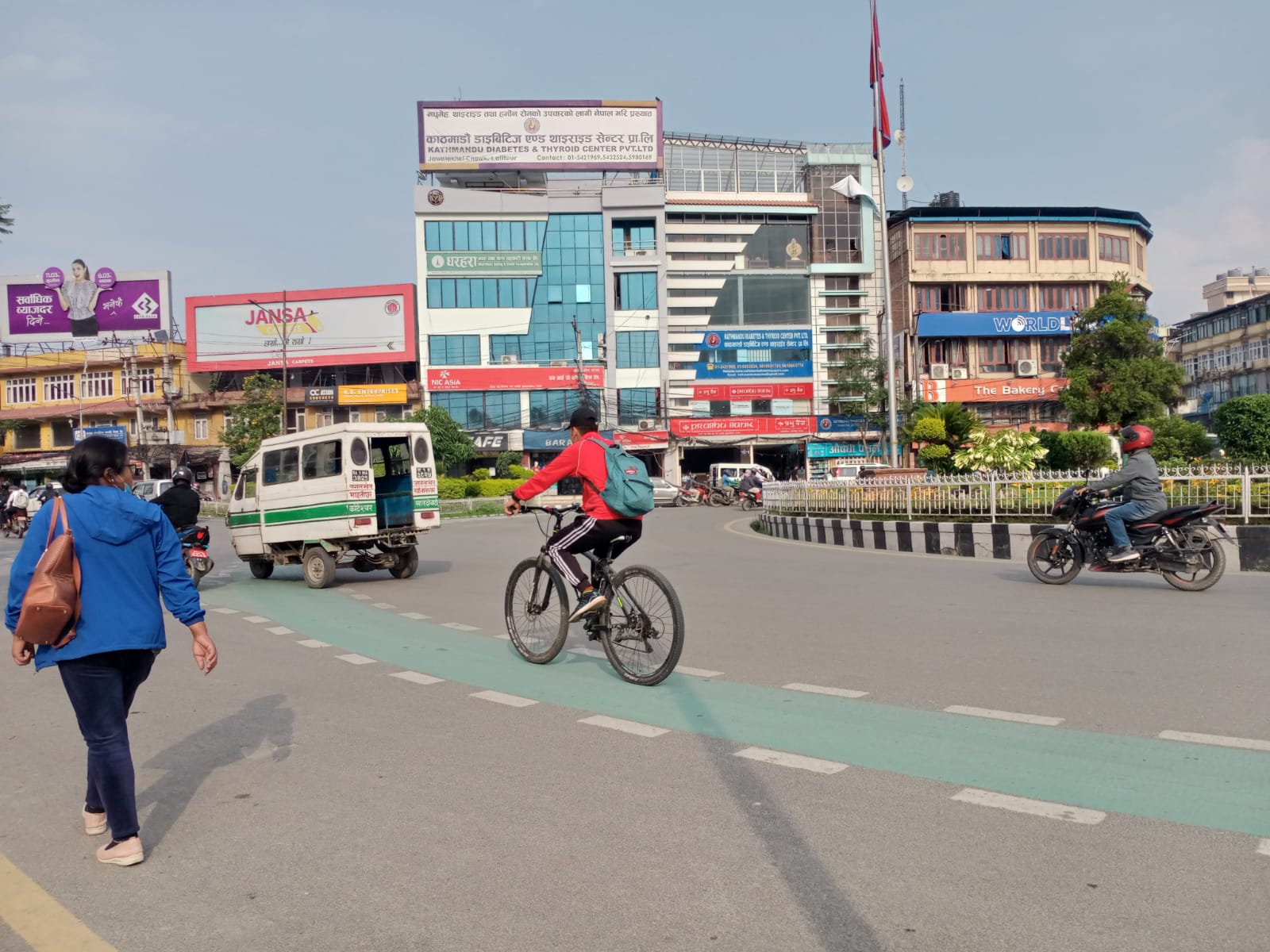 Chiribabu's defense
Mayor Chiribabu Maharjan said he is aware of the problems facing the city and its residents.
He said he is equally aware of the risks the numerous cyclists face on the narrow, traffic-choked streets every day: "We have to understand that roads wider than 8 meters belong to the federal government, that's why we can't even touch it. To make a dedicated bicycle lane, we have to widen the roads. And for that, we have to demolish many properties, which we can't do and would never do."
Yet Mayor Maharjan said he would keep giving top priority to bicycle lanes while developing new roads. If no obstacles come in the way, he said, "the new road along the banks of the Bagmati will be much wider and will have proper bicycle lanes."