Science & Technology
CAN Info-Tech
Seven things to check out at CAN Info-Tech 2023
From VR experience to gaming and free laptop servicing to job-hunting, the expo has something for all tech lovers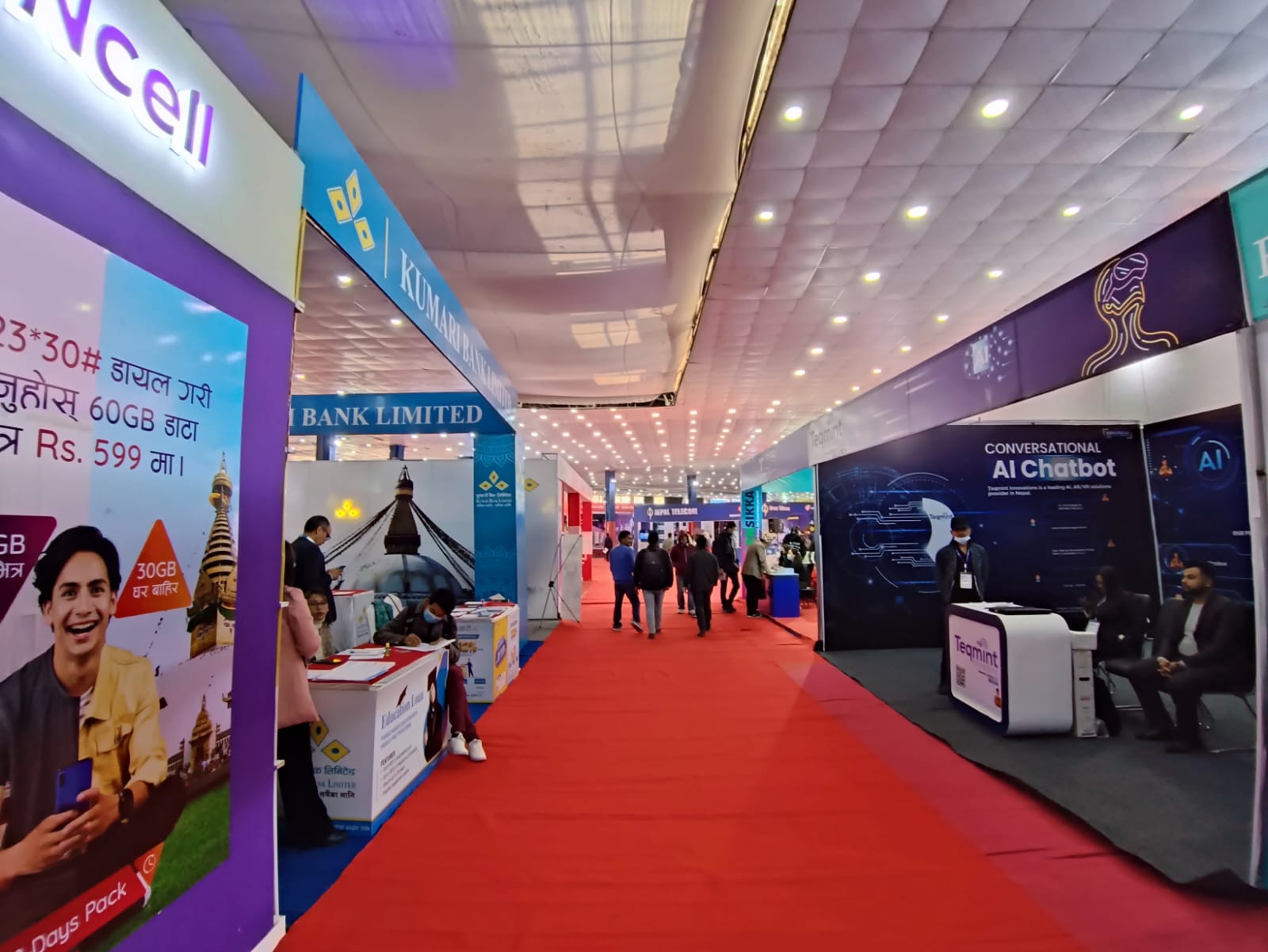 Tech geeks can expect some surprises at CAN Info-Tech 2023, which opened this week. The largest annual tech expo will be on until February 12 at the Exhibition Road, Bhrikuti Mandap, in the capital.
Pro tip: If you are a PC gamer, you will definitely get overwhelmed.
With around 200 stalls to visit, one can find stalls to fit everyone's needs, need a new laptop or phone, computer or phone accessories, everything is covered. Even if one does not need anything, it is fun to visit as there are plenty of tech demonstrations and games to play.
Here's a quick list of things to look out for at the expo:
1. VR experience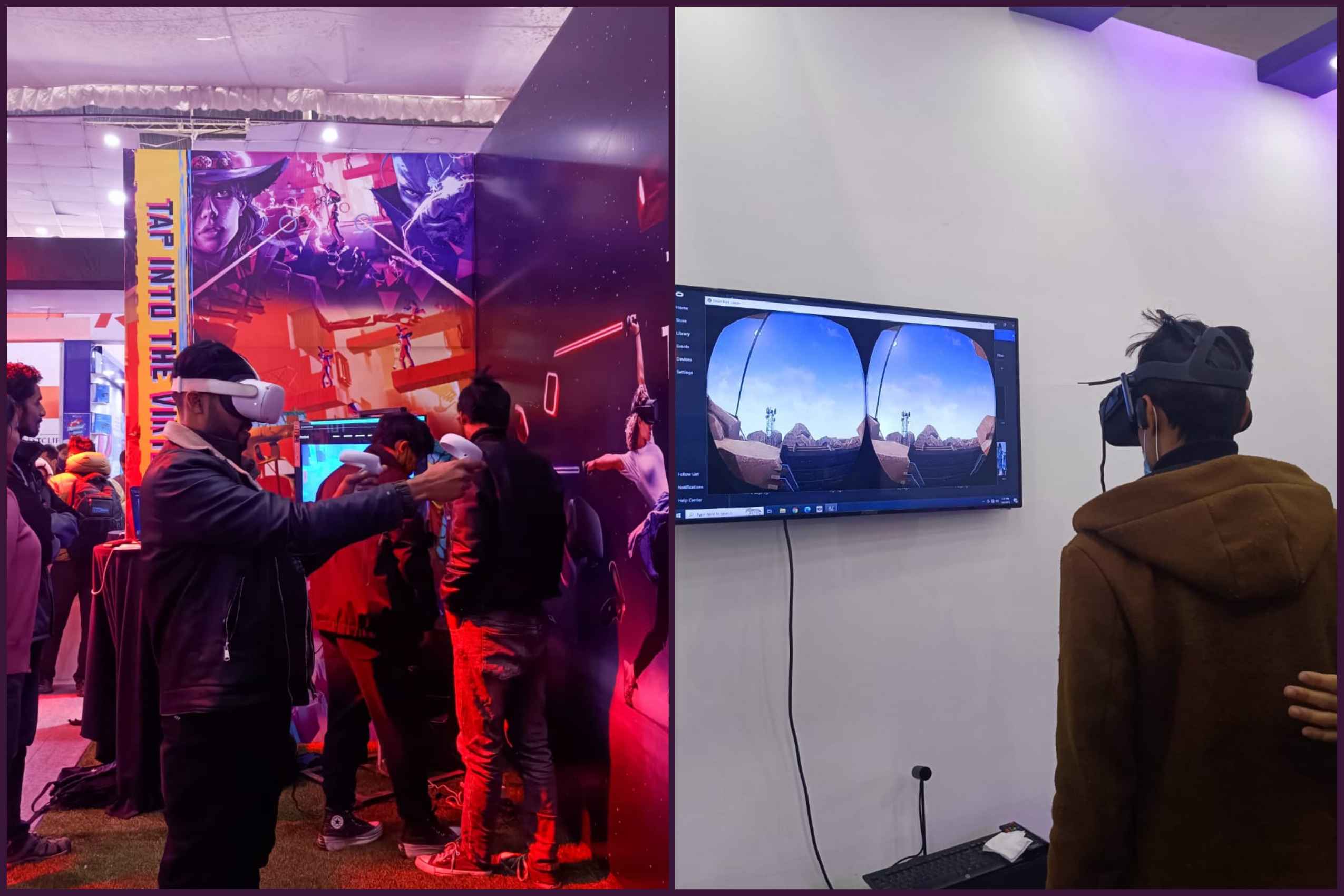 Visitors can experience virtual reality technology for free at a few stalls. All of which let you experience the Oculus VR headset. It is a mind-boggling experience to try for the first time.
It is available at the Ncell stall and Vianet stall.
If one just wants to experience and not play the game, NCell has a nice virtual reality clip that lasts no more than 30 seconds. But at Vianet, one can play a real game with a VR headset on.
2. Experience PC games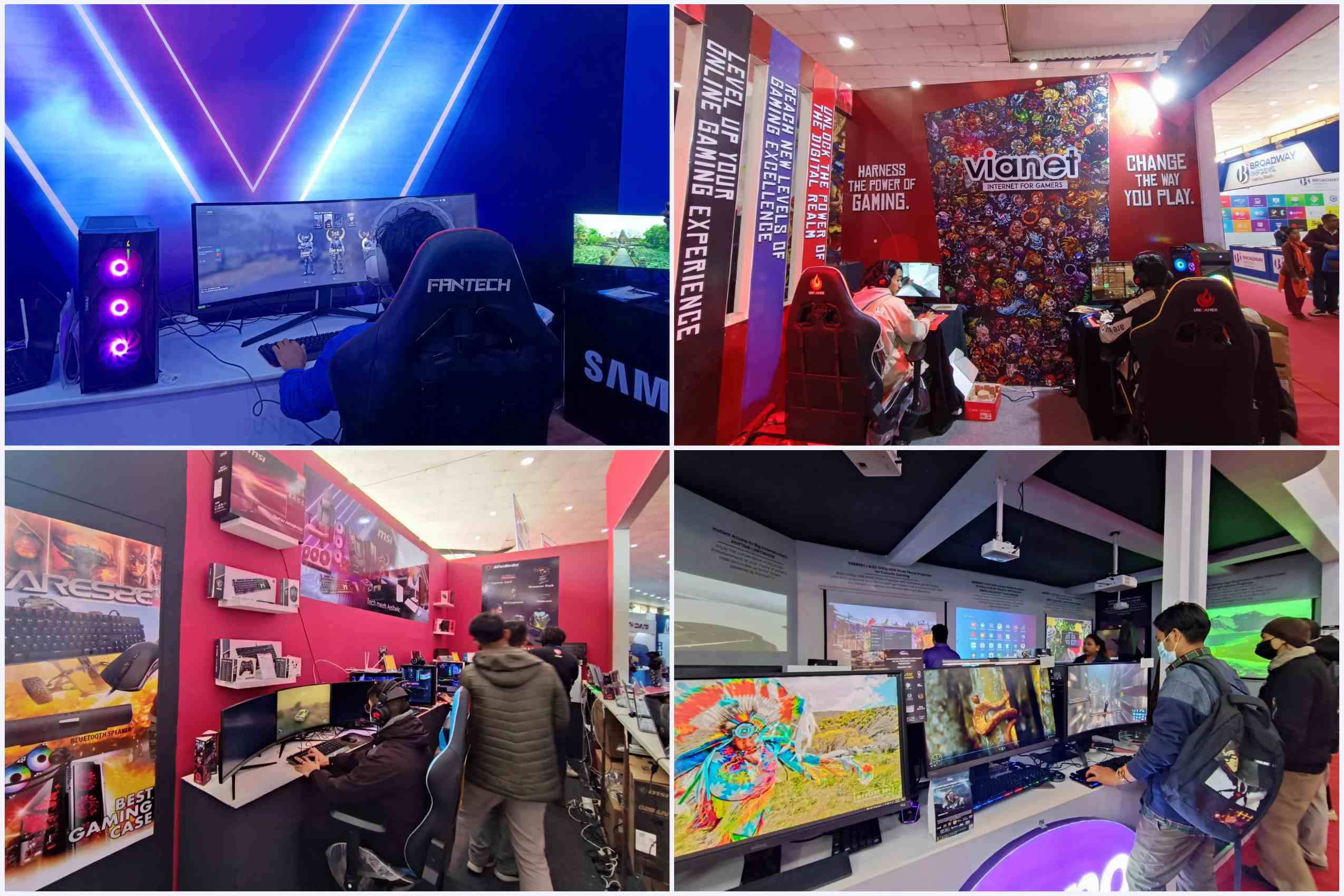 Samsung Monitor has a separate stall where they have exhibited several gaming monitors.
Samsung is one of the finest screen makers, which also applies to gaming monitors. Trying the curved Odyssey G9 can be a lifetime experience if you have been a PC gamer gaming on a small, flat screen.
They even let one play the games on the 49" curved G9. The screen covers a full field-of-view of the person and really immerses one into the virtual world of gaming.
Besides Samsung, there are several other stalls where gamers can be seen lined up for getting the first-hand-experience. Vianet can be seen branding itself as a fast internet provider for gamers. So, its stall has two gaming stations beside a VR gaming station.
Other vendors like MSI and BenQ have their own gaming parlours.
3. Fun games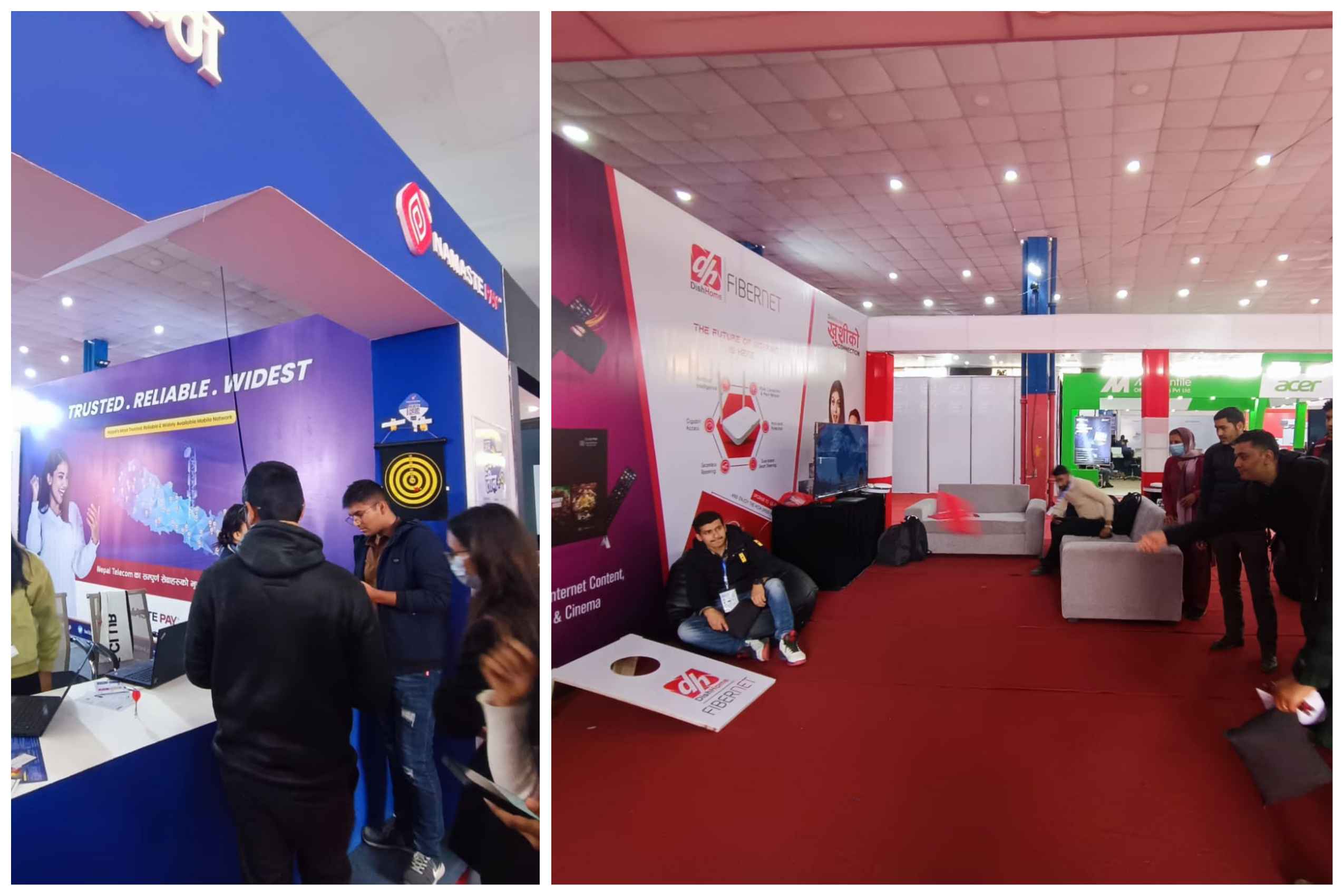 Besides PC games, there are several other non-PC games to try. If one has perfect targeting skills, the stall of Namaste Pay has a fun dart game that you can try and win prizes. But the catch is you need to install the Namaste Pay app on your phone. Just installing the app gives a Rs30 signup bonus and a chance to play darts which can add more to your balance. The bulls-eye prize is a ceramic mug.
Another such game is at DishHome's stall. After registering name and contact number, one will get two chances to play cornhole. Putting the bag through the hole once gives a sleek-looking pen and being able to land in the hole the second time wins one a DishHome branded cap.
A few colleges are also letting prospective students try trivia and crosswords. Winning prizes also include scholarships in college.
4. Free laptop servicing
There is a stall of Geo Nepal at the entrance which claims "free servicing for any kind of laptop". They have parts available to service the laptop and claim a discount on each part. The battery of the laptop is not lasting or simply dead, chances are they have got the battery.
Other solutions they offer are screen replacements, blowing up the bags of dust inside your laptops, swapping hard disks to SSDs.
5. Nepali tech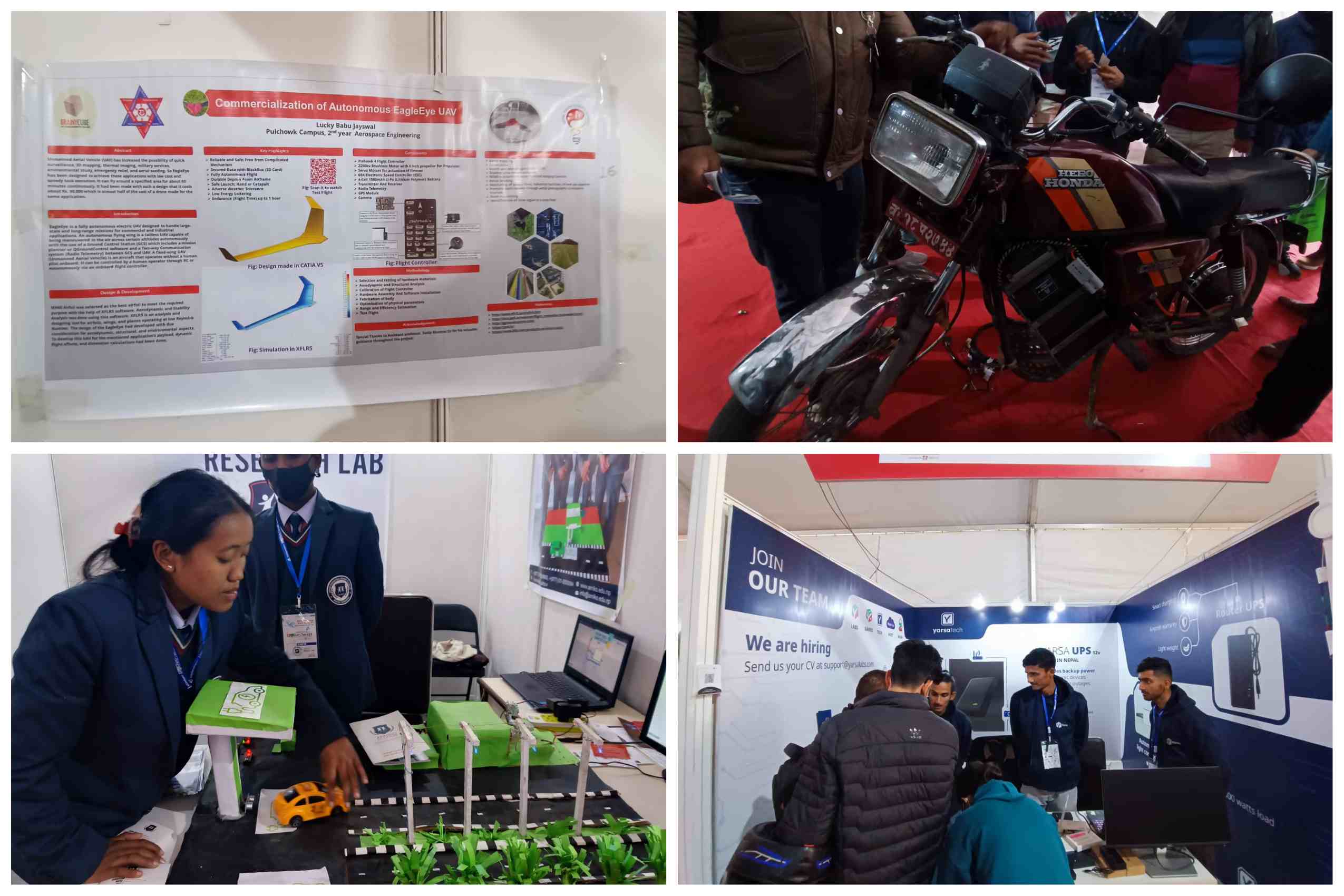 There are several Nepali-made techs on demonstration. Yarsa Labs, which is also hiring tech engineers, has a really practical Router UPS on exhibit. Unfortunately, the Nepali-made package is not for sale yet. They are pre-booking the tech and said that it will go into production shortly. They also have router powerpacks branded Yarsa but imported from China.
Various research groups have their own tech demonstration. A group of high school students from Arniko International College has a science experiment model which demonstrates a technique to "wirelessly charge an electric vehicle".
Similarly, there are several cool tech demonstrations from the Pulchowk Campus ranging from an Unmanned Aerial Vehicle (UAV) to the electrification of conventional motorbikes.
6. Job hunting
Besides Yarsa Labs, some other companies are also offering jobs and internships at CAN Info-Tech.
Sakchha.com and Mindrisers.Co are offering freelance jobs. On Sakchha, according to the marketing person, one can upload a CV and apply for related jobs once verified by them.
While in Mindrisers, one without any knowledge of programming and IT will get a 3-month-long IT training by "investing Rs15,000" and after which, Mindrisers guarantees a paid internship with payment starting at Rs7,000.
7. Other interesting stalls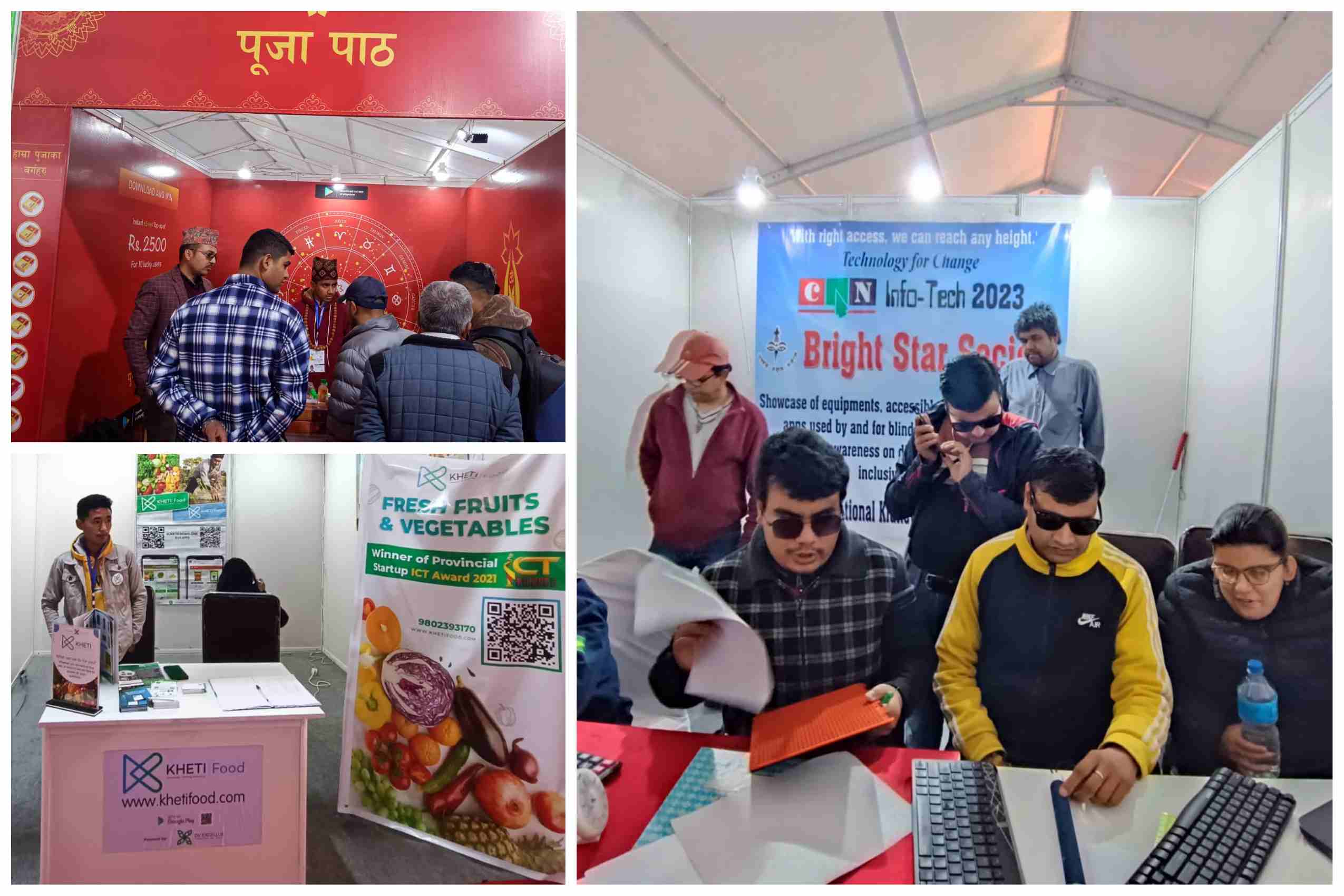 With people engaging more in their phones, several unexpected jobs and businesses are going online. A stall at the exhibition was promoting an app that promises to fulfill the needs of Puja-related items. 'Puja Path' which is available in the Google Play store can deliver a "complete package that contains all materials required for any Puja, prepared by experienced priests". The representatives claim to deliver the products not just all over Nepal but all around the world.
Bright Star Society, an organisation of blind people has showcased equipment and apps used by blind people. People there were kind to let everyone try the tech for themselves. It offers a great opportunity to know how blind people can use computers and mobile phones.
Kheti app is another app that promises delivery of fresh vegetables and fruits directly to the door from the farm. The company behind the app has their own farm and also has contracts with farmers for the products they do not produce.
According to a representative, the app also helps farmers to grow fruits and vegetables on their own farm.
The expo will be on until February 12. The ticket price is Rs50 for students and Rs100 for others.
Also read: ChatGPT, a terror factor or teaching tool?