Nepal
TREMOR IN FAR-WEST
Quake damages 58 houses in Bajura
Cracks have appeared in many private houses and some government offices due to the quake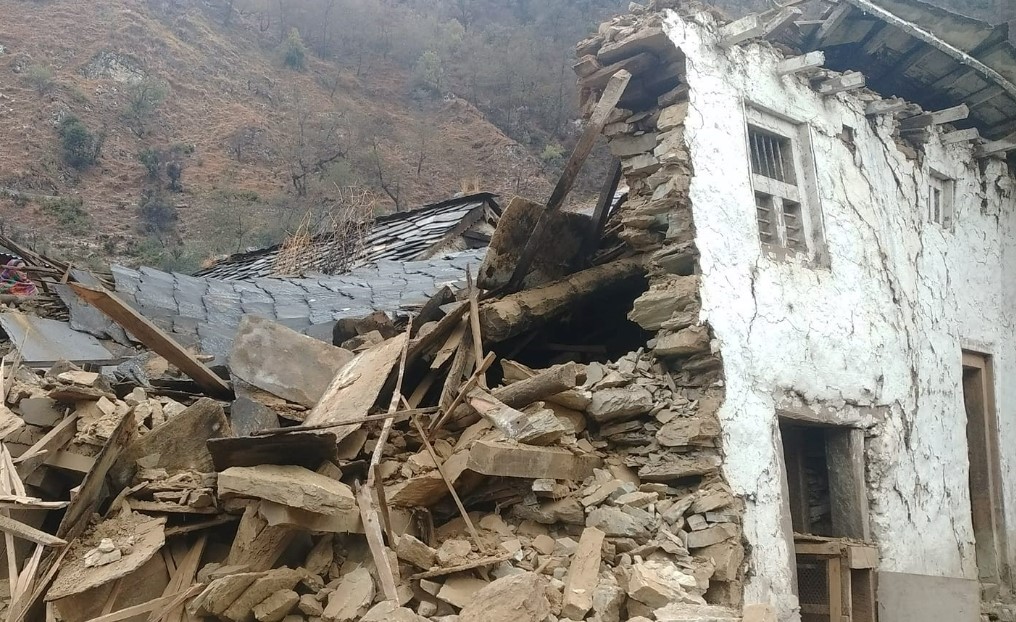 Fifty-eight houses have been damaged by the 5.9 magnitude earthquake that struck the Sudurpaschim Province on Tuesday. The tremor was centred in the Bichchhya of Himali Rural Municipality in Bajura district.
Some of the houses have sustained partial damage, while others have been destroyed, the District Police Office said. The quake that occurred at 2:43pm on Tuesday left one person dead and trail of destruction across the area.
Cracks have appeared in many private houses and some government offices due to the quake.
According to Deputy Superintendent Surya Thapa of District Police Office, the mud and stone homes have developed cracks and are rendered uninhabitable.
He added that fifty-eight buildings, including government office buildings and private dwellings, have been damaged. Police personnel from the Area Police Office and the police posts have been dispatched to the villages to collect details of the damage caused by the earthquake.
A woman was killed after being hit by a falling rock while she was cutting grass at Jureli of Gaumul Rural Municipality-2. The police have identified her as Jamuna Rokaya, 32.
The tremor left three more people injured in the district. Rajdal Bohara of Amlika of Gaumul-1 and Sarita Nepali, 16, from Humla, are receiving treatment at local health facilities. Nepali was visiting her elder sister at Himali-6. Chandra Mahat of Badimalika municipality-2 has since been discharged after treatment, the police said.
The quake killed 50 sheep after being stuck in a crack and hit by falling rocks, according to the District Police Office. The animals belonged to Bohara, who was one of the survivors.
- RSS