Environment
State of Bagmati
Despite floods, Bagmati squatters don't want to leave their riverside homes
Monsoon rains bring floods, but the Bagmati squatters are in no hurry to leave the banks.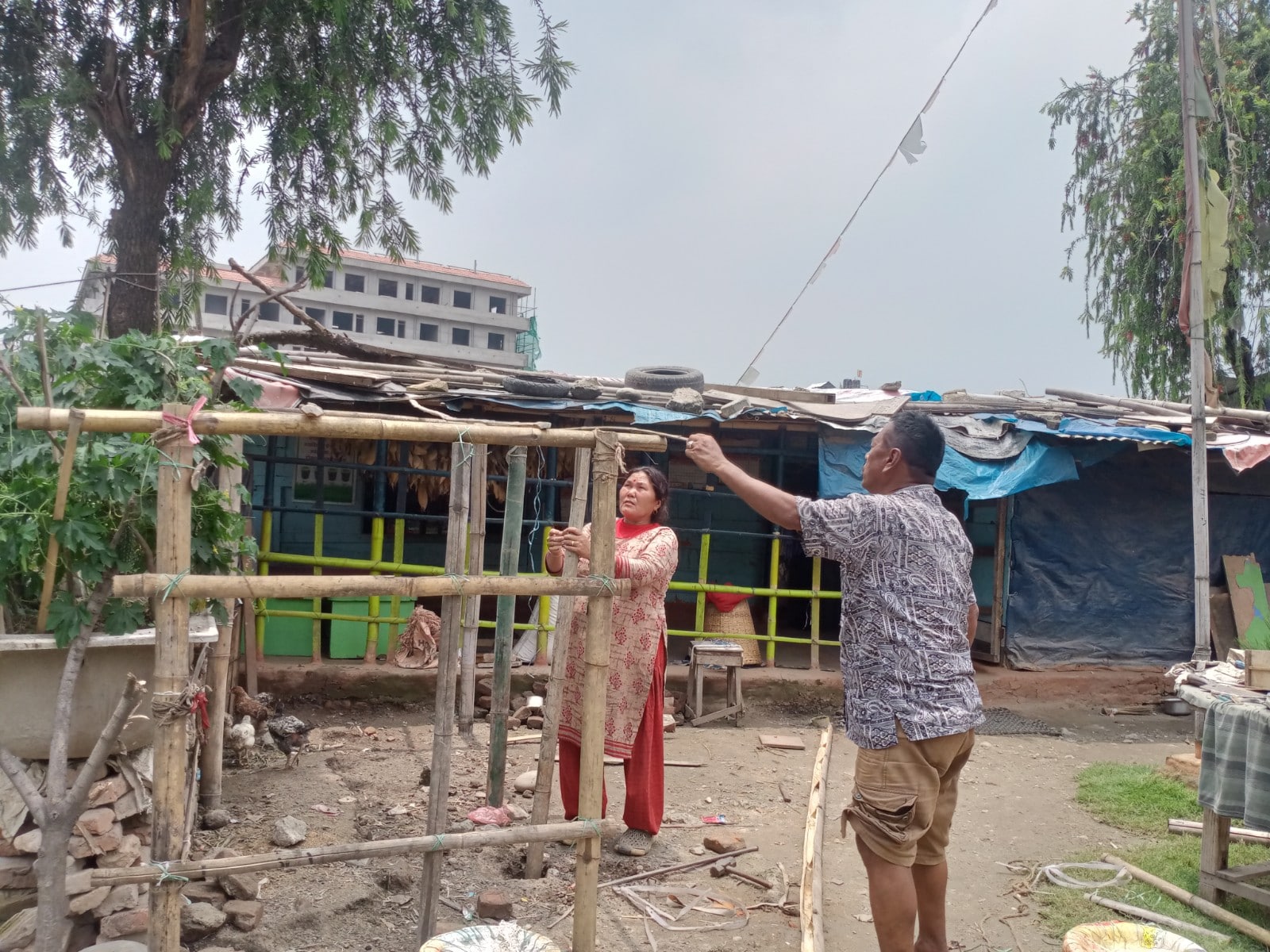 On a recent afternoon, Padam Lopchan, 65, a resident of the Bagmati squatter settlement near Thapathali, in the heart of Kathmandu, chopped dried bamboo with a saw outside his small tin-roofed house located barely 10 meters from the Bagmati river.
"I want to make a small coop for chicken so that I can make some extra income to support my family," the plump man tells NepalMinute as he bends over to chop the bamboo into pieces. He's not very keen to speak to this reporter because he fears that authorities may come back to the banks again to clear "river banks encroachments".
Lopchan is a mason by profession, but after the Coronavirus pandemic started in May 2020 and the construction activities came to a halt, he says, he hasn't got enough work. He's the head of a family of five, and the family's main source of income now-a-days is a small grocery shop located in one of the rooms of the small hut, made up of wood and flimsy plastic sheets.
Life inside flimsy huts
Lopchan migrated to Kathmandu for a better life from Kavre, located east of Kathmandu, around 20 years ago. And one fine day, joining a group of "landless squatters" who were occupying small pieces of land on the river banks, he also occupied a small piece of land. Weeks later, he built a little hut there.
Lopchan is not alone. There are nearly 150 flimsy huts accommodating as many families along the Bagmati banks in the thapathali area. The numbers decreased after authorities drove bulldozers in recent years to clear "illegal constructions".
Yet residents like Lopchan have not budged from their river-side dwelling and continue to live in the huts, some of which precariously sit right at the edge of the river that swells every monsoon. What's more – they are demanding that the government consider them rightful owners of the plots and provide them with land-owner's certificate.
Their demands, though, have fallen on deaf ears.
Part of the reason is this: The backside of Thapathali is not the only squatter settlement in Kathmandu Valley, where several river banks and public spaces have been providing refuge to an estimated 10,000-plus people belonging to nearly 3,000 families, according to a 2011 research by KC Kiran published in Nepal Journal. That put the total number of such settlements around the valley at 40.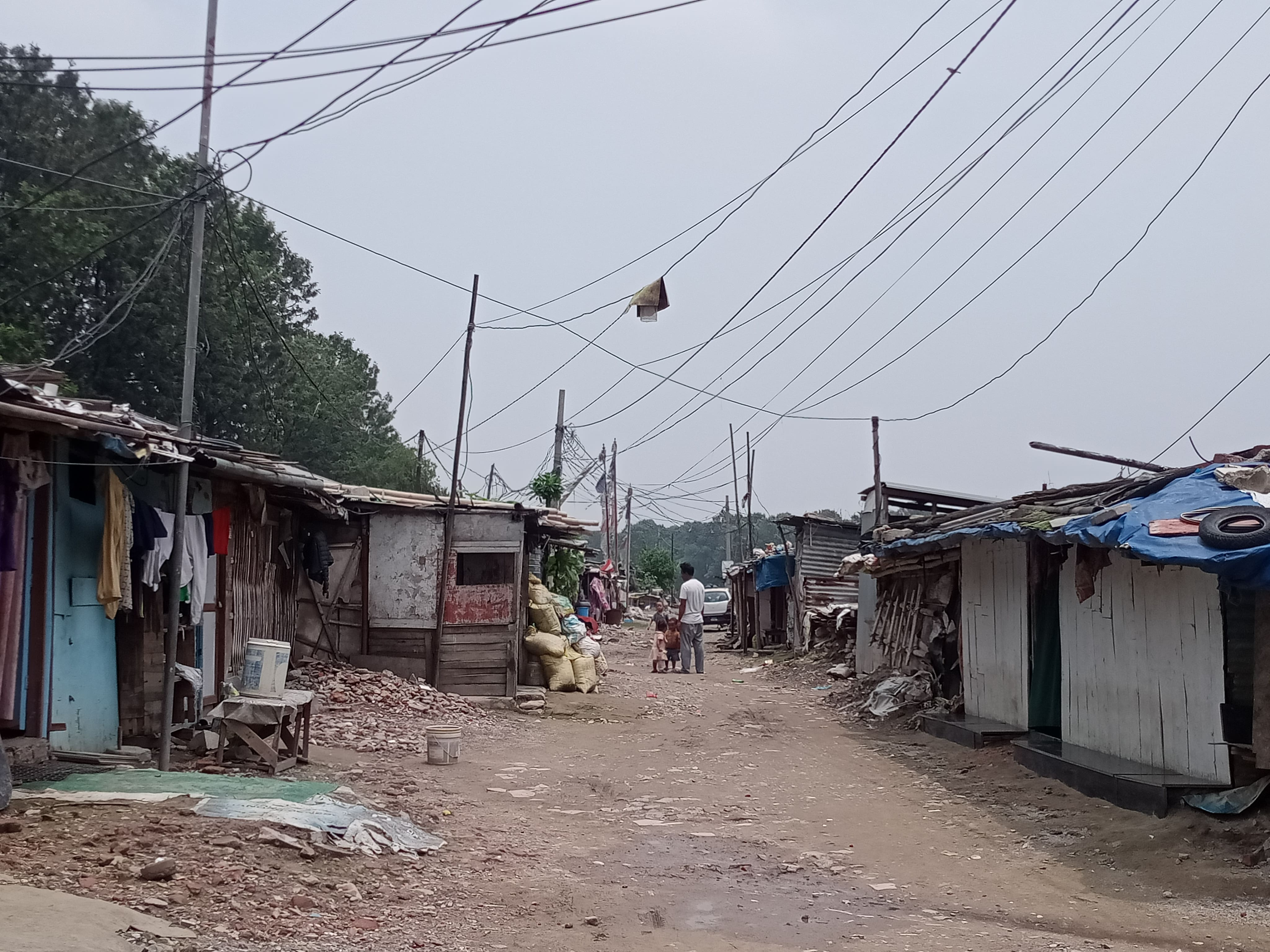 Land owner's certificate
In October 2021, the government announced that it would initiate the process of distributing land to all squatters and unsystematic settlers nationwide – numbering hundreds of thousands –from January 2022.
And just recently, on May 29, while presenting the budget for the fiscal year 2022/23 Finance Minister Janardan Sharma announced that the government had plans to distribute land ownership certificates to 500,000 families around the country.
Such announcements are not new. That's why the Bagmati settlers like Lopchan, or his neighbor Renu Rai, 40, don't seem convinced that the government would implement its plans this time.
Vice President and Spokesperson of the National land commission, Nahendra Khadka says that the government has started the process to give land to the landless Dalits, landless squatters, and unorganized settlers of all 77 districts.
"While doing the cost collection from 301 local levels commission has received 1.3 million appeals from an estimated 5.2 million squatters," he says, "Once the cost collection from all over Nepal is done we will look at the appeal and start the process of handing the land to the squatters."
The National Land Commission agrees that there is some issue going on in the Kathmandu Metropolitan City regarding the squatters but they are in talks with the metropolis to solve the issue, and once it's done the squatters from the metropolis will get the land as well.
Standing in front of a cart at the Bagmati settlement, Rai roasts corn every day to make a living and support her family of seven, including her children and in-laws. But because her family doesn't actually own the land, she's worried about the future.
But the Bagmati squatters are suddenly upbeat. That's because Kathmandu Metropolitan City officials recently issued house numbers to each one of them just before the local elections held in May.
Yet that doesn't guarantee them the landowner's certificate. That's why Aakash Nepali, 26, who returned from Malaysia only to find himself jobless back home, is worried about his future.
"At times, we hear that the government will move us from here," he says, adding: "But we aren't leaving this place. They say we have to pay millions of rupees for a new place. If we had that much money, we wouldn't have settled here."
Women of the river banks
Hari Maya Jimba, the vice-chairperson of Utpidit Sukumbasi Samiti, which translates to the oppressed squatters committee, which groups the settlers of Thapathali, demands that the government must help them, especially the women living in the river-side huts.
"As most of us are unemployed, women are forced to take risks and go into the flooded river to collect greens to make some money," the 50-year-old mother of two says, "Some are also rearing chicken, but that's not enough for us to survive, because as you know market prices have gone up these days."
More than anything else, the squatters say they want a piece of land. Jimba says: "We don't want anything from them; just the land. We have been looking after ourselves for years now. The solution to all our problems is a piece of land. That's all we need, that's all we want."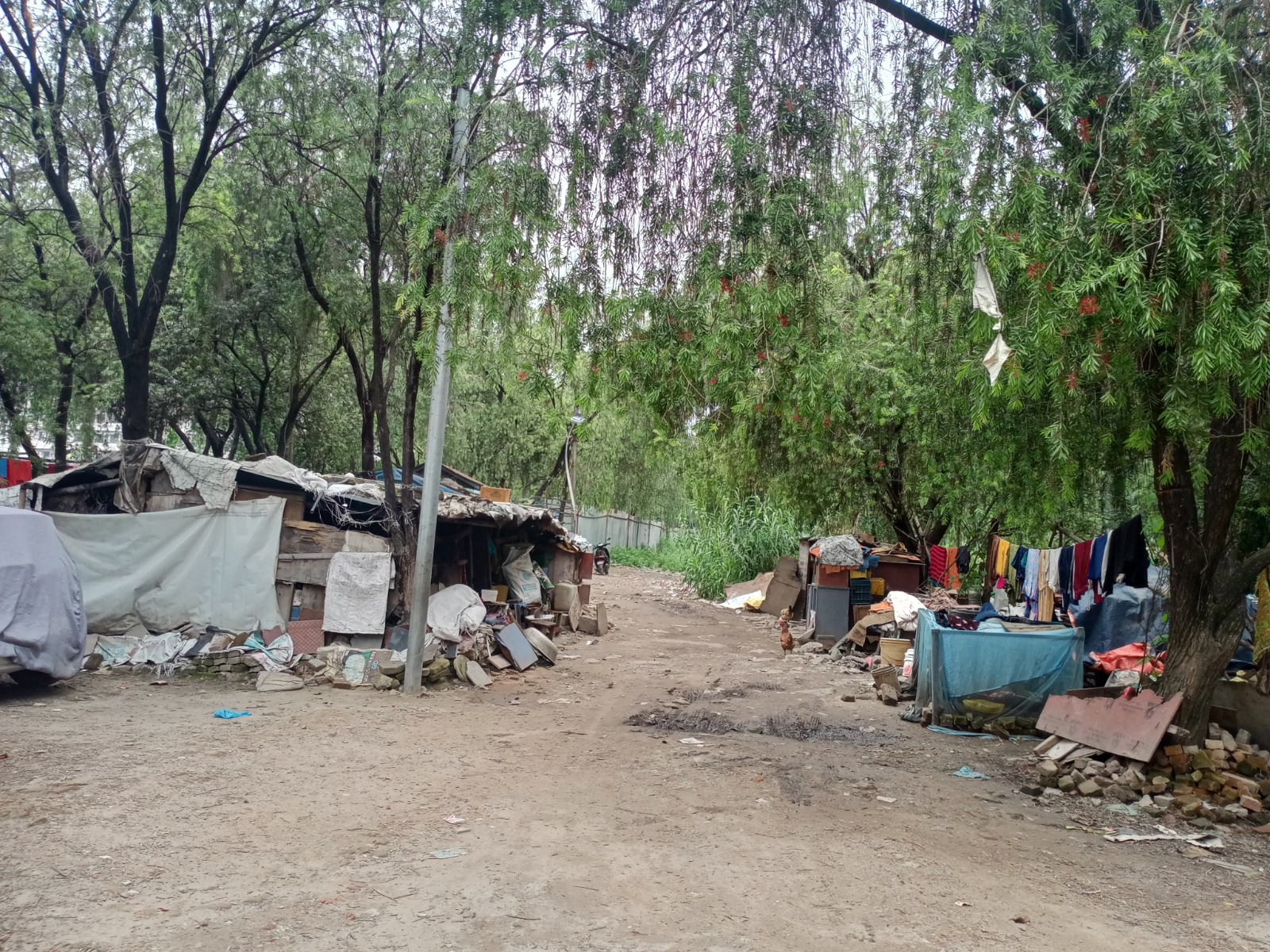 Every year, the monsoon adds to their worries. But more than that they fear bulldozers the worst - as in May, 2012 when several huts were demolished despite heated protests. After that, Jimba says, residents of more than 100 flimsy huts decided to move, receiving a sum of Rs 25,000 per family in compensation from the government.
Yet more than half the families stayed on, building new huts using wood, corrugated zinc sheets, and plastics, she adds.
Hari Maya Jimba is one of them. Padam Lopchan is another one, staying on at the settlement against all odds, including monsoon floods, bulldozers, and the associated fears. He says, "I hear that the government is again talking about giving land to all the squatters except us. But why did they spare us. It's not fair."