Nepal
Cyber Hacking
Unauthorised intruders hacked into ukeraa.com's CMS: Pathseed Nepal
The company says exclusive news stories were deleted, photographs were changed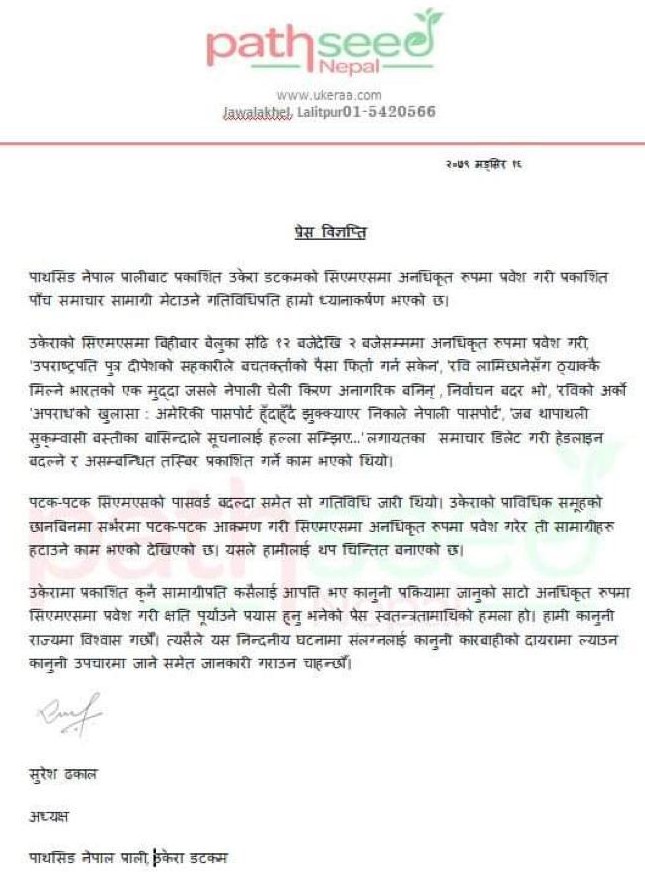 Pathseed Nepal, the publishers of ukeraa.com, one of Nepal's leading vernacular news portals, has said unauthorised users hacked into its Content Management System (CMS) and deleted five exclusive news stories on Thursday midnight.
In a statement issued on Friday afternoon, Pathseed Nepal said the company would pursue legal action against any unauthorised intrusion into its CMS. "This is an attack on the freedom of press. We shall pursue legal action against those involved in this condemnable act and bring the culprits to justice."
The intrusion took place repeatedly between 12-2 a.m., according to the release.
Some of the photographs were changed and the contents deleted by logging into the CMS, the release states.
The unauthorised intruders deleted five of the exclusive stories, including the one the portal carried on Thursday implicating a co-operative owned by Vice-President Nanda Kishor Pun's son, Dipesh, for allegedly failing to pay money to the depositors.
The other contents deleted included a series of stories that ukeraa.com has been carrying lately. The portal has been publishing reports on controversies surrounding Rastriya Swatantra Party President Rabi Lamichhane's citizenship. The portal has claimed that Lamichhane, who obtained a US citizenship, never surrendered his Nepali citizenship. The Nepali law does not allow dual citizenship and requires its citizens to surrender their citizenships voluntarily as they obtained a foreign citizenship.
Lamichhane has admitted some procedural flaws but has defended his position that his citizenship is valid and legal.
Lamichhane has only recently been elected to the House of Representatives by a landslide majority from Chitawan-2. He polled over 49,000 votes to defeat two of his prominent rival candidates, both securing less than a third of his total.
His candidacy remains challenged at the Election Commission. The Commission has said it would launch an investigation.
The portal carried another follow-up on Thursday citing a case from India, which, it claimed was "exactly identical to that of Lamichhane". As per the story, an Indian court had scrapped the election in which a Nepali woman bearing the name of Kiran was elected. The exclusive coverage claimed her Indian citizenship had also been stripped.