Arts
Nature Conservation
Artworks put a spotlight on human's impact on nature
'My Memories of the Soil' showcases artist Bidhyaman Tamang's etchings of the rapid transformation of the good earth across Nepal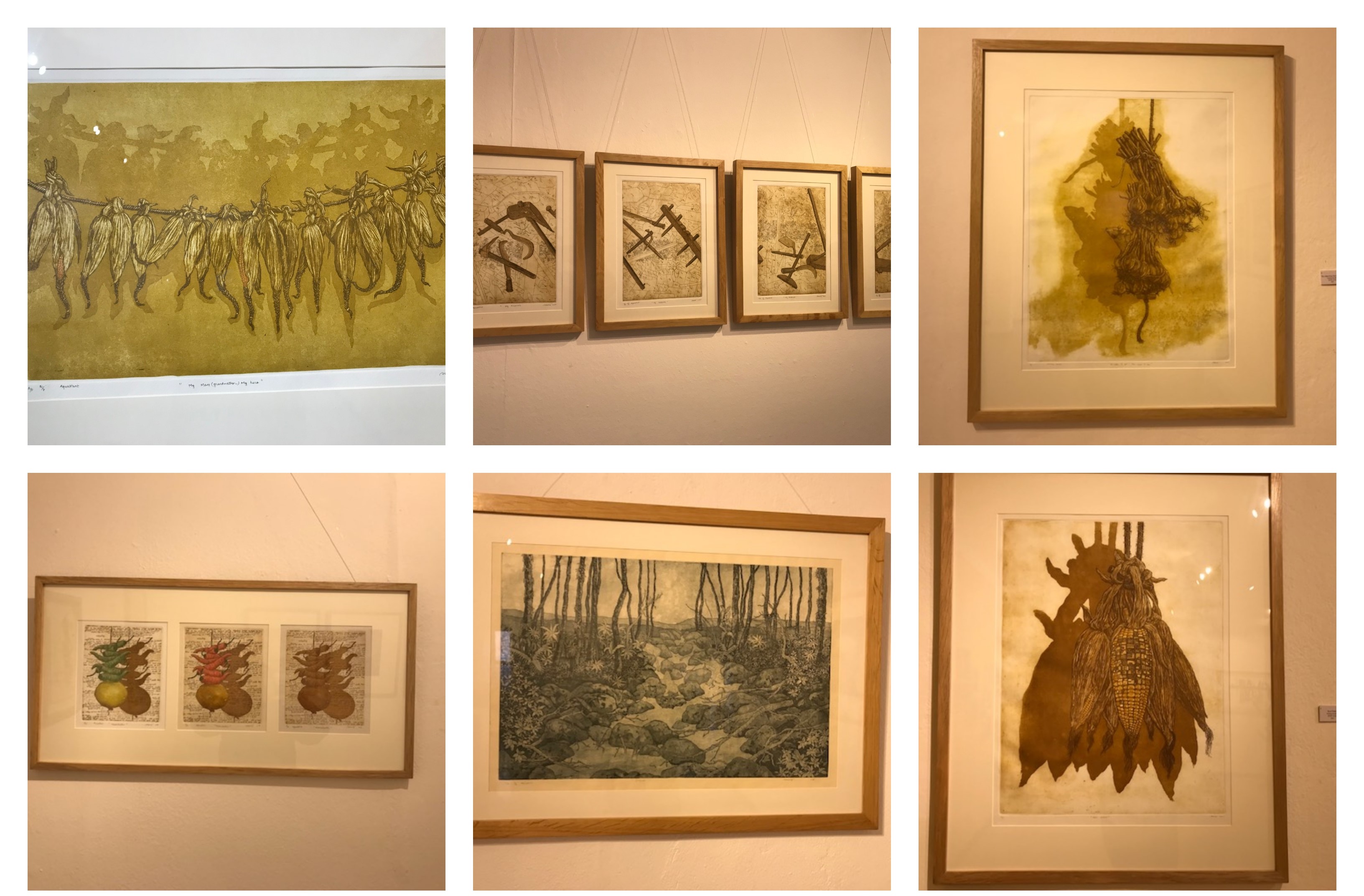 Watch out for the insects. But worry not, they won't bite or harm you. Reflections of bugs, including cockroaches, flies, fireflies and ants, beam down on your way as soon as you enter the exhibition hall. On a closer look, you will realise that the insects, hung on a freshly-painted yellow wall, are printed on a zinc plate. The printmaking process is called etching in the art lexicon.
Etching is a process of making designs or pictures on a metal plate, glass and other hard surfaces. As you enter the Siddhartha Art Gallery hall, you will see more artworks showing nature's complex web of life. some of them show a survey map, issued by the Department of Survey, with varieties of grains piled up in four different areas of the frame symbolising the harvests the lands yielded.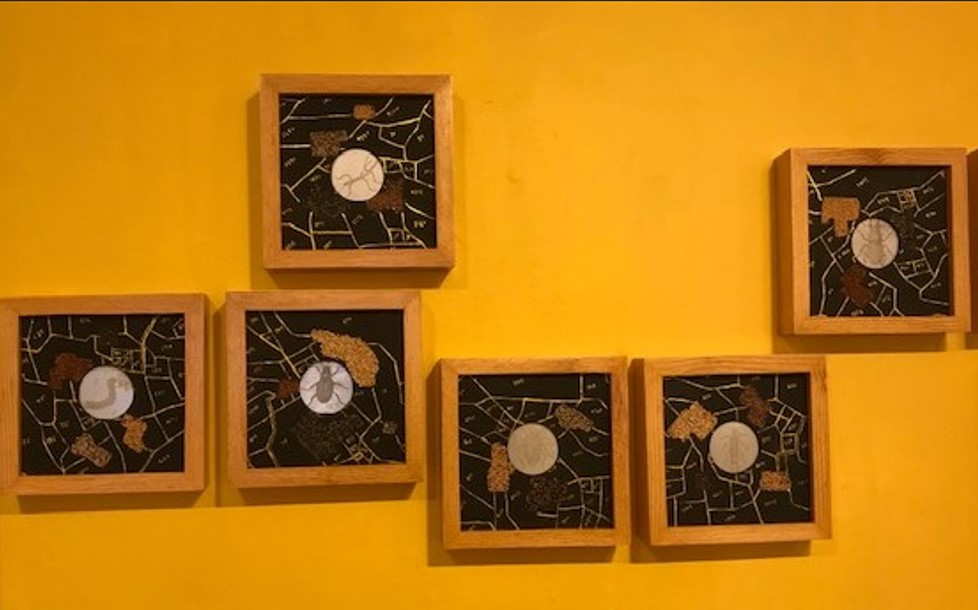 In most artworks, insects are placed in the middle of the frames, illustrating their importance in the agricultural ecosystem. Overall, the artworks revolve around life: the life of humans and insects; agricultural produce and nature; agriculture tools; lands filled with houses; and the acute scarcity of water. The exhibition entitled: 'My Memories of the Soil' by Bidhyaman Tamang will continue until December 11.
Showcased under 30 titles, the artworks represent memories of the artist who grew up in Ramechhap and Kathmandu. In both places, where he saw lands being cultivated and later transformed into urban areas.
Agricultural tools – including sickles lined up with a mouse and a frog on the sides; corn kernels tied together with its husk and hung up on a rope to sun-dry; garlic tied together to sun-dry; a spider making its web; a board of bag-chaal or tiger and goats. All of them represent the farming tradition in Nepal.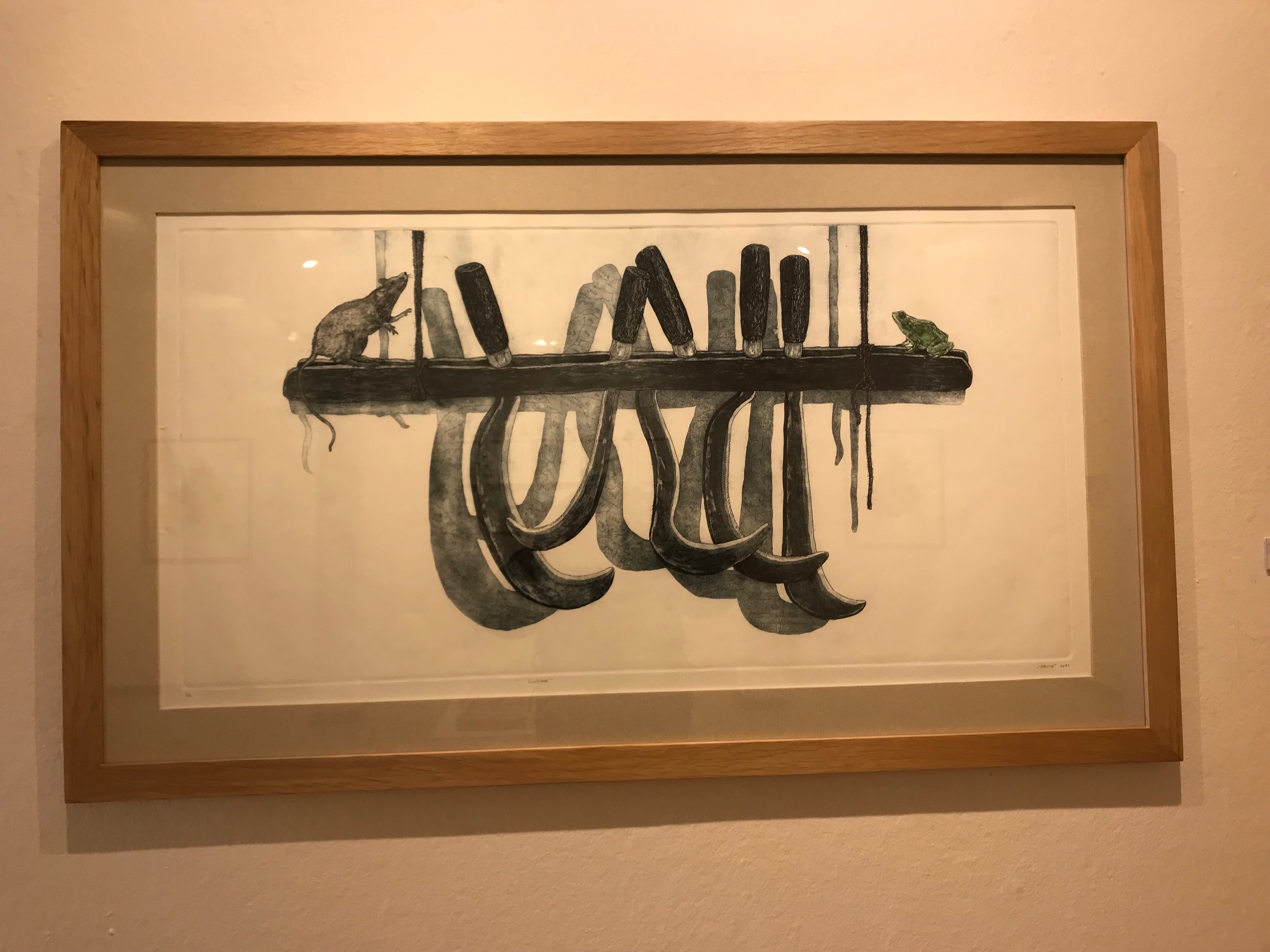 But, as a famous song goes, times they are a-changing. Farmlands in Kathmandu valley have been replaced by concrete buildings. Yet soil remains the habitat for all and sundry, including tiny insects and bigger animals. And urbanisation is taking a toll on the habitat of insects, birds, reptiles and other animals, including humans.
Tamang's artworks depict how insects and animals played an important role in pollination and helped in farming. Tamang said: "I'm afraid the loss of habitat of various creatures might lead to a crisis in pollination too."
Consider it. Sparrows have long been close to Nepalis. Spill some grains and the tiny birds fill your courtyard or terrace. This has always been an interesting watch. People who grew up watching the sparrows picking grains from the courtyard, or visiting fields during the rice harvesting season, become nostalgic taking in Tamang's artworks showing sparrows or rice fields.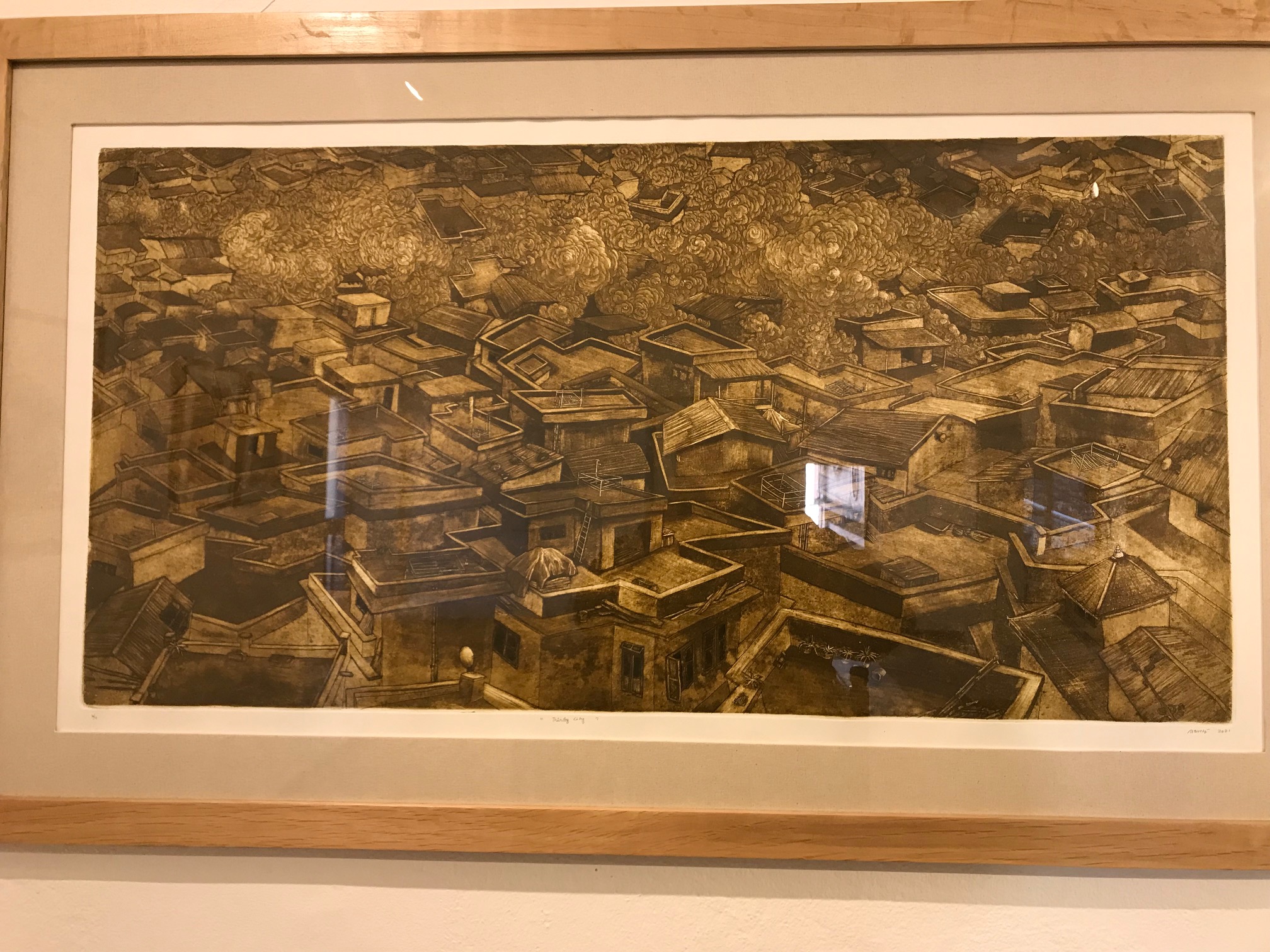 And there are other artworks. They show confined spaces, buildings, tangled wires and several other mundane objects. Artworks of traditional houses and open lands crafted on the kernels of a corn are some creative ideas experimented by the artist to depict Kathmandu's past. His etchings chronicle the harsh reality of rapid urban transformation from idyllic locales to ugly urban sprawls.
And insects will continue to bug you. As in an artwork showing insects against the backdrop of a land owner's certificate and land numbers – it shows how lands have changed over the years.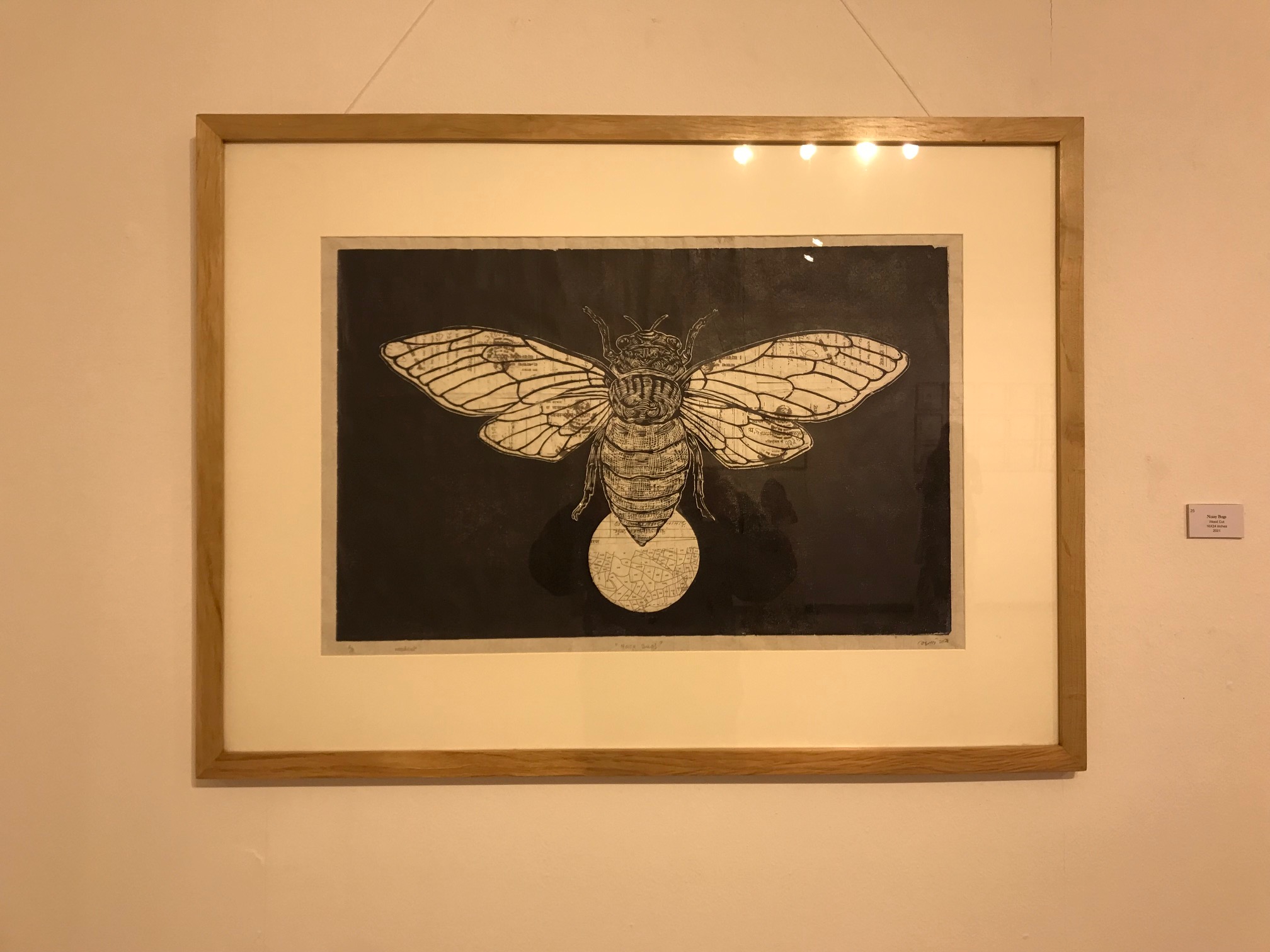 Sangeeta Thapa, the founder director of Siddhartha Art Gallery sums up Tamang's works thus: "Bidhyaman's etchings are a sensitive narration of the ecological price that we have to pay as farmlands are sold, forests are razed and the land is turned into barren sods of soil that cannot even sustain the insects that once thrived there."
His message is clear: if we fail to nurture the soil, it will be difficult to save humanity, she added.
The dark and light brown and yellow colours used in the artworks are the colours of soil.
Tamang said: "Use of black and white colours represent the past days which are only in the memories. It is necessary to preserve the soil as it gives life to humans and animals. If we destroy it then we will be in a problematic situation. It is time for us to raise our voices to preserve soil."
The exhibition will continue until December 11.