World Cup 2022
World Cup Fever
Timing no bar as restaurants look to cash in on soccer excitement 
Live screening of matches at timings suited to Nepali audiences are likely to help footfall at pubs and bars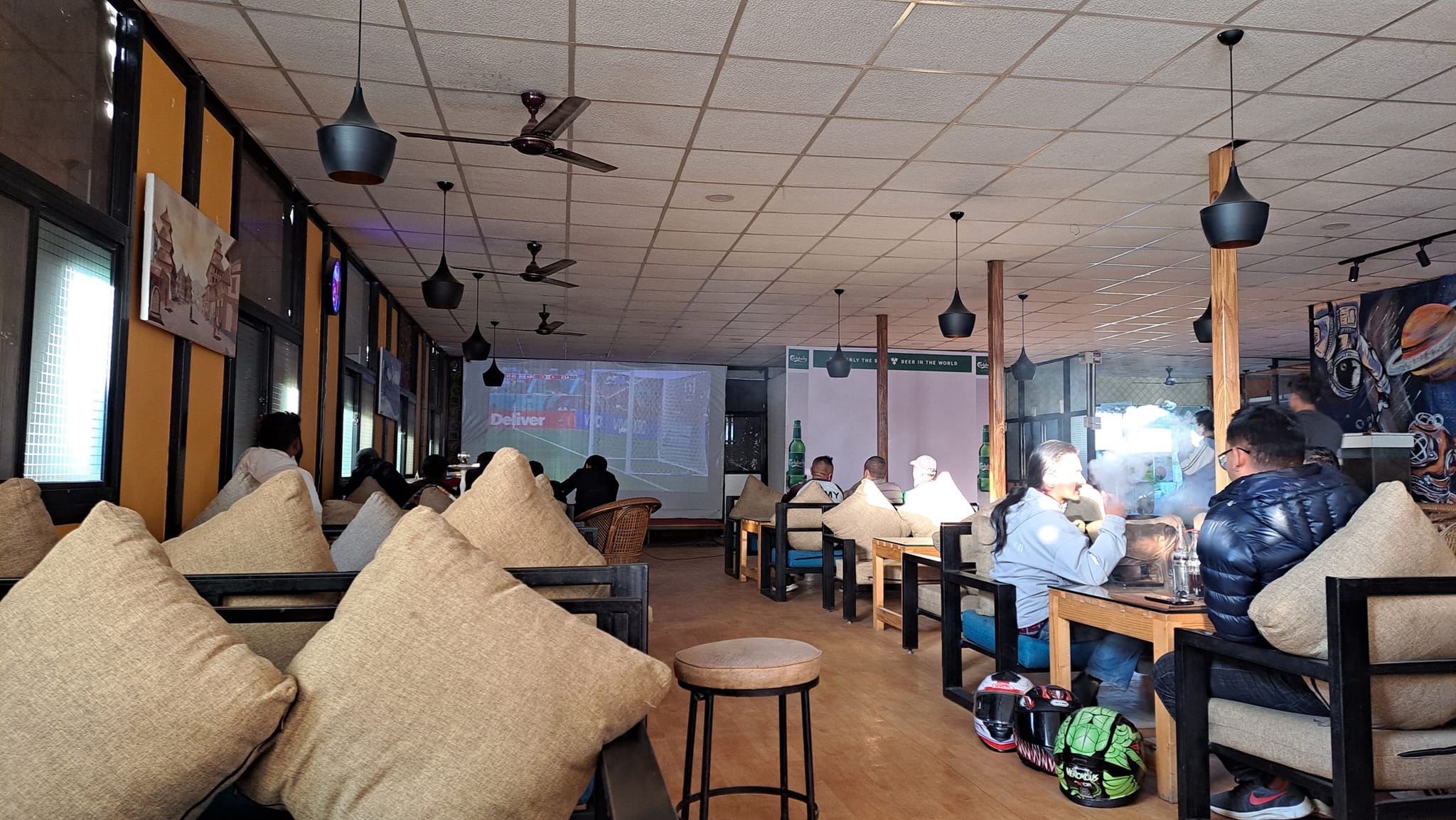 A small cafe at Chyasal usually pulls down its shutters by 9pm when the old Newar quarter, a few minutes stroll from Patan Durbar Square, goes to sleep.
The scene on the November 21 night was different, though. It was something uncharacteristic of the Chyasal you know.
Mamsa Cafe left its doors open past 11pm – thanks to the ongoing World Cup. It was alive and filled with roaring as football fans, enjoying the England-Iran match live on the 55-inch television. The cafe staff and cash register were busy as the patrons, the majority dressed in their white three-lion-crested jerseys, munched on snacks and knocked back cans of beer.
"We could not screen the opening match on November 20 as it coincided with the election day," cafe manager Rahul Shrestha said. But on Monday night, he counted more than 30 customers, including a few foreigners.
Restaurants and bars, of all hues and sizes, in the valley are hoping to benefit, further boosting their rebounding industry after the prolonged Covid pandemic.
Football fever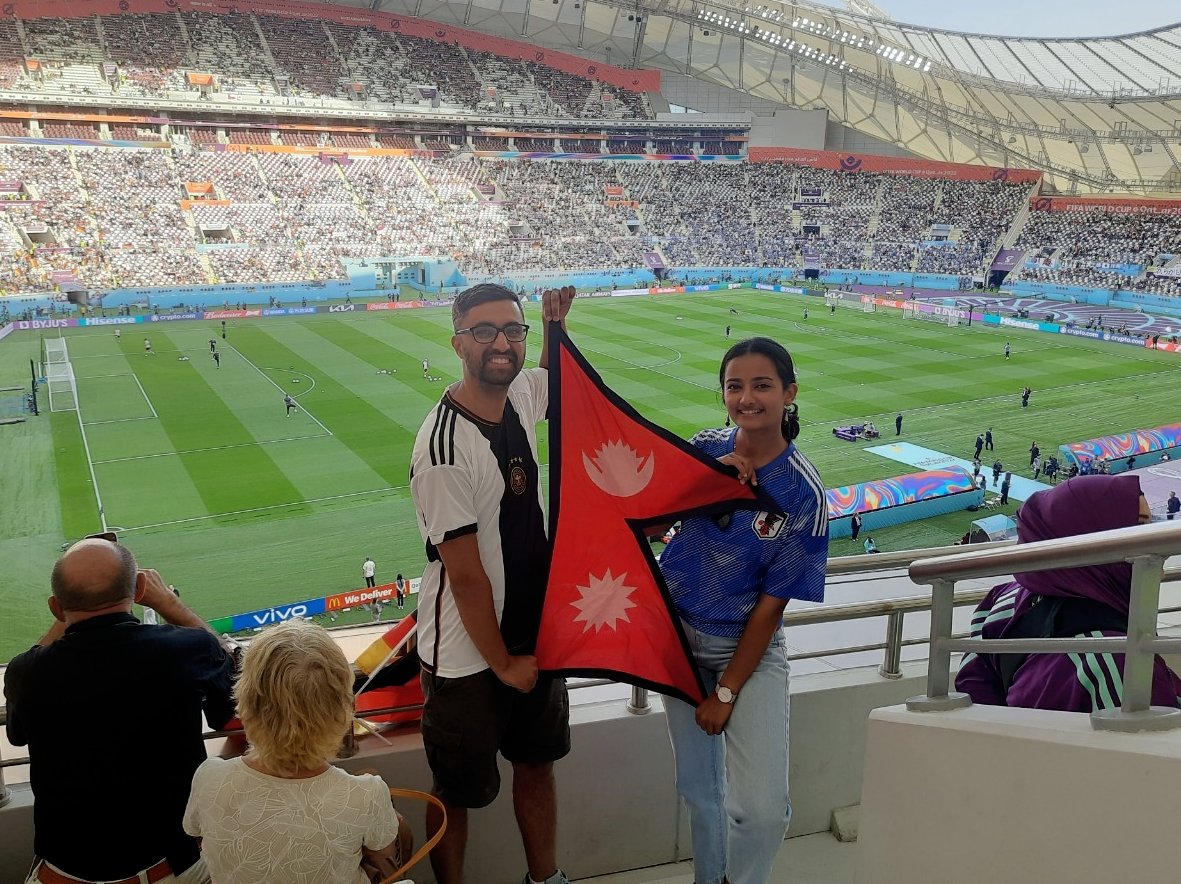 According to restaurant owners, live screening of matches, and that too at timings suited to Nepali audiences—such as early and late evenings — are likely to help footfall at pubs and bars. Others said the event could also help increase at-home consumption of food and beverages.
They expect more busy evenings and nights on match days until the final on December 18. Some establishments are already taking advantage of the later-than-normal hours; others are playing it by ear.
The atmosphere was livelier at Jhamsikhel, where customers filled most restaurants with their eyes glued to the TV.
At Moksh Bar, a popular hang-out for youngsters and families on weekends, manager Jeevan Dhungana was giving a hand to one of the staffers to keep up with the orders on Wednesday.
"More than 100 people came in to watch the Germany-Japan game," said Dhungana, expecting the numbers to grow as the tournament progresses.
According to him, most of Moksh's patrons constitute teenagers and families who come to have dinner while enjoying the live matches.
The bar has installed three screens to show World Cup matches. A projector has been fixed outdoors for screening of the late games. Another projector is placed indoors, along with a TV set, to let fans enjoy the matches that start in the evening.
Dhungana said they already had bookings for the quarter-final, semi-final and final matches. "More than 70 people have booked the tables for the final," he said.
With many football fans longing to join the party outside their home, "restaurant to watch World Cup matches" are the most searched keywords according to review platforms. For them, the World Cup serves a dual purpose: to meet up with old friends and catch the thrilling games.
"It's a happy night to meet like-minded friends. We enjoy delicious food and cheer for our favorite team," said Dhruba Khatri, a diner wearing a deep blue jersey, while watching the Germany-Japan game at Moksh Bar.
Security situation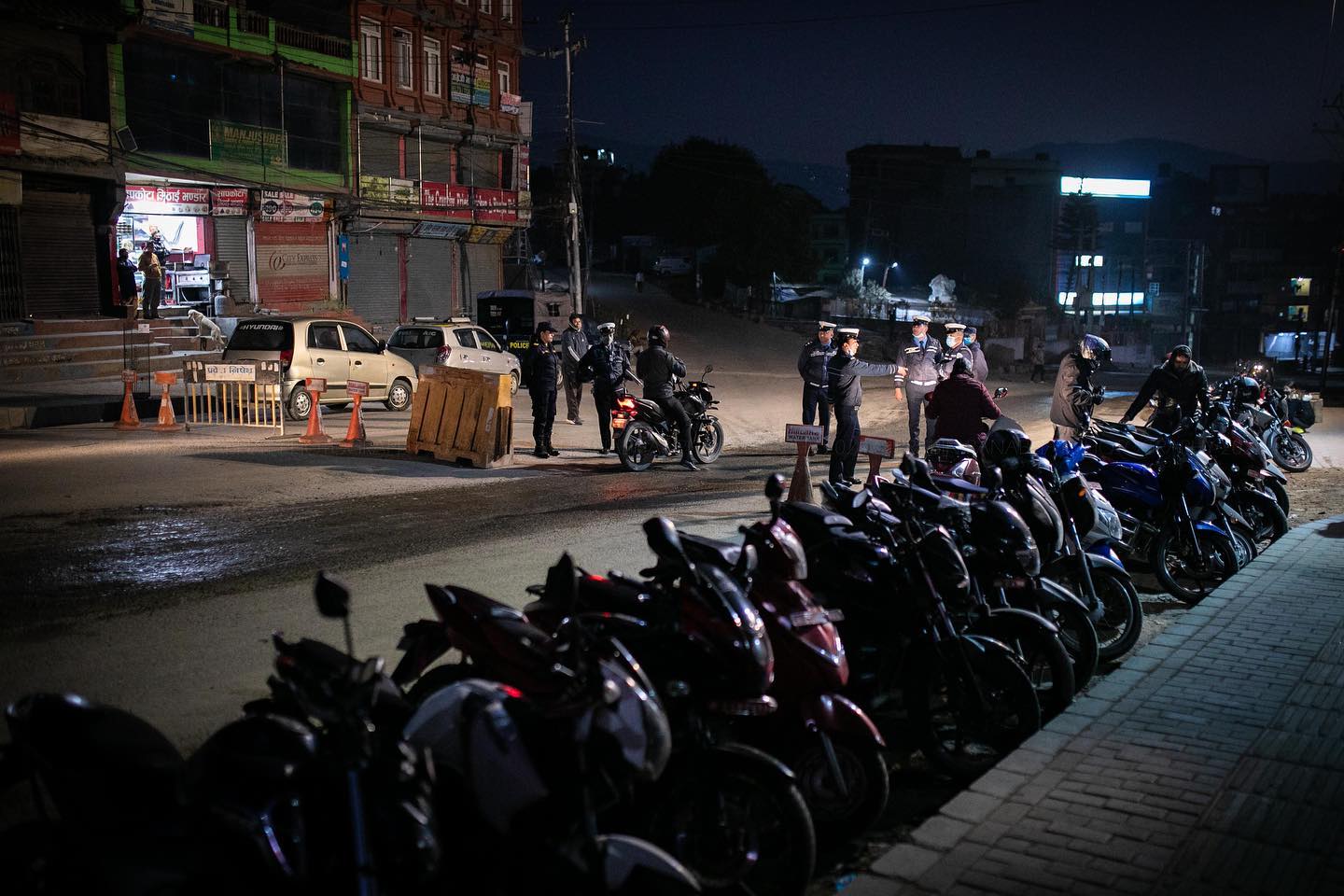 However, security remains a concern, with adrenaline running high among people rooting for rival teams. At times, a simmering tension could soon turn into an open brawl.
According to Nepal Police spokesperson DIG Tek Prasad Rai said restaurants and bars in the valley can stay open longer hours so football fans can take in the late-night World Cup action.
"However, they should inform the local police station about their plans. We keep a proper eye on their activities and provide security if required," DIG Rai said.
He asked restaurateurs to ensure that such screenings of live World Cup matches, especially the ones that kick off late, do not disturb the people living in the neighbourhood.
DIG Rai was quick to warn revellers: "Enjoy watching football matches. But don't mix alcohol and driving!"